Texas Man Threatened to Kill 'Antifa Soldiers' at George Floyd Protest, Police Say
A Texas man has been arrested after he allegedly made threats to kill "antifa soldiers" at a protest in San Antonio.
David Rangel, 43, was booked into jail on charges of terroristic threats-public fear on Saturday, online records show.
His arrest affidavit said a witness had reported a threat Rangel posted on Twitter to the San Antonio Police Department's Fusion Threat Assessment unit, the San Antonio Express-News reported.
"Attn @antifa or any Antifa soldiers coming to San Antonio today. If you show up at the Peal complex I will personally kill you. F*** around and find out," Rangel tweeted, according to the affidavit.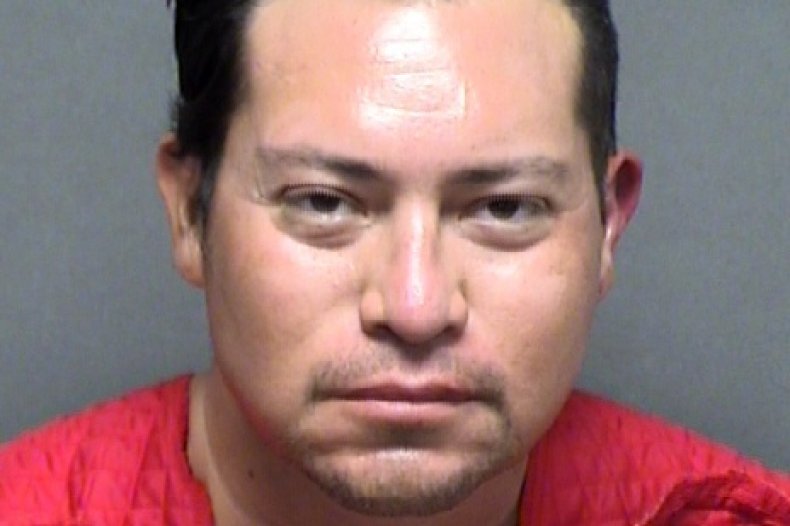 The newspaper reported that a protest calling for police reform was taking place at The Pearl, a shopping and entertainment complex in the city, on Friday.
Protests against police brutality and systemic racism have taken place in cities across the U.S. since the death of George Floyd, a black man, in Minneapolis police custody last month.
According to KENS5, the person who reported Rangel's tweet was alerted to it by mutual friends and was concerned for their own safety.
The witness said Rangel has a long history of mental illness and has refused to take medication in the past. The witness told police that he "had easy access to weapons," the station reported.
The Express-News reported that Rangel also has a history of alcohol abuse and had been telling friends that he had worked for the Russian mafia, according to the affidavit.
The witness also alerted a security guard at The Pearl about Rangel's tweet.
The security guard immediately recognized Rangel, the affidavit said. He said Rangel had approached him days earlier and told him to "watch out for protesters."
KENS5 reported that a warrant for Rangel's arrest was issued "due to the possibility that Rangel is capable of committing a mass shooting towards the Pearl Brewery, its customers and the large crowds of protesters," the affidavit said.
He is being held on a $10,000 bond, according to the station.
The San Antonio Police Department has been contacted for comment.
In a statement to Newsweek, a spokeswoman for The Pearl said: "Pearl takes any and all threats to the property very seriously. Our security team works closely with the San Antonio Police Department (SAPD) and we were aware and prepared for this. SAPD handled this case and arrest directly."
It comes after President Donald Trump tried to blame violence at protests over police killings on "radical left, bad people," using the name "antifa."
In a post on Twitter late last month, Trump said he planned he designate antifa as a terrorist organization.
Antifa—short for "anti-fascists"—is not a single organization, but an umbrella term for the activists that confront neo-Nazis and white supremacists at protests, bound more by belief than any kind of organizational structure.
This article has been updated with a comment from The Pearl.