Texas Man Linked With Boogaloo Movement Gets 50 Years for Trying to Kill Cops
Aaron Swenson, a 38-year-old Texas man tied to the far-right Boogaloo movement, was sentenced to 50 years in prison for threatening to kill police officers.
On Thursday, it took a Bowie County jury less than one hour to find Swenson guilty of the attempted capital murder of a peace officer. Swenson had already pleaded guilty to felony evading arrest and terroristic threatening. Because he targeted a police officer, he faced hate crime charges under the Texas Hate Crimes Act.
On April 11, 2020, Swenson dressed in a Hawaiian shirt and a green tactical vest, clothing associated with the Boogaloo movement. He then began a Facebook Live video livestream so that his social media followers could follow his hunt to kill a police officer.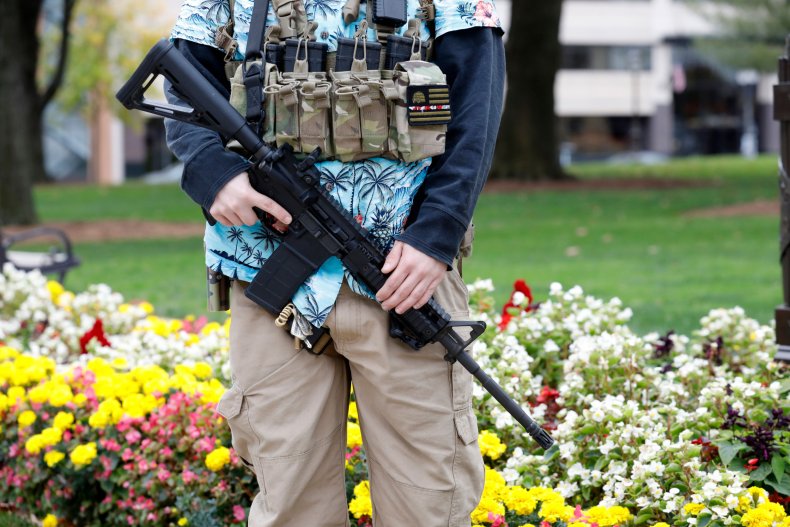 Swenson drove from his home in Hooks, Texas armed with two pistols, a 12-gauge shotgun, a homemade katana sword and 156 rounds of ammunition, police said. With heavy metal music playing in the background, he spoke of finding "flashing lights" and killing "tyrants" as well as "redcoats," the Texarkana Gazette reported. "Tyrants" and "redcoats" are Boogaloo terms for law enforcement officers.
The Boogaloo Boys are a national movement that anticipates a coming civil war (a "boogaloo"—so named because of the 1984 film Breakin' II: Electric Boogaloo) against government and police, according to the Anti-Defamation League (ADL), a hate group watchdog organization. The group emerged in 2019. Boogaloo members have attended anti-lockdown and Black Lives Matter protests ever since, the ADL added.
Law enforcement officers in Bowie County alerted one another about Swenson's live stream. At one point, Swenson said that he had "found his prey." He then told viewers that he planned to turn around his vehicle to confront the officer.
Though Swenson tried to hide his location by covering his camera's lens, momentary shots of the highway and his truck's interior allowed police to determine his location and vehicle.
Officers surrounded Swenson's vehicle in a lot near a Sonic fast-food drive-in restaurant. Worried that he could begin shooting and harming others, police then chased Swenson's vehicle. Police eventually blew out the man's front left tire using a spike strip. Swenson later stopped his vehicle, refusing to exit it for 25 minutes as 27 officers surrounded him.
Police evacuated citizens who lived in the area where Swenson stopped. They feared that he might attack officers if police approached his vehicle to apprehend him.
During the trial, Swenson said that on the night of the incident, drugs had fogged his mind. He never intended to harm any officers, he said. Instead, he wanted to die via "suicide by cop", he added. He also said his social media statements were merely intended to be "controversial" rather than taken literally.
However, a prosecuting attorney questioned why he would need 156 rounds of ammunition just to provoke a police officer into killing him.
Prosecutors said that Swenson had told his wife that he didn't want to provoke arresting officers over worries that they might severely injure or maim him rather than kill him. Swenson also told his wife he worried that if police harmed his face, making he'd be unsuitable for an open casket funeral, prosecutors alleged.
"This was a game to him. Listen to him shouting 'woohoo' on the live feed," Assistant District Attorney Katie Carter said during the trial. "[Police] were afraid. They had targets on their backs. And they didn't know that in February (2020) he said he'd shoot cops until their bodies stopped twitching."
A 2019 report by the Police Executive Research Forum (PERF) found that 10 to 29 percent of fatal officer-involved shootings within the U.S. from 2015 to 2018 involved "suicide by cop."
To reduce such incidents, PERF suggested increased training and calling upon officers trained in mental health crisis intervention. The group also suggested that officers use less-lethal munitions and not aim weapons at mentally distressed people. Lastly, the group suggested engaging agitated people in conversation rather than shouting commands which can escalate the situation.
If you have thoughts of suicide, confidential help is available for free at the National Suicide Prevention Lifeline. Call 1-800-273-8255. The line is available 24 hours every day.