Texas Man Wed From Hospital Bed After Contracting Coronavirus Week Before Wedding
While battling COVID-19, Carlos Muniz was able to marry his fiancee in a Texas hospital this week, thanks to the caring and creative medical staff around him.
Muniz has been fighting for his life while suffering from coronavirus at the Methodist Hospital in San Antonio, and was due to get married last week. When the couple's wedding date came around, the pair knew they didn't want to wait.
Grace Leimann, Muniz's fiancee, said the past few weeks have been hugely stressful, she didn't know if her husband-to-be would pull through, let alone whether they would get married this month.
"That was the most difficult part for me, was just letting him go into the E.R. and not knowing when I would see him again," Leimann told KSAT.
"Twice he had his lungs collapse," she said. He is "a man full of faith, He's very giving, very loving and loves unconditionally," continued Leimann who could't wait to be married to Muniz.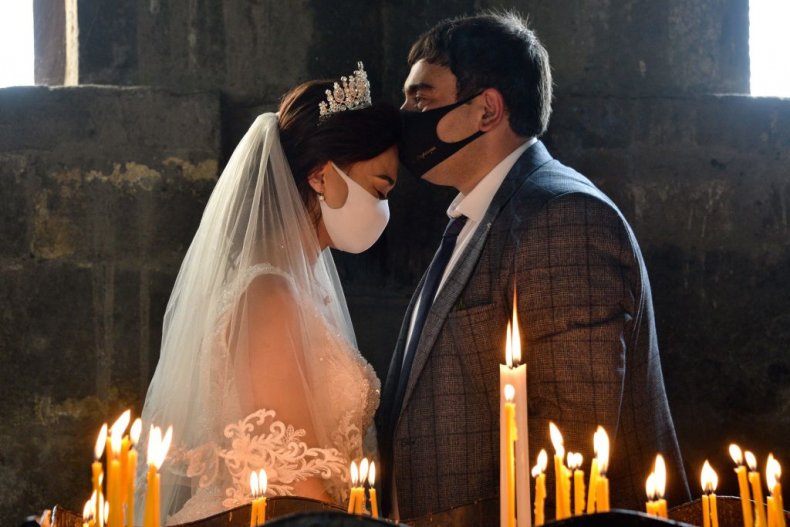 The staff at the hospital planned a ceremony for the pair on Tuesday, despite Muniz being in a hospital bed. The couple got dressed up, him in a black suit and her in a full white wedding dress, complete with flowers and a veil. The ceremony was performed in front of a limited amount of attendees, with social distancing and face masks.
"We were trying to be creative... and bring some life back into people and help them continue to fight through what is one of the worst hospitalizations I've ever seen," said Matt Holdridge, a nurse at the hospital.
Muniz competed the ceremony while on an ECMO machine, which helps provide cardiac and respiratory support to patients. Leimann also managed to feed her groom some cake, as wedding snaps were being taken.
"It was a beautiful moment and all I could see was him as I was asking down the isle," said Leimann.
It was "a ray of sunshine" said Holdridge, in what have been "dark" months for the staff at the hospital, who are dealing with numerous coronavirus cases.
Muniz still has a long way to go before he is back on his feet. But the pair are eternally grateful for this kind gesture from hospital staff. "We pray for you every day for the risk that you're taking to take care of our loved ones. Thank you," said Leimann.