Texas Man Suing Police After He Was Pepper Sprayed for Filming Son's Arrest
A Texas man is suing two police officers after he was pepper sprayed while filming his son being arrested over a minor traffic infringement.
The incident occurred in August when Dillon Puente, 22, was pulled over for making a wide right turn in the Riverdance neighborhood of Keller.
His father, Marco Puente, began filming his son's arrest from the opposite sidewalk—before being arrested himself.
Dillon Puente was driving to his grandmother's house to fix the air conditioning in his car on August 15, when he was stopped by Sgt. Blake Shimanek and pulled over, according to an official complaint lodged with the Keller Police Department.
Bodycam and dashcam footage—shown below—later released by police captured most of the incident.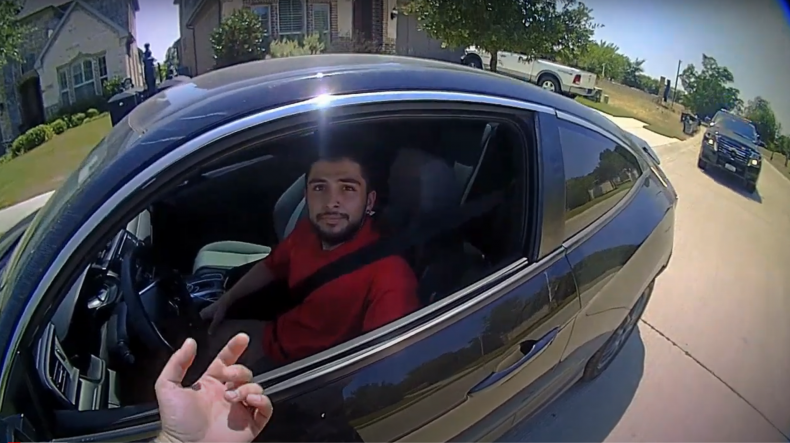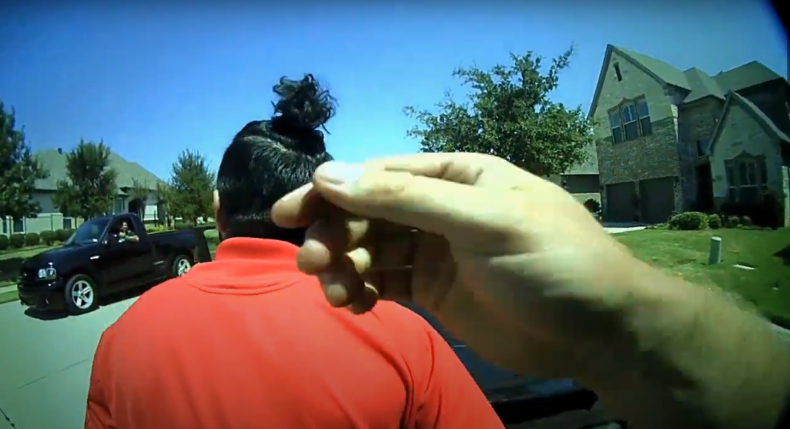 In the footage, Shimanek can be heard asking Dillon Puente: "Any reason why you rolled your window up when I walked up?"
The officer then asks Dillon Puente to get out of the car, demands he does not shut the window and places him in handcuffs. "Why you acting so suspicious?" Shimanek asks.
At this point, father Marco Puente can be seen pulling up in a vehicle on the opposite side of the road. "He got mad because I rolled up my window," Dillon Puente tells him.
As the 22-year-old continues to attempt to explain why he has been arrested, Shimanek directs attention towards Marco Puente, telling him: "You're about to be arrested for blocking the roadway if you don't park and get out .... You are interfering with my job."
Marco Puente then drives away, as requested, before returning to record his son's arrest on his cell from the sidewalk across the street.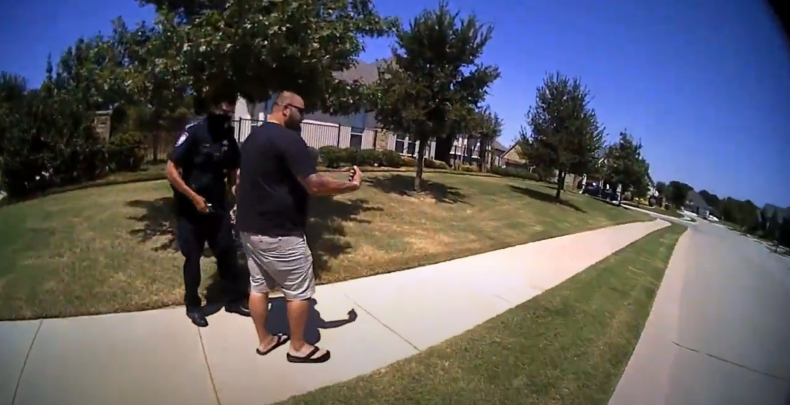 Officer Shimanek points at Marco Puente and tells another officer, Antik Tomer, to "watch him."
"Watch me watch, stand here?" Puente asks.
"Better yet," Shimanek says, "arrest him."
When Puente asks what he is being arrested for, Shimanek replies: "For blocking the roadway."
The footage shows officer Tomer walk over to the elder Puente, grab his arm and place him in handcuffs as Puente continues to ask for a reason for the arrest.
Shimanek then leaves the younger Puente in handcuffs on the side of the road and walks across the street toward the two men.
The elder Puente is then pushed to the ground, his cell falls from his hand, and he is cuffed. "Dude, oh my god, what are you doing?" he can be heard asking.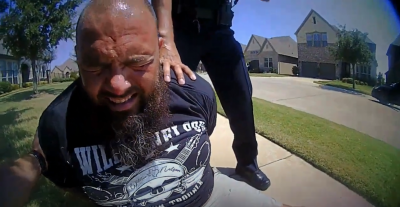 Shimanek directs Tomer to pepper spray the Puente, which Tomer does—inches from the man's face. Puente responds, saying: "That was totally unnecessary."
Shortly after, Puente states that his "eyes are on fire" and later pleads: "Give me a towel for my eyes or something. This is crazy!"
Over the next 15 minutes, Puente begs repeatedly for someone to give him a towel or help him wipe his face, but his request goes ignored.
After being detained, Puente is left in the back of the car for another seven minutes, fingerprinted and booked into jail where he sat in a cell for 6 hours.
His son was also escorted to the same jail, where he paid a ticket for his wide turn.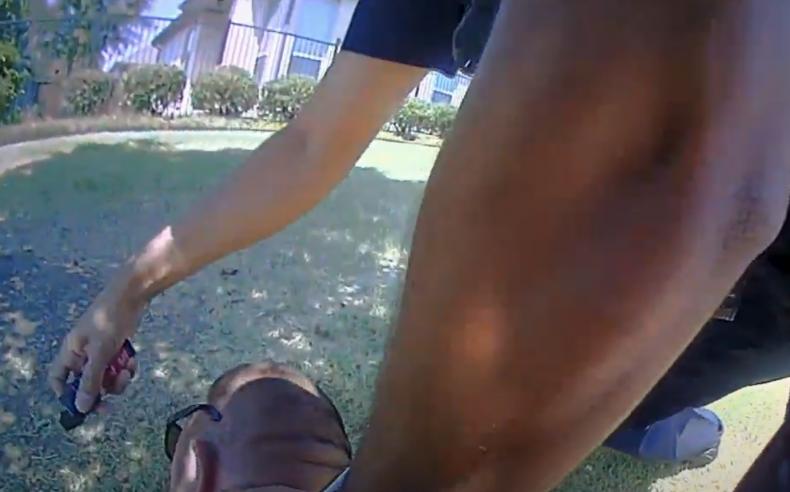 A federal lawsuit filed against the two officers in Fort Worth District Court on December 15, and seen by local TV station WFAA, claimed that Keller Police Department leadership had later called the use of force and arrest of Marco Puente "inappropriate."
An official complaint lodged with the department also notes the officers "used force to place Mr Puente under arrest."
The complaint continues to allege Shimanek violated "General Orders Code of Ethics and Conduct Towards Arrested Persons" as well as "General Orders Role and Authority."
Shimanek has since been demoted for his role in the incident, Mayor Armin Mizani confirmed in a statement released in response to the incident.
On Monday, Marco Puente spoke to WFAA about the incident.
"Who gets pulled out of a car and cuffed for a wide right turn?" He asked rhetorically. "Nobody. Nobody."
"The officer didn't like me being there recording anything," he added. "They tried to take me down and pepper spray me, and it was a fiasco."
Puente said he was still thinking about "what the heck went wrong", adding: "I keep going back to that I did nothing illegal. Is it because this officer didn't like what I was doing? Is it because he has more power than me?"
Puente has since engaged legal help over his arrest and the use of pepper spray.
"This officer literally took nothing and made it into something," his attorney, Scott Palmer, told the Fort Worth Star-Telegram on Tuesday. "He literally created havoc."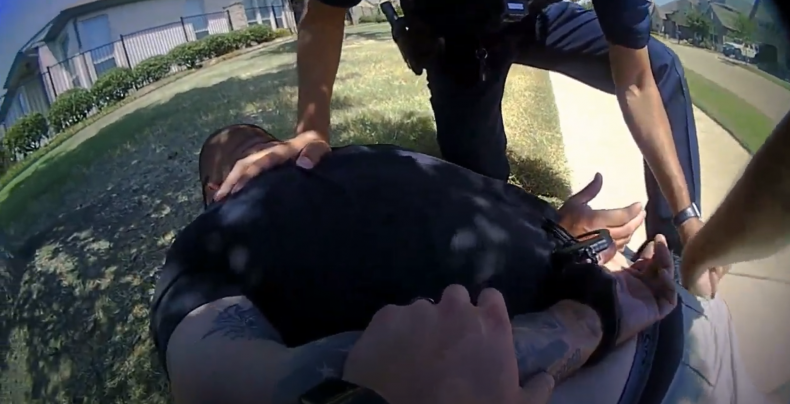 "Marco is not a criminal. This is a man, a concerned father, and if this can happen to him, it can happen to anyone. These officers knew better. I believe they were trained better, but why did they not execute better? I don't know."
James Roberts, an attorney in Palmer's law firm, said the two officers involved must have known "what they were doing was wrong, yet they still did it."
"It's disturbing to know that these are the people we are entrusting with providing safety in the community and they are abusing that power," Roberts told WFAA.
Dillon Puente paid the traffic ticket for making a wide right hand turn and was released from jail shortly after his arrest. Marco Puente wasn't charged with anything.
"This incident underwent review by command staff within hours. All charges were dropped, the plaintiff was released from custody and fines related to the traffic stop reimbursed," Mayor Armin Mizani confirmed in his statement.
Keller Police Department says it is unable to comment while the lawsuit is ongoing.
Police records obtained by the Fort Worth Star-Telegram show Shimanek was disciplined once in 2016 when he was found to have searched a woman's home without permission and reprimanded in 2018 when he was found to have said female teachers should not carry guns "because they would not be able to protect the children."
Tomer was reprimanded in 2019, when he responded to a "swatting" call and told the caller that he did not want to "respond to this kind of (expletive) again," according to a written reprimand.