Texas Man Tells Beto O'Rourke to 'Get the Hell Out' During Campaign Stop
A man told Texas gubernatorial candidate Beto O'Rourke to "get the hell out" during a recent campaign stop in a video that has been viewed more than 400,000 times on Twitter.
In the video, the man identifies himself as a native Houstonian named Robert and asks to shake O'Rourke's hand before unloading his thoughts on the candidate.
"On behalf of the ranchers, the oil and gas and farmers," he said. "Like Maxine Waters, I'm in your grill telling you don't come back. We don't want you here. Get the hell out."
The man then begins yelling that O'Rourke "ain't taking" his guns, while O'Rourke thanks him as he appeared to be escorted away. While the man leaves, he yells at O'Rourke: "Nobody wants you here. No means no. Three times, you lost twice" and takes out a flag.
Warning: Video contains language that may be considered offensive.
Texas Governor Greg Abbott, a Republican, shared the video on Facebook Tuesday, writing "Beto wrong for TX."
O'Rourke announced last Monday that he is running for governor, challenging Abbott. Many Democrats point to him as a top-tier candidate as they hope to continue making electoral gains in the Lone Star State in 2022.
"I want to serve this state and try to bring the people of Texas together to do some of the really big work that is before us and get past this smallness and divisiveness that Greg Abbott has brought to Texas," O'Rourke said in an interview with Texas Monthly.
He previously served in the U.S. House of Representatives as the congressman representing Texas' 16th Congressional District, which is based in his hometown of El Paso.
O'Rourke ran for U.S. Senate in 2018, challenging incumbent Republican Ted Cruz. Ultimately, he lost by about 2.6 points in the state that was believed to be solidly Republican prior to the election—though it has trended toward Democrats in recent years.
In 2020, O'Rourke ran for president, but he dropped out of the race before the first primaries. His campaign focused on increased gun control measures after 23 people were fatally shot in El Paso in 2019.
Some polls have indicated that the election could be competitive. A poll released by the Texas Hispanic Policy Foundation found the race in a virtual tie, with Abbott leading by only one percentage point.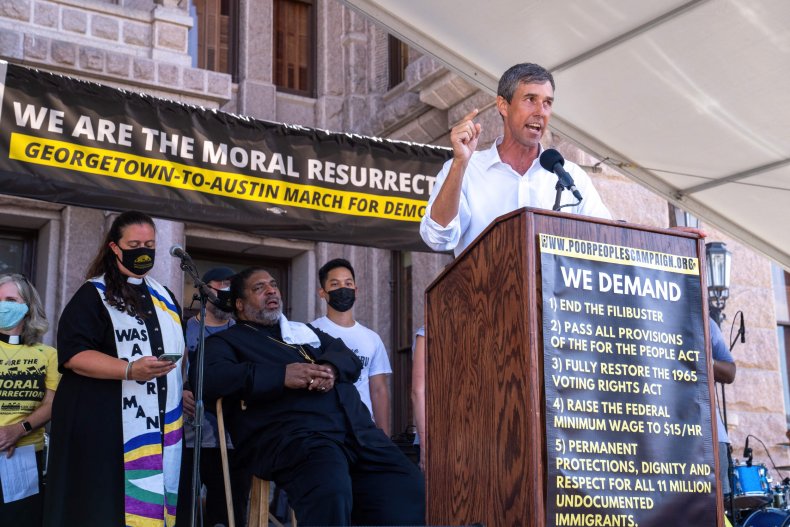 Other polls, however, show Abbott with a more substantial lead. An October poll by the University of Texas at Austin and The Texas Tribune showed Abbott leading by nine points.
Still, the governor's race could face a possible shake-up as actor Matthew McConaughey continues to mull a gubernatorial run. He told The Hollywood Reporter Tuesday that he has not made a final decision on entering the race.
A poll released Sunday found that in a three-way race, Abbott would take 37 percent of votes, while McConaughey leads O'Rourke with 27 percent to 26 percent.
Newsweek reached out to the O'Rourke campaign for comment Tuesday afternoon but did not hear back by publication. This story will be updated with any comments.