Rare Giant Fish To Spawn Behemoth Babies After Historic Texas Catch
A rare giant fish will be used to spawn other behemoth babies after being reeled in by a Texas angler.
The largemouth bass was caught by Jason Conn, who was in charge of a boat trip at the time.
As he was instructing a client near the front of the boat, he spotted the 17.03-pound fish swimming in the water.
The fish was caught with an Alabama Rig and taken out of the water. Conn screamed at the other passengers to grab the net so he could secure the catch.
"I'm freaking out, hugging one of the clients while the other is hanging over the boat with the fish in the net. I finally got it together and we went over to pick her up. It was the biggest bass I've ever seen or caught," Conn said in a press release.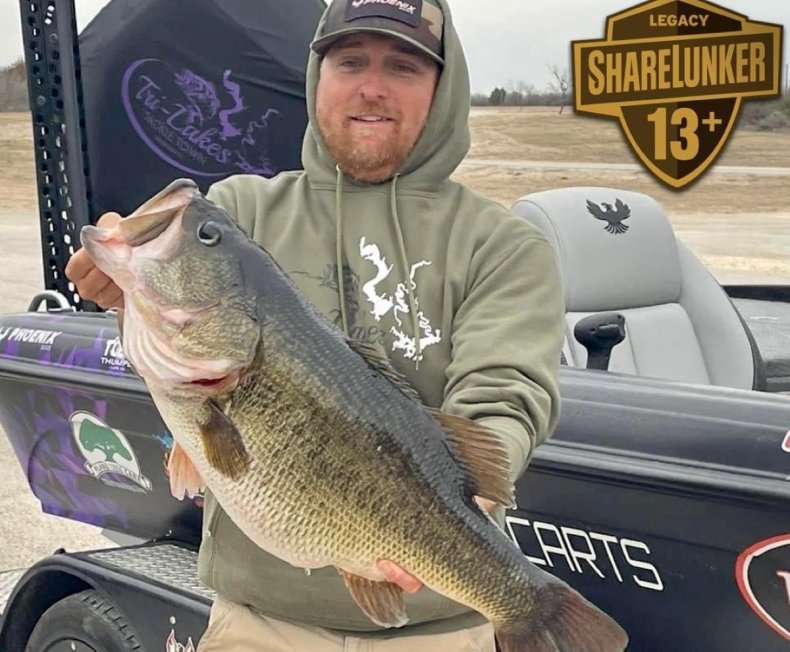 Largemouth bass weigh 12 pounds on average.
Conn brought the fish to Texas Parks and Wildlife, which runs the Toyota ShareLunker program—an initiative to encourage bass fishing.
After the fish was weighed, officials classed it as the eighth-heaviest largemouth bass to ever be caught in the state.
Natalie Goldstrohm, Toyota ShareLunker program coordinator, said in a press release that this was "an incredible catch."
"Bass this large are especially rare and this fish is one of the biggest bass ever caught in Texas," Goldstrohm said in a press release.
The fish will be used for spawn with another bass donated to the ShareLunker program. The hopes are that the bass' offspring will create more, exceptionally large fish.
"This is an unbelievable feeling," said Conn in a press release. "I've been bass fishing my entire life and I know this fish I caught is the result of the ShareLunker program. Watching what has been going on over the last couple of years with the program has been incredible. I know they are going to take good care of the fish. Hopefully she produces a lot of offspring that we can put all over the state."
Texas Parks and Wildlife awards anyone who donates a 13-plus pound fish to the program with "Legacy Class" status and gifts.
Bass fishing is hugely beneficial to the Texas economy. Largemouth bass, in particular, are very valuable as food.
Texas Park and Wildlife has introduced the species in many waterways in the state where they did not naturally occur, due to their popularity among anglers.
In the wild, largemouth bass begin to spawn when water temperatures reach about 60 F. This usually occurs in the early or late spring.
Do you have an animal or nature story to share with Newsweek? Do you have a question about fish? Let us know via nature@newsweek.com.