Texas Man's Bank Robbing Note Says 'I Didn't Get a Stimulus' or a 10k Loan
Police in Houston, Texas were searching for a man who robbed a bank in July after informing the teller he was committing the crime because he did not get a stimulus check from the U.S. Government.
Many businesses across the U.S. have been forced to close as part of coronavirus mitigation procedures. In response to the high number of individuals who found themselves unemployed, lawmakers passed a financial relief program which sent qualified individuals a $1,200 payment. In addition, business owners could apply for loans designed to help pay business expenses and keep employees on the payroll. According to the note given to the teller at Houston's Woodforest National Bank, the robber received no relief money.
"I didn't get a stimulus or that 10K loan," the note read. "I lost my business to Covid so please make this easy and comply. I don't wanna hurt nobody but will if I have to. Any suspicious moves and I will start shooting so please go get my money. Don't make anything noticable!"
After receiving an undisclosed amount of money from bank employees, the suspect escaped on foot.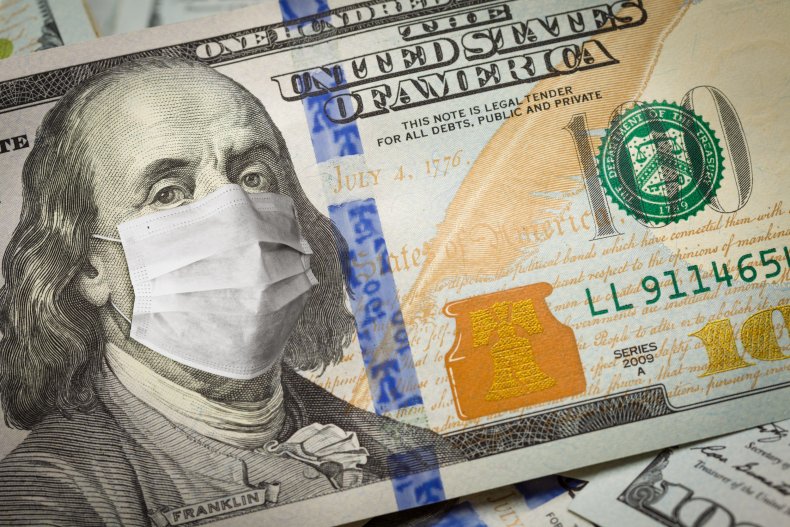 Originally rolled out as part of the CARES Act in March, the Payroll Protection Program (PPP) was established to give financial relief to small business owners. Because of the number of applicants, the program depleted its original allocation of $349 billion in 13 days. Bankers and business owners reported computer issues and hefty lag times when trying to apply for loans. Some large businesses received loan money from the PPP to the dismay of some observers.
Ruth's Chris Steakhouse, an upper-scale chain of restaurants, received $20 million in loan money from the PPP in April. The franchise's parent company, Ruth's Hospitality Group, said it would return the funds.
"We intended to repay this loan in adherence with government guidelines," said President and CEO of Ruth's Hospitality Group Cheryl J. Henry, "but as we learned more about the funding limitations of the program and the unintended impact, we have decided to accelerate that payment."
Many business owners found the original rules for qualifying for the PPP to be perplexing.
"The PPP came with no user manual and it was extremely confusing," read an open letter by Union Square Hospitality Group (USHG) in April. USHG owns the Shake Shack chain of restaurants.
"There was no fine print, anywhere, that suggested: 'Apply now, or we will run out of money by the time you finally get in line,'" the letter added.
Lawmakers replenished the PPP with an extra $310 billion. The Treasury Department issued clarifications about the PPP in June allowing business owners to ask for forgiveness of the loans as soon as the money had been spent.