Texas Church Mass Shooting: Air Force Mistakes, Violations Reportedly Allowed Convicted Veteran to Purchase Guns Used to Kill 26
Violations of Air Force policy allowed a mass shooter to legally purchase the weapons he used to conduct a church massacre last year, a Department of Defense inspector general said in a report released Thursday.
Devin Kelley killed 25 people and an unborn child when he opened fire on the First Baptist Church in Sutherland Springs, Texas, in November 2017. The Air Force veteran should have been prevented from buying weapons due to a domestic violence court-martial conviction he received while serving, but military personnel reportedly failed to follow protocol.
The Air Force did not send the final disposition report on Kelley's conduct to the FBI as required, which would have placed him in a federal database. The veteran was therefore able to clear FBI background checks and legally purchase weapons on multiple occasions when he should have been prohibited from doing so, the report stated.
On four separate occasions, the Air Force failed to submit Kelley's fingerprints to the FBI as required by Department of Defense, Air Force and United States Air Force Office of Special Investigations (AFOSI) policy.
In June 2011, the AFOSI began investigating Kelley for the assault of his stepson. Department of Defense policy requires that when there is probable cause that a military subject committed a crime, the suspect's fingerprints should be sent to law enforcement.
In February 2012, Tessa Kelley, the shooter's wife, told investigators that he had physically abused her. The Air Force again should have submitted Kelley's fingerprints to the FBI.
The third incident took place in June 2012, when Kelley confessed on video to assaulting his stepson.
On November 7, 2012, Kelley was convicted by a court martial for assaulting his wife and stepson. Once again, his fingerprints were not submitted to the FBI.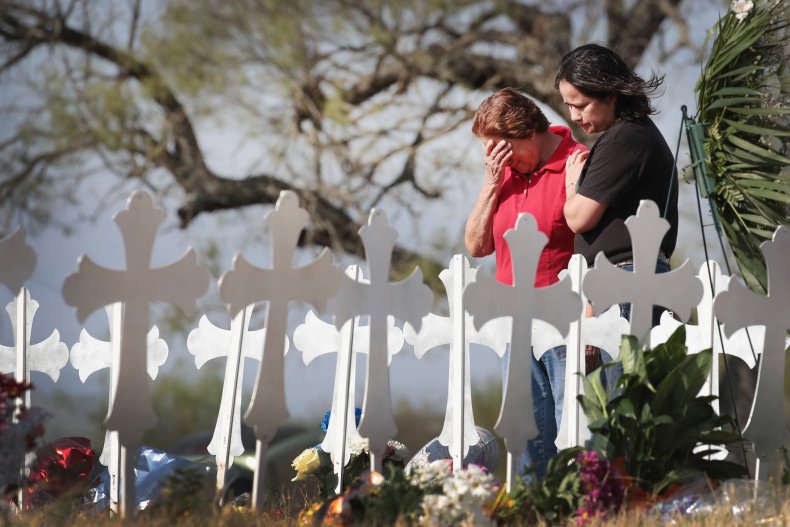 "If Kelley's fingerprints were submitted to the FBI, he would have been prohibited from purchasing a firearm from a licensed firearms dealer," the report said.
Air Force officials interviewed for the report either did not know about the policy for submitting fingerprints or could not explain why they didn't follow the requirement.
The report recommended that the Air Force institute a background check system in its recruiting process, according to NBC News, which reported that Kelley was alleged to have committed multiple crimes before his service.
After the mass shooting in the Texas church, the Air Force said it had failed to report dozens of service members charged or convicted of crimes to the FBI, according to The New York Times.
"The error in the Kelley case was not an isolated incident and similar reporting lapses occurred at other locations," the military branch said in November 2017. "Although policies and procedures requiring reporting were in place, training and compliance measures were lacking."
The Air Force did not comment prior to publication.