Texas Mayor Calls for End to 'Catch and Release' As Migrant Surge Strains Law Enforcement
In Eagle Pass, Texas, the migrants Border Patrol agents release into the community have little impact on the city's residents due to the speed with which they move on to their next destinations, according to the city's mayor.
Mission: Border Hope, a local nonprofit, assists Eagle Pass by coordinating transportation for the migrants, whom Mayor Luis Sifuentes said are arriving by the hundreds.
"They're being released in our community to an NGO, which is Mission: Border Hope, and they're really quick about getting them transported, finding them transportation outside of Eagle Pass," Sifuentes told Newsweek. "It's rare that we have any of those individuals that are released stay 24 hours."
The real problem for Eagle Pass, which is located right along the Rio Grande with a population the U.S. Census Bureau estimates to be around 30,000, is that migrants are still crossing the U.S.-Mexico border illegally and passing through the city on their journey. Those illegal crossings are putting a strain on Border Patrol agents and local law enforcement, Sifuentes said.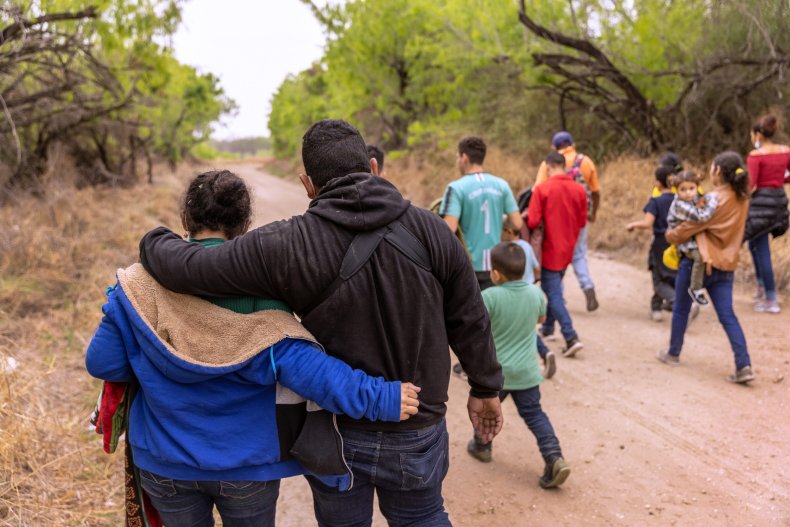 "You're not seeing those immigrants that are released stay in our community," he said. "What we are encountering, those that are crossing illegally, they're going through neighborhoods. People are finding them hiding in their backyards."
To assist the situation in Eagle Pass, Sifuentes said Texas Governor Greg Abbott sent agents with the Texas Department of Public Safety (DPS) to support the local response.
"I'm grateful to Governor Abbott for sending the highway patrol, DPS, agents, because there's so many individuals that are getting through," he said.
Even so, the mayor said the extra assistance from the state isn't enough to respond to all of the illegal crossings taking place.
"Over 250 are being caught a day," Sifuentes told Newsweek. "They're not catching all of them. And so that help from the governor is really appreciated, and we're going to continue to use our police officers and law enforcement agents to help patrol all the areas along the Rio Grande."
A policy known as "catch and release", which enables border officials to release apprehended migrants into the U.S. before they are to appear in immigration court, resumed earlier this year after President Joe Biden took office. Sifuentes suggested the policy is appealing to those who want to come into the country, and some of Texas' elected officials at the federal level agree. Earlier this month, Sifuentes participated in a discussion about current immigration policies with Senator John Cornyn and Rep. Henry Cuellar earlier this month during a meeting held at Texas A&M International University in Laredo, according to The Rio Grande Guardian.
"They're all on the same page, you know—this catch and release is sending the wrong message to folks in other countries that are looking to come over here. The policies of the last administration really cut that low, and we need to stick to it—especially now," he said, citing the ongoing coronavirus pandemic as one reason to put an end to the practice. He noted that Eagle Pass has made efforts to provide COVID-19 vaccines for all local law enforcement, Border Patrol and customs agents who want to be immunized.
"They really need to put a stop to catch and release, especially since this pandemic is a reason that Mexicans, who are our neighboring friends across the river, cannot cross," Sifuentes said, adding that they ordinarily would be able to do so legally. "It doesn't make sense."
Several weeks into the surge that Sifuentes said Eagle Pass began confronting in January or February, sufficient law enforcement support remains a top priority for the city in its handling of incoming migrants.
"The challenges are local law enforcement having to patrol and put in more shifts to patrol the residential areas that are closest to the river," Sifuentes said. "Once they're over and they're being chased by Border Patrol, they're trying to hide in anybody's backyard."
There have been a handful of occasions where it is believed migrants who crossed the border illegally may have tried to enter an Eagle Pass residence, though Sifuentes said there were "not a lot" of those incidents and added officials "can't say for sure" whether those involved crossed the border illegally.
"That's really the strain we're feeling—our local police department, our local county sheriff's department—trying to be more vigilant and patrolling these areas more frequently," he said.
Despite those suspected incidents, Sifuentes said Eagle Pass is a safe city with a similarly safe neighboring region on the other side of the border in Mexico.
"The border is a safe community," Sifuentes said. "In terms of the borders being dangerous, that's a misconception that's thrown out there by people that are trying to gain political points."