Texas Mayor Sparks Backlash After Saying Women Can't Lead Prayer at City Council Meetings
The mayor of a Texas city sparked a backlash after an email in which he said women could not lead prayer at city council meetings was posted online.
Eric Hogue, the mayor of Wylie, a small city north of Dallas, wrote the remarks in response to an email from Jeff Forrester, a member of the Wylie City Council.
Forrester had asked in an email dated May 14 Hogue if members of a local missionary group could "come to our next meeting and lead us in prayer before the meeting."
Hogue—who is also a pastor at the Cottonwood Church of Christ in Wylie—agreed, but stipulated in his response three days later: "All I ask is that those leading the public prayer be men."
He cited two passages from the Bible's New Testament to justify his request, which he says he and other members of his church take literally.
One of the verses, according to his email, states: "Let your women keep silence in the churches: for it is not permitted unto them to speak; but they are commanded to be under obedience as also saith the law. And if they will learn anything, let them ask their husbands at home: for it is a shame for women to speak in the church."
The other passage quoted by Wylie says: "Let the women learn in silence with all subjection. But I suffer not a woman to teach, nor to usurp authority over the man, but to be in silence."
Hogue adds in the email: "I understand not everyone may agree with me, but I can't go against my conscience."
A screenshot of the email was posted on a Facebook page called Befuddled by the Clowns, which is devoted to politics in Wylie.
"I am absolutely gobsmacked. Here, in his own writing, is Mayor Eric Hogue's misogynist beliefs," the post said. "This explains why no woman has ever lead prayer at city council since he took office over a decade ago. Ever. This should outrage all women.
Mary Shaddox, who lives in Wylie, told NBC DFW that she was "flabbergasted" by the comments. "That's his right in his church and his home but he cannot bring it into a government office," Shaddox told the station.
"That's his right in his church and his home but he cannot bring it into a government office," Shaddox said.
The email also prompted outraged locals to post comments on the Facebook page of Hogue's church. Lisa LaCaze called it "disgusting and disrespectful."
"I grew up attending church and never once was a woman not allowed to lead in song or prayer. I think your letter reflects you as a person," she wrote. "You should be ashamed and embarrassed."
Lisa Eller Jobe added: "This letter is disgusting. Keep your religious views of women at church and don't bring that trash to city council meetings."
Hogue, who is serving his last term as mayor after 12 years, defended the sentiments expressed in the email to local news outlets.
"I believe a lady can be president of the United States," Hogue told WFAA. "I believe a lady can be CEO of a company, the superintendent of a school district. But I believe, and this is me, when it comes to [picking] somebody to lead the invocation at a city council meeting, because of those two sets of verses, I'm going to choose a male."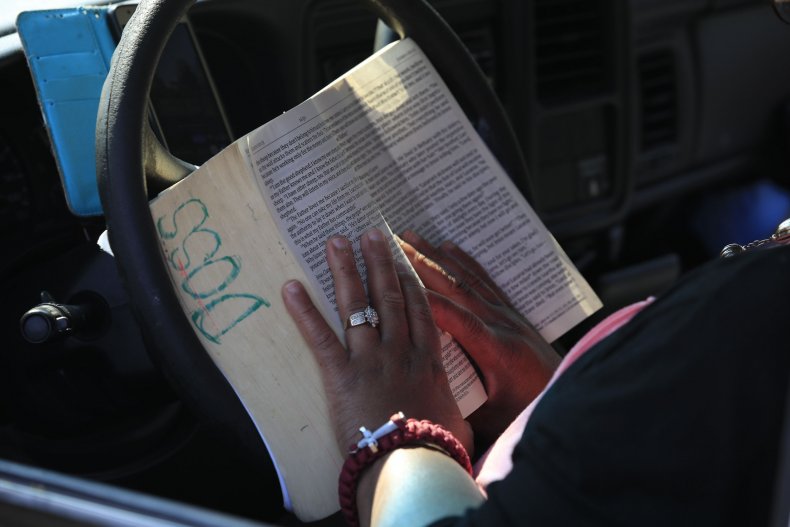 He told NBC DFW that in his 12 years as mayor, he had only ever chosen men to lead prayers at council meetings and said he refused to compromise on his beliefs.
Hogue said he believes the backlash is politically-motivated by those who are angry the election of a new mayor that was set to be held in May has been delayed until November because of the coronavirus pandemic.
"I think the main thing is the budget cycle is coming up and they would like to have the new council in place. I totally get that but we are living through a pandemic," he told the station.
Meanwhile, Forrester told WFAA that he was "shocked" by the response to his email and said he doesn't agree with Hogue. "I certainly don't share those beliefs. I think we're all created equally in the eyes of God and in the eyes of our government," he said.
He added that he had not ever witnesses Hogue speaking ill of women during his five years on the council. Forrester also told the station that he was told by the city manager that the email had been released through an open records request.
Hogue and Forrester have been contacted for additional comment.