Members of the 12,000-large First Baptist Church of Dallas won't get the chance to use their religious faith as a way to skirt COVID-19 vaccination mandates.
Rev. Robert Jeffress, the church's leader, recently said that "there is no credible religious argument against the vaccines," adding in an email sent to the Associated Press that he and his staff "are neither offering nor encouraging members to seek religious exemptions from the vaccine mandates."
For some, the announcement came as a surprise, given Jeffress' position as a major figure in the pro-Trump evangelical community. Jeffress made a number of trips to the White House during former President Donald Trump's tenure and supported him during impeachment proceedings.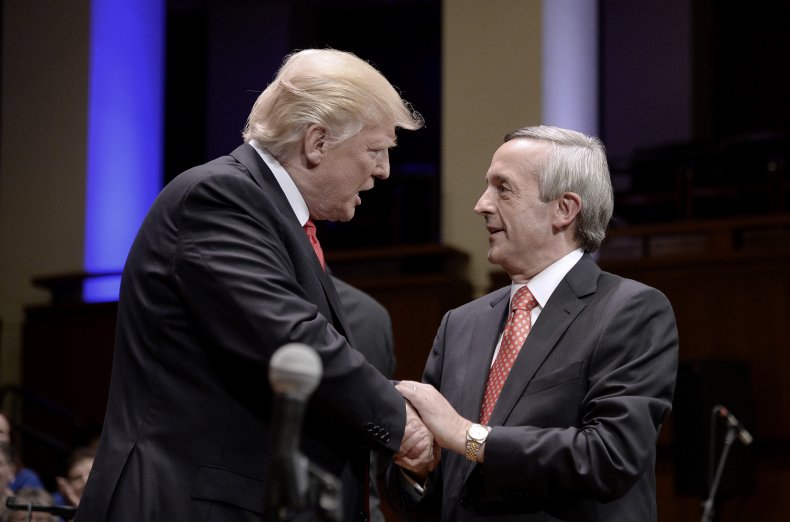 While the former president has since supported COVID vaccinations and has been booed for this support by members of his base, Trump previously refrained from touting the vaccine on the grounds of "freedom" and questioned the FDA over an alleged preferential relationship toward Pfizer.
Some Republicans, including Representative Marjorie Taylor Greene of Georgia and Representative Madison Cawthorn of North Carolina, have promoted an anti-vaccine rhetoric. This anti-vaccine position has seen support among Republican voters, with a July Kaiser Family Foundation poll reporting that 58 percent of people who said they would "definitely not" get the vaccine identified as Republican.
Evangelical Christians, which according to the Pew Research Center is 56 percent Republican, are more likely to be anti-vaccine. A report by the Public Religion Research Institute found 44 percent of white evangelical Protestants oppose the vaccine, tied with Hispanic protestants as the most vaccine-hesitant religious group.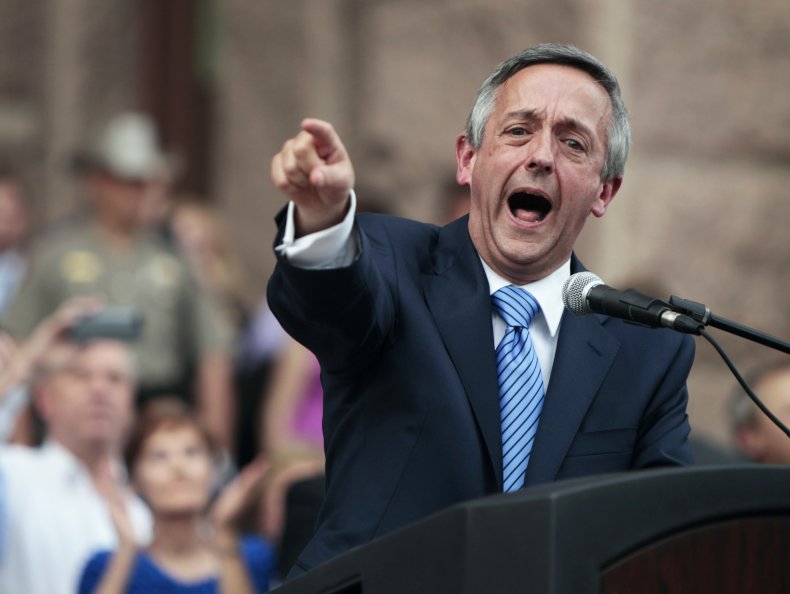 Despite members of the evangelical base expressing skepticism, Jeffress' position falls in line with other conservative leaders who have supported members of their congregations receiving the shot.
The Church of Jesus Christ of Latter-Day Saints, more commonly known as the Mormon church, leans 70 percent Republican according to the Pew Research Center, and recently, the church's leadership came out in support of vaccination. An August statement by the church's governing body, known as the First Presidency, encouraged members to receive the shot and wear masks indoors, saying "we can win this war if everyone will follow the wise and thoughtful recommendations of medical experts and government leaders."
Leaders of the Greek Orthodox Archdiocese of America have followed suit, announcing they would not provide religious exemptions for the shot. Similarly, the Vatican and the U.S. Conference of Catholic Bishops have come out in favor of the shot. Pope Francis has said it is "morally acceptable" to take the COVID vaccine, which he said may be used "in good conscience."