In Texas, a Surge of Migrants Also Means a Surge of Dead Bodies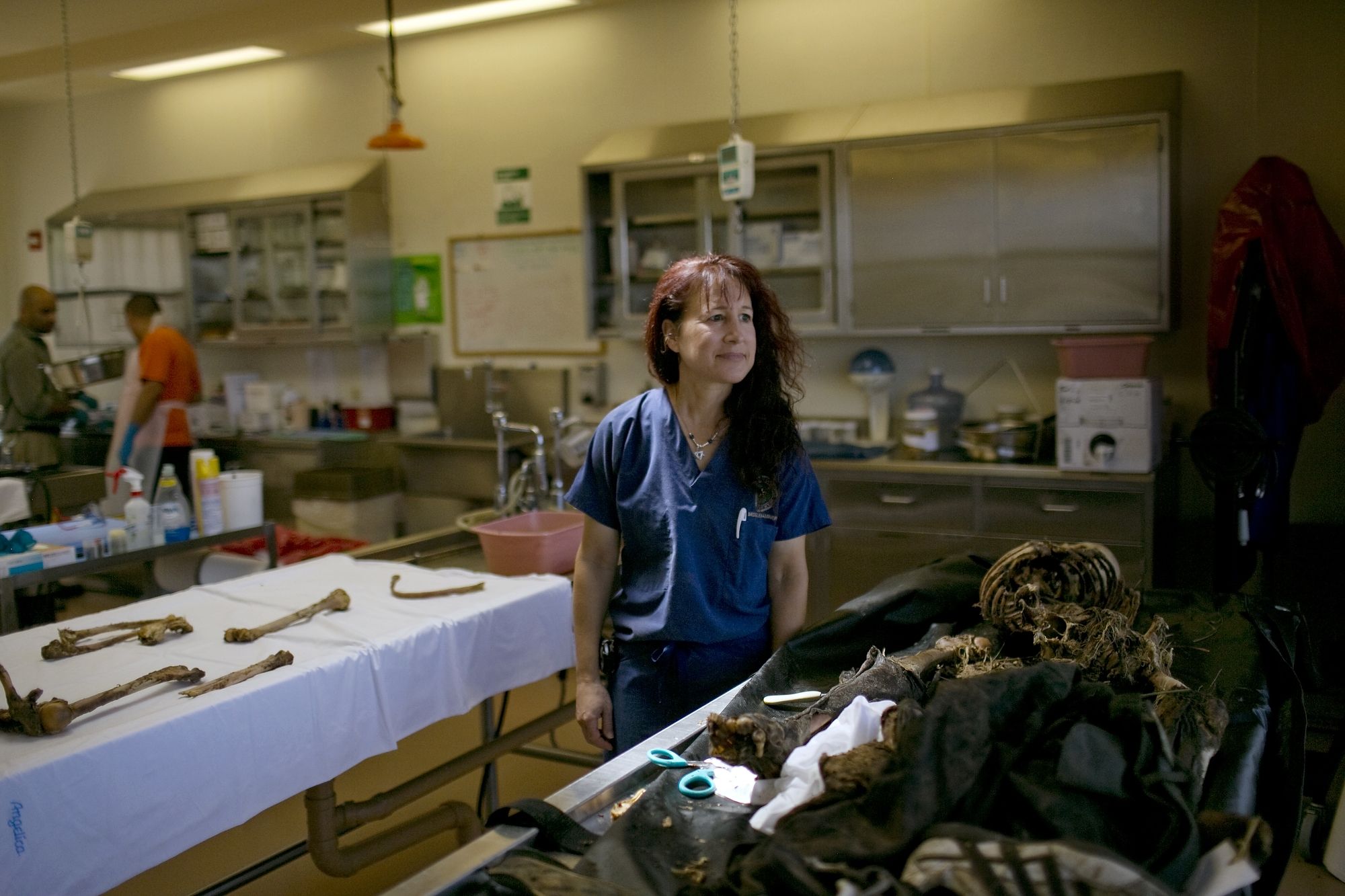 It had become a routine call.
On June 21, Brooks County Deputy Elias Pompa was called to the Wagenschein Ranch in southern Texas. A U.S. Border Patrol supervisor escorted Pompa and a justice of the peace onto the property. The three walked a fifth of a mile and arrived at GPS coordinates N.27.05702-W.98.14811. There, the remains of a migrant lay on the dry, grassy ground.
"The skeletal remains appeared to be from a small frame female. She was wearing a black shirt, blue bra, black pants and some black Puma shoes with some pink and purple lines on the side. There was no ID found on the remains or in the surrounding area," read the Sheriff's Department report.
The remains, the report continued, were picked up by a south Texas mortuary and would be translated to the Webb County Medical Examiner's Office, in Laredo.
A recent surge of Central American migrants attempting to cross the U.S.-Mexico border has prompted President Barack Obama to call the crisis an "urgent humanitarian situation," spurred him to order executive action to make changes to the country' immigration system and pushed him to ask $3.7 billion from Congress to address it. Apprehensions have skyrocketed, particularly those of minors. Some 57,525 unaccompanied children have been apprehended in fiscal year 2014, 106 percent more than the previous fiscal year, according to U.S. Customs and Border Protection.
And the journey has grown deadlier. In 2012, the National Foundation for American Policy reported that migrants were eight times more likely to die in an attempt to cross the border illegally than a decade before.
Medical Examiner Corinne Stern, a petite 48-year-old woman with a take-charge demeanor, remembers the case of the Wagenschein Ranch well. A Guatemalan man living in Boston had called her office shortly before those skeletal remains arrived, saying his sister was missing. He described what she had been wearing when she left home en route to the U.S., and it was a close match. He said she had light brown hair, green eyes, no tattoos or scars.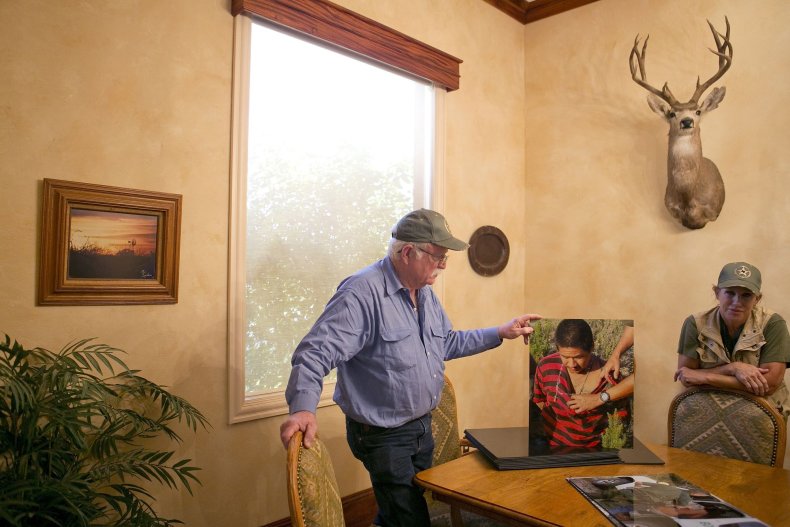 In Focus
Ranchers in Brooks County complain of property damage and trash left behind by the migrants. They also die on them.
Launch Slideshow

15 PHOTOS
First, Stern pulled out the missing person's file, looking for potential matches. Then, she tagged the body and X-rayed it to look for screws or surgical plates. Stern photographed the remains, documented the clothing—its size, brand and color—and performed a complete autopsy.
Sometimes, says Stern, migrants hide phone numbers in the stitching behind belts and under the soles of their shoes. Stern's staff will also look for SIM cards on the migrants and then insert them into their own cell phones. "We have a lot of chargers here," says Stern.
MORE: Hunting Humans: The Americans Taking Immigration Into Their Own Hands
If no IDs are found on a deceased migrant, recent calls can provide the first clue to their home country: The most frequent country codes found on the call log nowadays are 502 for Guatemala, 503 for El Salvador and 504 for Honduras. Sometimes, investigators come to the conclusion that the most recent number belongs to a "coyote," or human smuggler, because when they're called they slam the phone down almost immediately.
Once Stern's team determines which country a migrant most likely came from, investigators send that country's consulate a file with photographs and information on any identifying markers on the body, such as tattoos or scars. If they cannot figure out the country of origin, they send the file to all the consulates. Besides the Central American countries mentioned above, Cuba, Brazil, Uruguay and Ecuador are some of the consulates the Medical Examiner's Office frequently contacts.
"We freely share the info because the consuls are such an important part of this process," says Stern. Her team includes three full-time investigators, one full-time and one part-time autopsy technician, an administrative assistant and a cadaver dog in training named Rufus. Interpreters assist the team in calling families in Central America.
Even if Border Patrol says they have a hit on a victim's fingerprints, Stern goes through the full identification procedure, since some Central American migrants carry fake Mexican IDs—that way, if they are deported, American authorities drop them off just south of the border rather than in their home countries and they can attempt to cross again without having to trek through Mexico.
The office processes human remains from 10 different south Texas counties, including Webb County. The staff works seven days a week. When Stern, an avid horse rider, has time off, she likes to run and spend time with her goats. But her cases are always seeping into her off time.
"I lay awake at night and think: Did I remember to chart that one?" she says. Then, she adds, "I dream about my cases."
Migrant deaths account for about 20 to 25 percent of the office's workload, says Stern. The team spends more time on border crosser cases than on routine autopsies, she adds, saying that while they are not overwhelmed, her staff is working harder and longer days with the recent increase in migrant deaths.
The team has positively identified or is awaiting DNA reference samples on "good probable ID" on approximately 80 percent for non-skeletonized bodies from Brooks County, where the majority of migrant remains they process are found. The county pays the Medical Examiner's Office $1,500 for every autopsy.
Sometimes, they are called out to recover bodies. In early July, Stern spent about four hours on the Rio Grande, thigh-deep in the water, fighting against the fast current and working with Mexican firefighters—Border Patrol did not have boats in the water at the time, she said—to recover the body of a man who had died trying to cross.
Back at the office, technicians work on bodies in an uncluttered autopsy room flooded with natural light and overlooking verdant brushland. During a recent morning, Mateo Arredondo stood over a skeleton that was bare except for a pair of sneakers, removing bits of hardened flesh still attached to the bones. Once unidentified skeletons are clean, they are sent to University of North Texas, where they are further processed and where DNA samples are compared with profiles of families who are missing loved ones.
Stern's team believed they found a match between the migrant Pompa found in the Wagenschein Ranch, who had no evidence of injury and had most likely succumbed to heat stroke, and an entry in the missing person's binder. In addition to the call from her brother, the woman's sister-in-law had filed a missing person's report after the coyote guiding her through Brooks County called to say that after she fainted, he had called 911 before leaving her behind.
During a phone call with the Medical Examiner's Office staff, the woman's mother, back in Guatemala, described her daughter's shirt—it had the word LIVE on it, a rose in place of the "I"—a flower-patterned bra, two-toned underwear and Puma sneakers.
It was, indeed, a match. "We were in touch with the brothers, who asked about the process of identification," said Allan Perez, Guatemalan consul in McAllen, Texas. Perez said the woman's remains were sent back to Guatemala, arriving on July 12, three weeks after she was recovered from the Brooks County ranch.
Her name was Ereida Paola Mazariegos. She was 30 years old when she died in Texas, and she left a toddler son behind in Guatemala.
Correction: An earlier version of this article misidentified the university where skeletal remains are sent. It is the University of North Texas.