Greg Abbott, Beto O'Rourke React Very Differently to Texas Migrant Deaths
Texas Governor Greg Abbott and Beto O'Rourke, the former congressman hoping to unseat Abbott in November, had sharply differing responses after 46 people were found dead in an abandoned tractor-trailer in San Antonio on Monday.
At least 16 others, including four children, were transported to local hospitals suffering from heat exhaustion, officials said at the scene of the latest tragedy involving migrants smuggled across the border from Mexico.
Abbott, a Republican, was quick to place blame for the deaths on President Joe Biden.
"These deaths are on Biden,"Abbott tweeted on Monday night. "They are a result of his deadly open border policies. They show the deadly consequences of his refusal to enforce the law."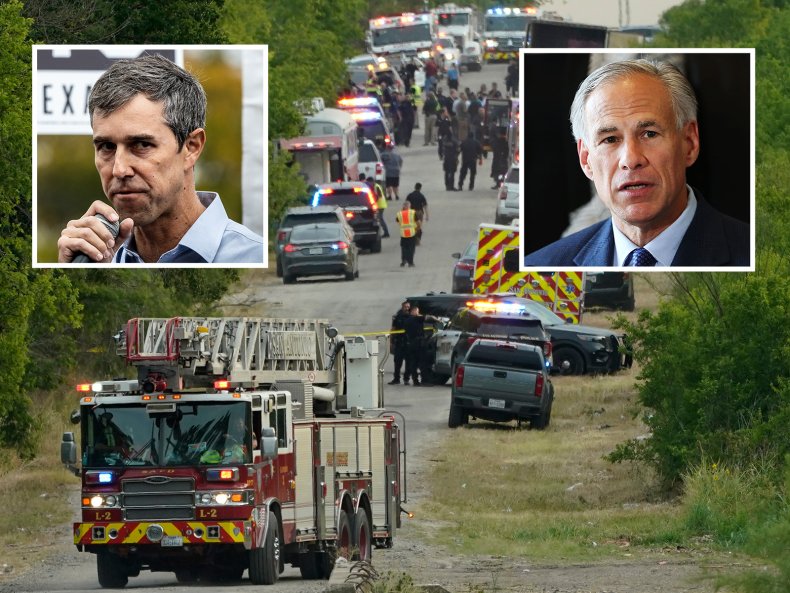 O'Rourke, meanwhile, avoided pointing the finger in his response.
"This is devastating. Our thoughts go out to the families of those who lost their lives in San Antonio today," he said in a tweet.
"We need urgent action — dismantle human smuggling rings and replace them with expanded avenues for legal migration that reflect our values and meet our country's needs."
O'Rourke notably clashed with Abbott last month after 19 children and two teachers were killed by a gunman in an elementary school in Uvalde, also in southern Texas. O'Rourke accused his rival of "doing nothing" to curb gun violence in the state.
San Antonio Mayor Ron Nirenberg called the San Antonio discovery a "horrific human tragedy."
"More than 40 hopeful lives were lost," he said on Twitter Monday. "I urge you to think compassionately, pray for the deceased, the ailing, and their families at this moment."
U.S. Homeland Security Investigations is investigating the incident, San Antonio Police Chief William McManus has said.
Three people were taken into custody, but it was not clear if they were definitively connected with human trafficking, McManus said.
Aaron Reichlin-Melnick, policy director at the American Immigration Council, also connected the incident to the Biden administration's policies and said had been "dreading another tragedy like this for months now."
"With the border shut as tightly as it is today for migrants from Mexico, Guatemala, Honduras, and El Salvador, people have been pushed into more and more dangerous routes," he wrote on Twitter. "Truck smuggling is way up."
Other advocates blamed the immigration policies of former president Donald Trump and Abbott.
"This tragedy is only the latest case of unscrupulous coyotes putting profit over the lives of real human beings," said Lydia Guzman, the national immigration committee chair at the League of United Latin American Citizens.
"Sadly, this is a result of our broken immigration system. The lack of real immigration reform puts migrants in danger of falling victims to unscrupulous smugglers."
Migrants attempting to cross the U.S.-Mexico border have been expelled more than 2 million times under Title 42, a controversial Trump-era policy that has limited asylum for more than two years.
The policy, which was put in place in March 2020 to limit the spread of COVID-19, encourages repeat attempts because there are no legal consequences for getting caught. A federal judge recently ordered the policy remain in effect after the Biden administration attempted to rescind it.
Abbott, O'Rourke and the White House have been contacted for comment.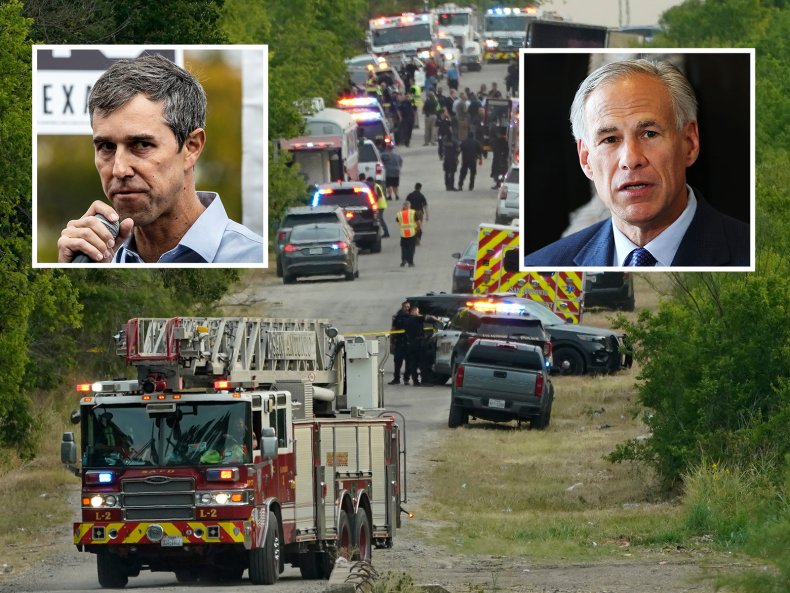 Update 6/28/22, 6:16 a.m. ET: A composite image showing O'Rourke, Abbott and the site of the tragedy in San Antonia has been added to this article.