Texas, Mississippi See Lowest COVID Cases in Almost a Year 1 Month After Lifting Mask Mandate
Despite concerns about lifting mask mandates, Texas and Mississippi haven't seen massive spikes in coronavirus cases, and both states reported new case numbers not seen since last year.
Texas and Mississippi lifted their mask mandates on March 2, much to the dismay of federal public health officials and President Joe Biden, who said they worried it would counteract the progress of vaccination efforts. Dr. Anthony Fauci, director of the National Institute of Allergy and Infectious Diseases, still isn't sold on Texas' success, but a month after restrictions lifted, cases have remained under control.
Dr. Thomas Dobbs, a Mississippi state health officer, tweeted that the state was seeing "phenomenal progress" in its battle against the virus and was reporting the lowest case numbers since last May.
Liz Sharlot, communications director for the Mississippi State Department of Health, told Newsweek vaccinations are a key reason for why they've kept cases down. A "great deal" of the population that is over 50 has been vaccinated, including 54 percent of those 75 and older who have received both doses.
"We know those 50 and older have the highest mortality rates. We also know African Americans are at higher risk," Sharlot said. "We reached racial parity with our African American outreach and also offer many different and unique opportunities to obtain the vaccine."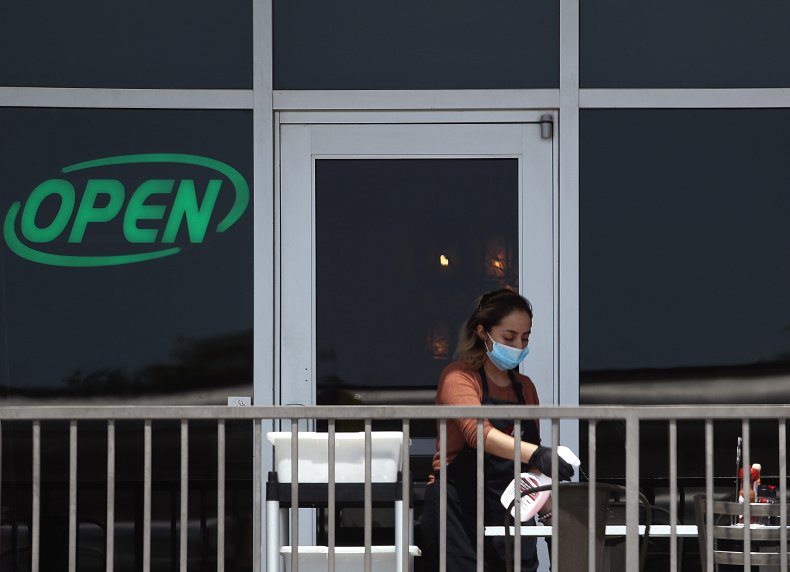 In the past four weeks, Black Mississippians have received doses equal to or higher than their share of the population, according to Mississippi Today. Dobbs attributed part of the success to community partners working to spread the word about the need to get vaccinated. Jerry Young, pastor of New Hope Baptist Church and president of the National Baptist Convention, told Mississippi Today he's seen a decrease in hesitancy because of his advocacy.
Vaccines are key to achieving herd immunity and an integral part of ending the pandemic. Mississippi officials are encouraging people to get vaccinated, and although there's no official mandate, Sharlot advised people to still wear masks and avoid large gatherings.
Texas is also reporting a decline in cases and is reporting new cases at levels that haven't been seen since May, according to the state Department of Health. On Monday, the state reported only three COVID-related fatalities, the second-lowest number in more than a year, according to Governor Greg Abbott, and hospitalizations were down to an almost 10-month low.
Given the nature of the virus, it takes at least two weeks to analyze the impact a reopening move has on the outbreak, and even longer to determine if it contributed to increased hospitalizations and deaths. Fauci warned against seeing Texas' positive trends as a final blow against the virus, because you can see a "lag" and a "delay" in reopening and the impact.
"You have to see in the long range," he told MSNBC's Morning Joe on Tuesday. "I hope they continue to tick down. If they do, that would be great but...we've been fooled before by situations where people begin to open up and nothing happens and then all of a sudden several weeks later things start exploding on you."
Fauci added that people need to be cautious and not to "prematurely" judge Texas' reopening.
Newsweek reached out to the Texas State Department of Health for comment but did not receive a response in time for publication.