Texas MLB Team To Investigate Claim of Harassment Toward Hispanic Families on Same Day of El Paso Massacre
The Texas Rangers baseball club announced Monday it will investigate a claim that Hispanic families were harassed at Globe Life Park in Arlington last Saturday, the same day a massacre against Hispanics took place in the Lone Star State.
The Dallas Morning News reported Monday night that the Texas Rangers club was looking into an allegation made by someone at a Saturday game in the ballpark. A Facebook post by Jessica Romero states a man was upset with Hispanic families sitting both in front of him and behind him.
"He made it perfectly clear during the second inning that he is not a fan of Hispanics," Romero said in her post. "And he just so happened to have a Hispanic family [us] sitting in front of him and another one sitting directly behind him. During the second inning the little boy behind him who looked to be about Nomar's [her son] age kicked the back of his chair. And for the next three innings I had to hear him complain about all the illegal immigrants that were surrounding him at the game. That he should kick little Speedy Gonzalez all the way back to Mexico for kicking his seat. That Trump needs to hurry and build the wall and send all these illegals back so they won't be kicking his seat."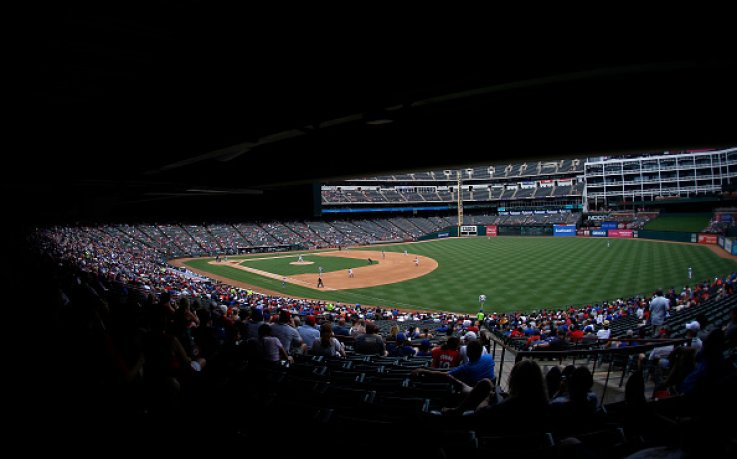 The post had more than 47,000 views at the time of the report.
"We left during the 5th inning," Romero wrote. "Sadly this is not the first or the last time we will ever experience this kind of racism."
The Texas Rangers and The Dallas Morning News had both reached out to Romero for further comment, according to longtime Rangers reporter Evan Grant in the report.
"The Rangers are committed to providing all of our guests with a safe and enjoyable experience and we are truly sorry that this family was subjected to this offensive behavior at Saturday's game," the Rangers said in a statement. "There is no place at Globe Life Park in Arlington for this type of conduct to occur. After learning of this incident on Sunday, we have reached out to the Romero family and pledge to make their next trip to Globe Life Park a memorable and enjoyable experience."
The incident happened the same day as a mass shooting casualty in El Paso — some 600 miles away but in the same state. The alleged shooter is from the Dallas-area town of Allen.
Texas MLB Team To Investigate Claim of Harassment Toward Hispanic Families on Same Day of El Paso Massacre | U.S.