A Texas mother wrote an open letter to her daughters apologizing for sending them to school amid a recent surge in COVID-19 cases among students.
In the letter published Tuesday in the Denton Record-Chronicle, Micah Carlson wrote to her daughters Charlie and Sophie that she is sorry they are returning to school unprotected from the virus, since children are ineligible to receive the COVID-19 vaccine.
"I know that, as a first grader and kindergartner, you are not protected and cannot get the 'shots' I promised would end 'COVIDteen' yet," Carlson wrote.
She is asking her daughters to wear a mask to avoid being infected with the virus "even if it feels futile" and has pushed for more COVID-19 protections in her children's school, "but no one is listening," she wrote.
"I know other people won't get their shots or social distance," Carlson wrote. "I know your desks are already arranged in group-workstations."
The mother reflected on the year-and-a-half since the COVID-19 pandemic began—saying there has "an entire decade of crises in the past year" and that her family has taken COVID-19 precautions including mask-wearing.
"This has been a really hard year," she wrote.
Carlson said she is scared that if her family becomes seriously ill, there may not be enough hospital beds—as ICU units in several states including Texas are reaching capacity—and that the education system does not hear her concerns. She said she is left with only one choice—to send her daughters into a school she feels is unsafe so she can continue her PhD at the University of North Texas.
"I am sorry that I have to send you to school tomorrow. I don't know what will happen, but I know that I love you more than anything in this world, and I am so proud of you that my heart bursts when I think of it," Carlson said.
She also criticized Texas Governor Greg Abbott, who she said has "pushed" parents into a corner regarding the virus. Abbott has faced backlash from many parents over his policy banning local schools from requiring masks.
"The governor of Texas has pushed us into a corner, our allies have evaporated, and it is just us—once again—figuring out this crisis alone," she wrote.
Carlson told Newsweek in an interview on Sunday that she wrote the letter after feeling "helpless" and wanted other mothers to know they are not alone. She said she was forced to either send her daughters back to school or not be able to focus on her PhD, potentially losing funding and limiting her family's financial future.
She has spent 17 months protecting her daughters from the virus, she said. She is only concerned about the immediate impact of COVID-19, but also the long-term impact of the virus on her daughters' health. She said whether or not in can cause cardiovascular or respiratory issues down the road is a "question mark."
She also pointed out that cases in Denton schools are "exploding." She said there were 20 cases the first week of school after August 12, but that number is now up to 65 per day.
"Those are all things that terrify me," she said.
She said she feels like she is being forced to pick between her daughters physical and mental health.
"If it were just simply the rule that everyone had to wear masks, social distance, I wouldn't have to press so hard on a five and six year olds to wear a mask," she said.
She voiced concern that if cases continue to grow, schools may have to shut down. "No one wants to do Kindergarten zoom," she said.
On Tuesday night—after the open letter was written—Denton schools decided to require masking to help limit the virus' spread, KXAS-TV reported. The change went into effect Thursday and applied to all teachers, students and visitors where social distancing is not possible.
Despite the mandate, Carlson told Newsweek that about one-third of students are still not wearing a mask in schools and that teachers do not enforce it out of concern it is illegal and violates the governor's ban.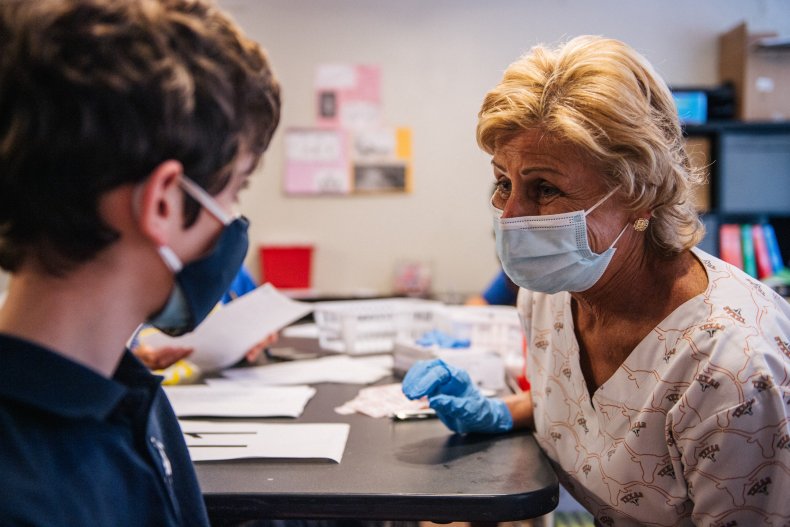 COVID-19 cases in Texas have increased since July. On Friday, the state had a 7-day-average of 20,236 new cases per day, more than double than that one month earlier, when the average was 8,962, according to data from Johns Hopkins University.
The latest surge in cases is seeing more young people being infected with the virus. According to a Texas Tribune published Friday, Texas saw 14,033 reported cases of students with COVID last week, a 34 percent rise from the week that had the most student cases reported in the last school year.
In states like Florida and Georgia, school-aged kids are being hit harder than adults. Thousands of students are in quarantine across the country as schools have reopened.