Video: El Paso Mom Pulls Joyriding Teen Son Over and Beats Him With Belt After He Stole Her BMW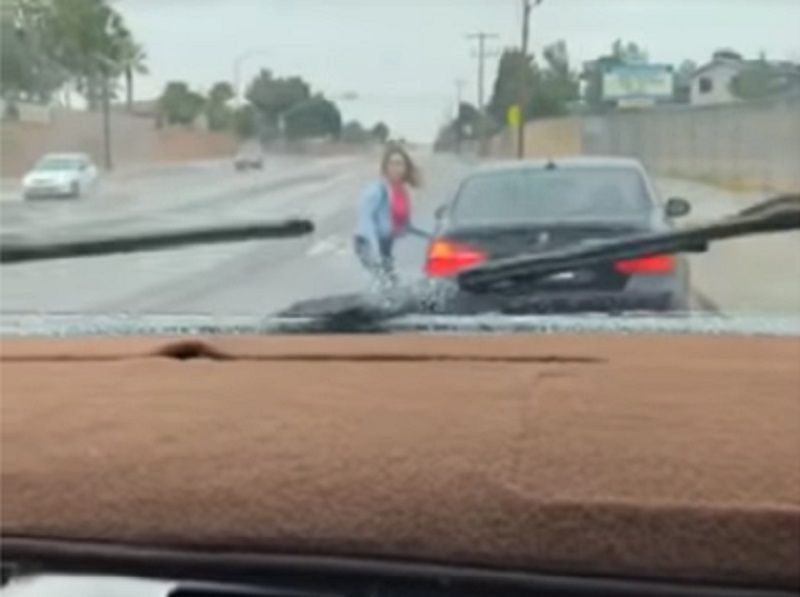 A Texas mom was filmed beating her teenage son with a belt in the road after she caught him driving her BMW on a joyride with his friend.
The video was filmed by Liza Campero whose 14-year-old brother Aaron was driving the stolen car and it went viral after she posted it to Twitter. "So my little brother stole my mom's BMW, he's 13, and he's out joyriding with all of his friends," Campero says at the start of the video.
"So we're out her in the streets looking for him, starting at his girlfriend's house. She made me bring a belt so she can whoop his ass in front of all his friends when she finds him. So Y'all keep a look out for a BMW full of a bunch of 13 year olds."
It then cuts to Campero's mother speaking to people on the phone as she searches for her BMW. Eventually, she spots the vehicle, speeds up alongside it and honks her horn.
"Pull over now!" she screams at her son, and he complies. "Give me the belt," she tells her daughter, before she exits the vehicle, marches up to the BMW, opens the door, and begins whipping her son with it while yelling.
The video, filmed in El Paso, was shared thousands of times on Twitter.
Campero later posted a video to YouTube with her little brother Aaron explaining a little more about what happened. She said he picked up his best friend, drove them to their high school, and then back again before they were caught.
"I just kept recording the whole time. My mom didn't even know I was recording because when things like this happen, and they catch me recording, they usually get super-pissed at me," Campero said.
"So I hand my mom the belt and I'm recording, and I finally get to laugh about this, whatever. I'm sure ya'll understand being the oldest and growing up a certain way, and seeing the youngest being brought up totally differently, so handing that belt over was a pleasure, a rite of passage.
"I was like, 'Here you go, mother.' As she's walking to the car, I'm just laughing, and then she gets there. Aaron says that he looked up into the rearview mirror and he saw her door open, he looked into the side mirror and he saw that she was right there.
"He didn't even have a chance to put it in park before she grabbed at that door handle. And he turned on his hazard lights and she just started going at him. He says that she was so pissed that she missed a couple of times."
Aaron says he lost his PS4, phone, necklace, and ring because of the incident. Campero said their mother also took his bedroom door off its hinges.
"He is grounded, probably until 2019, so he's not going to be on his phone, he's not going to be following y'all back for a while," Campero says, adding that "Aaron made a bad decision but Aaron's really not a bad kid."
She also revealed it was not the first time Aaron had taken a car. The first time he got a stern talking to by his mom. The second time, he got the belt.
Responding to critics of his mom's physical punishment, Aaron said it was right to spank him. "I deserved it. It was a bad choice. I just can't do it again. I just have to learn," he said.