Texas Mother Receives Emoji-Filled Eviction Notice: 'Guess Who's Moving? You!!!'
A woman in Texas recently received an eviction notice featuring a smiley face emoji that read "Guess who's moving? You!!!"
According to ABC 13 news in Houston, Sonja Lee received the eviction notice on Monday, August 17. The notice was found taped to her door at The Steeples apartment complex in Houston.
In addition to the message and the emoji, the rest of the eviction notice read, "pay your outstanding balance, or release your apartment and turn in your keys to the leasing office by 6:00 p.m. today. Eviction will be filed promptly Tuesday morning, 8/18/2020."
While speaking to ABC 13 News, Lee said that she has been unemployed since March, after her previous employer, Jack in the Box, stopped putting her on the schedule.
'So y'all think it's funny to antagonize the person that's going through financial hardship with putting an emoji stating, 'Guess who's moving today?' There was nothing funny about that," Lee told ABC 13, adding that she has been denied unemployment benefits and has appealed five separate times.
Lee also told ABC 13 that despite being unemployed, she was able to pay her rent for April and May, but was unable to in June and July, which is when she began speaking to the apartment complex's property manager about her situation.
According to ABC 13, the Steeples Apartments, where Lee lives, are owned by the Houston-based Karya Property Management, and the firm's CEO Swapnil Agarwal told the news site that the manager who gave Lee the eviction notice has been disciplined and issued an apology.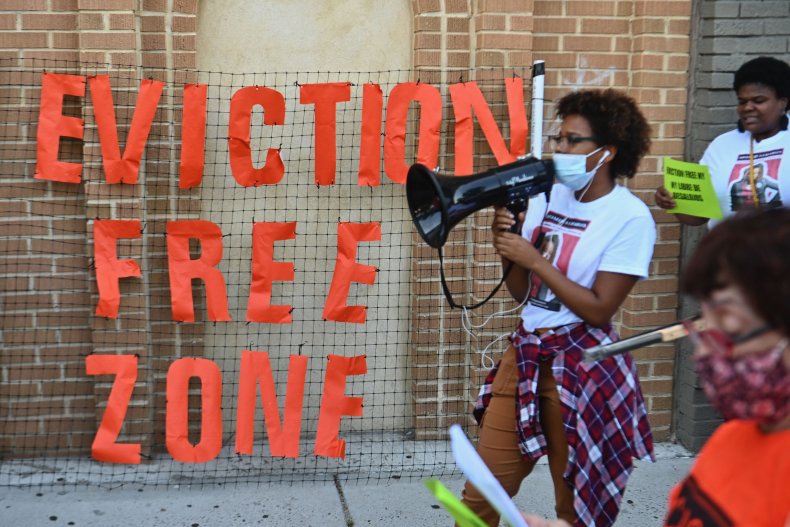 "Buck stops with me, so yes, I do personally apologize," Agarwal told ABC 13. "I wish I had the time and the resources to reach out personally to every one of them who have dealt with any issues at our properties. But I am apologizing personally in case it was insensitive, and if she was really trying to work out a payment program with the property or that she was in communication with the manager, then I accept it's truly our fault."
Following the apology, Lee told ABC 13, that she greatly appreciated the words and accepted them "wholeheartedly."
She also told the news site that after the story of her eviction notice gained traction, she began receiving help and support from her fellow residents of Houston.
"It's been so overwhelming, and I am so grateful. I have never experienced anything like this," Lee said, adding that one woman paid two months of her rent and another brought school supplies for her son.
Newsweek reached out to Karya Property Management for comment but did not receive a response in time for publication.