Texas Mother Says Gunman 'Intentionally' Killed Her 7-year-old Daughter 'For No Reason'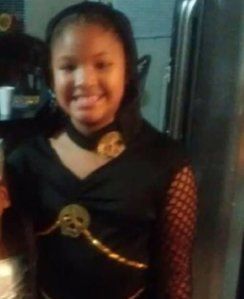 The mother of a 7-year-old child killed in a shooting in the Houston area on Sunday morning said the gunman opened fire "for no reason."
LaPorsha Washington, 30, was wounded and her daughter, Jazmine Barnes, was killed while they were out on a coffee run on Sunday morning. A gunman opened fire on their vehicle in which her three other daughters were also traveling.
Police have described the shooting as "unprovoked" and are continuing their search for the gunman, who they described as a white bearded man in a red hoodie. Washington and her daughters are black.
In an interview from her hospital bed on Tuesday, Washington described how she was traveling to a coffee shop with her daughters when a car pulled up beside them.
"I made a stop at a red light and kept going, and gunshots were fired in my car. As I turned around and looked back at the street, I heard shots start firing and they came through my window, broke my glass, and hit me in my arm. They sped off in front of us and the truck slowed down and continued to fire as he was in front of us," Washington said, reported ABC 13.
Washington said that after the shots were fired, her daughter told her Jazmine was was immobile. "She said, 'Momma, Jazmine's not moving. She's not talking.' I turned around and my 7-year-old was shot in the head. It was not fair. It was not fair. He intentionally killed my child for no reason. He didn't even know her, he didn't know who she was."
Police have said that Washington and her daughters were near a Walmart store in northeastern Harris County when the red or maroon pickup truck pulled up alongside them and the shots were fired. Police said they are still probing a possible motive for the shooting, which they described as "unprovoked."
"It's our belief that it was totally unprovoked, whatever it was, and we're leaving no stone unturned. We're going to leave every motive out there as a possibility," Harris County Shriff Ed Gonzalez said in a statement.
He added: "There was nothing to indicate that the family did anything wrong in any way. They were simply just driving along the service road when this happened to them."
On Monday, Barnes' father, Christopher Cevilla, called on the public to help police in their manhunt for the killer.
"I just want anybody, whoever, out there that knows anything about the murder of my daughter, to just please step up as if it was your own," Christopher Cevilla told reporters on Monday. "Just put yourself in my shoes, in my family's shoes."