Texas National Guard to Help El Paso Morgues, as Hard-Hit County Reports 22 New COVID Deaths
Since a surge in coronavirus cases and hospitalizations began devastating much of the U.S. in September, El Paso remains one of the hardest-hit counties in Texas. The state's Army National Guard is now sending a 36-person team on Saturday to assist in moving bodies and mortuary services at El Paso morgues.
"After completing an assessment of the situation on the ground in El Paso County this week, the state has mobilized a team of 36 Texas National Guard personnel to provide mortuary affairs support beginning at 9 o'clock tomorrow (Saturday) morning," Seth Christensen, spokesperson for the Texas Division of Emergency Management, said in a Friday statement to the El Paso Times.
On Friday, El Paso reported 22 new COVID deaths Friday and eight more on Saturday, adding to a current total of 853 deaths due to the virus, according to county statistics. The county reported more than 1,000 new coronavirus cases on Saturday, bringing the total to over 80,000 cases.
With hospitalizations throughout the county reaching more than 1,000 and hospital beds becoming limited, El Paso has had to utilize makeshift tent hospitals for patients and convert refrigerated trucks into temporary morgues in order to store the overwhelming number of bodies.
Before the arrival of the National Guard, El Paso officials have been working with county jail inmates who are serving low-sentences to help move bodies for the past two weeks, paying them $2 an hour. County Judge Ricardo Samaniego reportedly asked Texas Governor Greg Abbott, who serves as the commander-in-chief of Texas military forces, to send the National Guard. Abbott said the Guard was available, but that the county should temporarily use its own resources.
"We don't have the personnel," Samaniego told The Texas Tribune on Monday. "We're at a point where we start thinking of rationing health care — who's going to get what? We're not there yet, but we're pretty close to it."
On Thursday, El Paso officials began hiring residents as morgue attendants to assist with moving bodies as the county awaited the arrival of the National Guard.
"The Morgue Attendants will be provided maximum PPE [personal protective equipment], and will receive a COVID test prior to starting," the public notice reads. "All Morgue Attendants will be tasked with physically moving Decedents [...] Not only is this assignment physically taxing, but it may be emotionally taxing as well."
As of Thursday, the El Paso County Medical Examiner's Office had 247 bodies being held at their main morgue and within their nine mobile morgues, according to a news release from Samaniego. He noted that "the trends we are seeing shows that we are absolutely nowhere close to being out of the woods."
Following the announcement that the National Guard would be mobilized in El Paso, as shared by KTSM, Samaniego sent a letter to Abbott requesting the ability to place stricter restrictions and stay-at-home orders to limit the spread of the virus.
"I thank the National Guard and the State in advance for this much needed support," Samaniego wrote. "With the upcoming Holiday season I am concerned that without some additional measures, we will continue in a downward spiral, therefore, I am once again seeking your assistance in this emergency situation.
"The curfew I intend to impose will be limited in nature and is designed to stem recreational and international traffic after 10:00 p.m.," he continued. "I have reached out to the business community and have been requested to seek this clarification and, if permissible, issue an order temporarily imposing a 10:00 p.m.to 5:00 a.m. curfew. The proposed curfew will not interfere with persons seeking to access essential or nonessential services."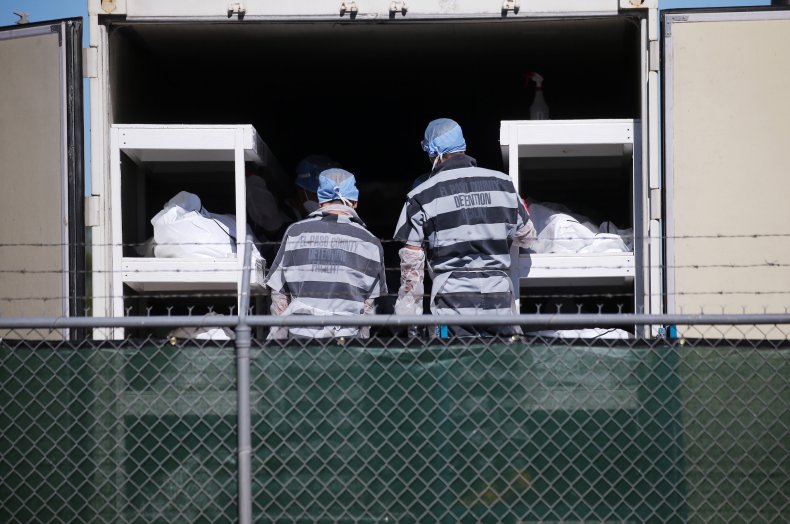 Last week, the 8th District Court of Appeals ruled in favor of the state and local restaurant owners, who sued Samaniego for issuing a city-wide shutdown after Abbott issued a reopening order on October 7. The three-judge panel ruled that the county judge's directives can't go against the governor's statewide orders.
Texas Attorney General Ken Paxton celebrated the court's decision and called Samaniego a "tyrant" for imposing the orders.
"As the court aptly put, 'the public cannot have two sets of rules to live by.' A tyrant who thinks he can ignore state law cannot stop that," Paxton said in a statement posted to Twitter. "I will not let rogue political subdivisions try to kill small businesses and holiday gatherings through unlawful executive orders."
However, in his Friday letter, Samaniego said that the district court "mistakenly interpreted" the stay-at-home orders as conflicting with Abbott's own restrictions.
"I am aware of other jurisdictions imposing a curfew and I don't believe that a curfew is in conflict with your orders," the letter read. "I am seeking clarification from you that a curfew is consistent with your existing orders."
"The curfew is supported by physicians and community leaders from the County, City and Fort Bliss who support such a strategy to reduce the impact of COVID-19 for your constituents in El Paso," Samaniego later added. "We are working hard in El Paso to enforce the existing orders, help the business community comply with existing health orders, and stem the rising tide of the virus. I am confident that the imposition of a curfew will assist in this fight."
Newsweek reached out to Abbott's office and the Texas Division of Emergency Management for comment, but did not receive a response in time for publication.