Texas Parent Rips Off Teacher's Mask in School Altercation
A teacher in Austin, Texas, recently had her face mask ripped off by a parent, according to a school statement released on Tuesday.
Eanes Independent School District (ISD), a nine-school network covering grades K-12, reported that one of its teachers was physically assaulted for wearing a face mask. Another masked teacher in a separate incident was yelled at by parents who said they couldn't hear her through it.
In response to the incidents, Eanes ISD Superintendent Dr. Tom Leonard released a statement.
"This type of behavior will not be tolerated in Eanes ISD. Our staff are on the front lines of this pandemic; let's give them some space and grace," Leonard wrote. "Please, I am asking everyone to be kind...do not fight mask wars in our schools."
Leonard also requested that parents be mindful of the examples they are setting.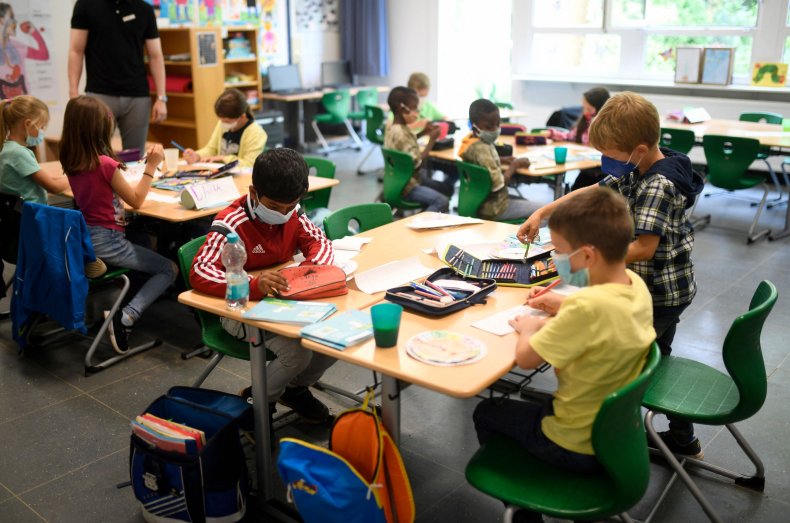 "I am asking as kindly as I can: please treat each other the way you would like to be treated. During this difficult time, let's provide a respectful oasis on our buses, in our schools and on our campuses," he said. "The children are watching and learning how we behave, so let's make the time our students spend in school a joyful and positive experience."
Eanes ISD schools recently issued a mask mandate for the new school year for students, staff and visitors after a judge issued a temporary restraining order on Texas Governor Greg Abbott's ban on local mask mandates.
Travis County District Court Judge Jan Soifer granted the temporary restraining order on August 13 that's set to last for 10 days. The move blocks Abbott's executive order prohibiting local officials and school districts from requiring face coverings.
Various school districts across the state have argued against Abbott's ban, citing statistics that show children are increasingly impacted by the highly contagious Delta variant of COVID-19. Since children younger than 12 are still not eligible to be vaccinated for COVID-19, many people feel masks offer one of the few lines of defense available for school kids.
Eanes is also not the only school district in Austin fighting to keep mask mandates in effect. On Sunday, Austin Independent School District Superintendent Dr. Stephanie Elizalde published an article in Time magazine that pleaded with Abbott to allow mask mandates to continue in public schools.
Elizalde wrote in the article, titled "Why I'm Mandating That Austin Schools Must Be Masked When Classes Start," that mask mandates are not a political gesture but a genuine health and safety measure.
"What if a child dies on my watch? How do I say to you, 'I'm really sorry. We did everything we could except for masking because the governor's executive order prohibited me from doing so.' What does that do for a parent?" Elizalde asked.
Newsweek contacted Eanes ISD for comment but did not hear back in time for publication.