Texas Pizza Owner Allegedly Called Black Women 'Darkies' Before Calling The Police on Them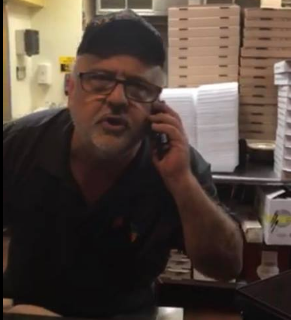 A black woman is accusing the owner of a pizza shop in Dallas of racism after an online video surfaced of a man shouting racial slurs at her.
Tamika Sanders told Newsweek that the incident took place on Friday at Carmine's Pizzeria in North Dallas, Texas. Sanders said she and her aunt went to the pizzeria because they were craving New York-style pizza and that the owner seemed annoyed because they came in 20 minutes before closing time.
Sanders posted a video on Facebook on Saturday allegedly showing the owner of the pizzeria, Carlos Pinto, yelling at she and her aunt, Shiri Gupton at the restaurant.
In the Facebook video, the man who is alleged to be Pinto, can be seen asking the women to leave the restaurant. Pinto is on the phone talking to police, saying he has "trouble" while another woman yells "Darkies you called us, darkies."
"This is America!" yelled Gupton, who filmed the incident, Eater reported.
"Get the hell out of here! What do you know about America?" Pinto responded.
Pinto tells the police that the women claim to have a "racial complaint" with him and do not want to leave. The woman then points out that a black man works at the restaurant, saying "you're a darkie too" and that "he should not work for him."
"But he's a good one!" the man in the video interjects.
Sanders, a social worker, told Newsweek that Pinto told police that she and her aunt had knives on them, and that no one in the restaurant stood up for them and left without saying anything.
"We left but didn't want to have an encounter with the police," said Sanders.
Another Carmine's Pizzeria located in North Dallas on Spring Valley Road told Newsweek that they have been receiving threats since the incident occured, but have said they are not associated with Pinto's business.
A spokesperson for the Dallas Police Department confirmed to Newsweek that the owner of Carmine's placed a call to the police, but there was no report because Sanders and her aunt had left the pizzeria before they arrived.
This is also not the first time the restaurant has been accused of racism. UberEats driver Kimberly Randall told Eater that Pinto's wife allegedly insulted her with a racial slur for not holding a pizza box correctly in April. Randall told the publication she called the police, but they never showed.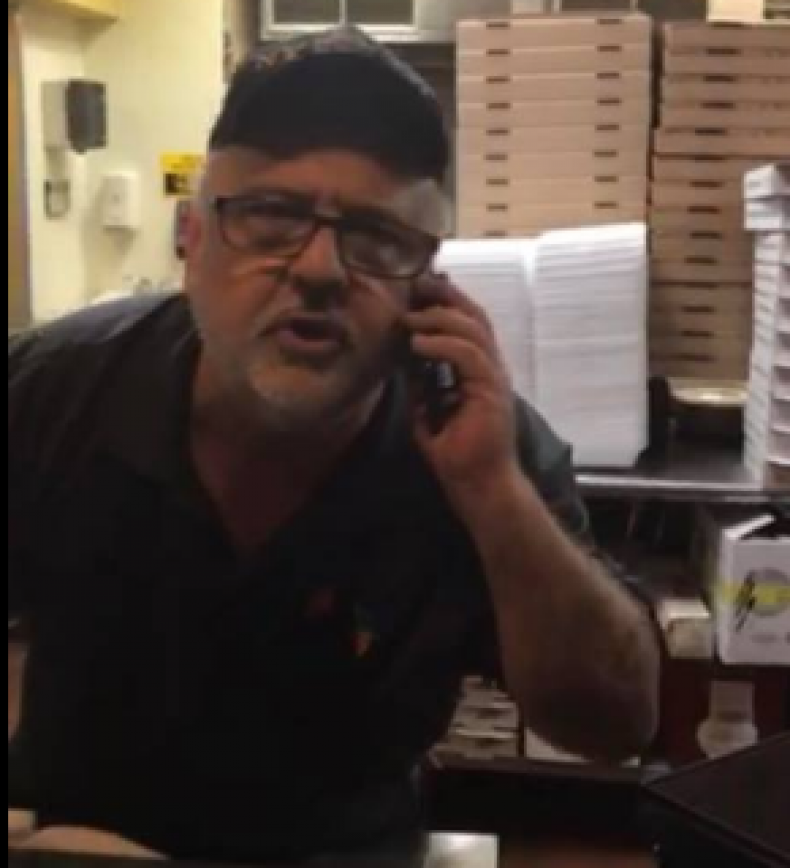 "They never came," Randall told Eater after the incident. "I also reported it to Uber, followed up for about a week, and they didn't do anything at all."
Sanders does not want an apology from Pinto, but hopes her video will keep people away from the restaurant so no one will endure what she and her aunt went through.
"He was angry and hateful and this place is not safe for us," Sanders told Newsweek. "We need to speak out so no one will spend their money there every again."
Newsweek asked Carmine's Pizzeria for a comment but did not hear back in time for publication.
This story has been updated to clarify that there are two Carmine's Pizzeria's.