Texas Pol James White Wants To Rename Prison Named for Slave Owner Where Inmates Pick Cotton
A Republican Texas state representative is leading the charge to change the names of prisons with monikers that currently honor slave owners.
State Rep. James White announced Friday that he is lobbying the Texas Board of Criminal Justice to rename multiple prisons that are named after slave owners. On the grounds of least one of the prisons, inmates continue to be forced to pick cotton without pay on the same land that slaves were forced to work over 150 years earlier.
White is also calling for the renaming of prisons named after those associated with convict leasing, a form of forced labor that continued well beyond the end of slavery and involved prisons "leasing" almost exclusively Black men who were made to work for free in private industries.
A press release from White's office notes that at least one Texas prison is named after a slave owner who never even resided in the state but had sold a plantation to the government "after the abolition of slavery rendered their large plantation as a less profitable venture."
The release also cites another prison unit that Texas named after plantation owners "who probably benefitted from the odious practice of convict leasing," noting that after the practice was ended and the "plantation's enterprises" were no longer profitable, "the land owners sold the property to the Texas prison system."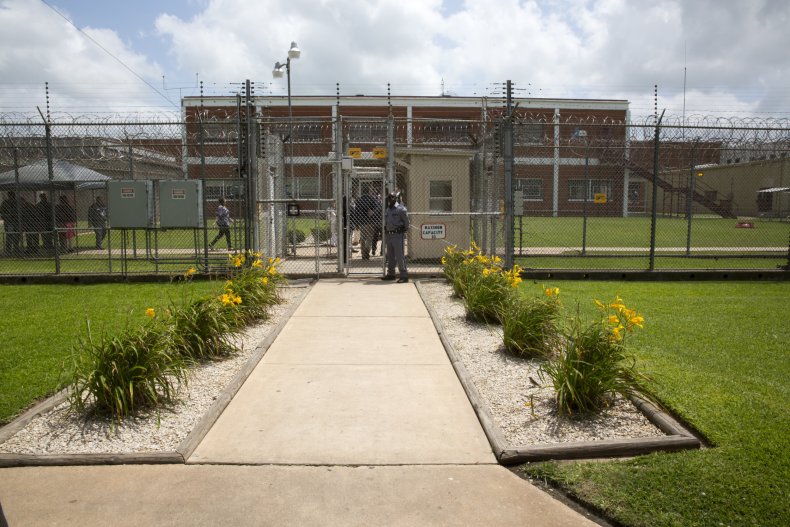 In an interview published Friday by The Texas Tribune, White said that he is targeting several of the state's 99 prisons and jails that bear the offensive monikers, specifically naming the Darrington, Goree and Eastham prisons. White suggested that there are plenty of alternatives that could be used instead of names honoring people associated with a particularly shameful part in American history.
"We've got correctional officers who have lost their lives, we've got crime victims that have contributed immensely to good victim's rights advocacy, board members that have served and promoted good policies," White told the outlet. "I just think there are other Texans that we can probably associate a name with a unit."
The Darrington prison was named after Alabama lawyer and slave owner John Darrington, who never lived in Texas but sold the land to the state after he had profited off slaves who were forced to pick cotton and sugarcane on what had been a plantation. On the same land, prisoners are currently forced to pick cotton without pay and get punished if they refuse to take part, according to The Marshall Project, noting that the prisoners are "mostly Black and brown."
"The Texas Department of Criminal Justice (TDCJ) is aware of the letter sent by House Corrections Committee Chairman James White to the Texas Board of Criminal Justice (TBCJ) Chairman Patrick O'Daniel," TDCJ Director of Communications Jeremy Desel said in a statement to Newsweek. "The TBCJ takes into consideration a number of factors when reviewing and renaming correctional facilities. Last year, the Oliver J. Bell Unit in Cleveland was named in honor of the former board chairman. The TBCJ appreciates the input of Chairman White."
Although White is calling for the prisons to be renamed, the GOP lawmaker does not appear to be in favor of removing all associations with slavery from the state. White, who is Black, opposed a recent effort to remove or replace Texas's Confederate Heroes Day holiday "because he believes all those who fight in war deserve honor, regardless of the cause of a war," according to the Tribune.
Attempts to rename military bases bearing monikers associated with the Confederacy became a hot-button issue last summer amid widespread Black Lives Matter protests. Former President Donald Trump vociferously opposed moves to rename the bases, despite military leaders favoring removing associations with those who led the Civil War fight against the United States in a failed attempt to preserve slavery.
A mandate to rename the bases was included in the National Defense Authorization Act that Trump vetoed during his final months in office. Trump's veto was overridden by Congress, the first time a veto from the former president gained enough bipartisan opposition to be overridden, with the renaming of the bases set to take place under the administration of President Joe Biden instead.
Update 1/29, 9:40 p.m.: This article has been updated to include a statement from Texas Department of Criminal Justice Communications Director Jeremy Desel.