Texas Police Arrest Alleged Getaway Driver, But Gunman in Triple Shooting Remains at Large
Texas police arrested Richard Acosta Jr., the alleged getaway car driver for a weekend shooting that killed three teenagers and critically wounded a fourth, but say the gunman remains at large.
Acosta, 33, was arrested after turning himself in Monday night once he saw himself on the news, according to KDFW Fox 4 News. Authorities said Acosta drove himself and the shooter in a Dodge Ram pickup truck away from the Sunday shooting at a gas station in Garland, Texas, surveillance footage shows. Footage shows Acosta entering the gas station before the shooting.
Acosta was charged with capital murder. He is being held on a $1 million bond and has no identified lawyer currently.
The suspected shooter is shown in the surveillance footage wearing a baseball hat, a blue surgical mask, and dark-colored athletics shorts. Authorities have not named a suspect.
"The shooter is at large," Lt. Pedro Barineau told The Associated Press.
On Tuesday, city police also said the 14-year-old boy who was initially identified as a suspect by Garland authorities Monday was released to his family and is "not being charged at this time."
The 14-year-old cooperated with investigators and was released due to new information investigators acquired after Acosta turned himself in.
"Detectives learned the 14-year-old male who was taken into custody has intimate knowledge of the shooting and he is cooperating with the investigation," said the Garland Police in a news release, according to KDFW Fox 4 News.
He is still a person of interest in the case, though, KDFW Fox 4 News reported.
Authorities have yet to name the boy.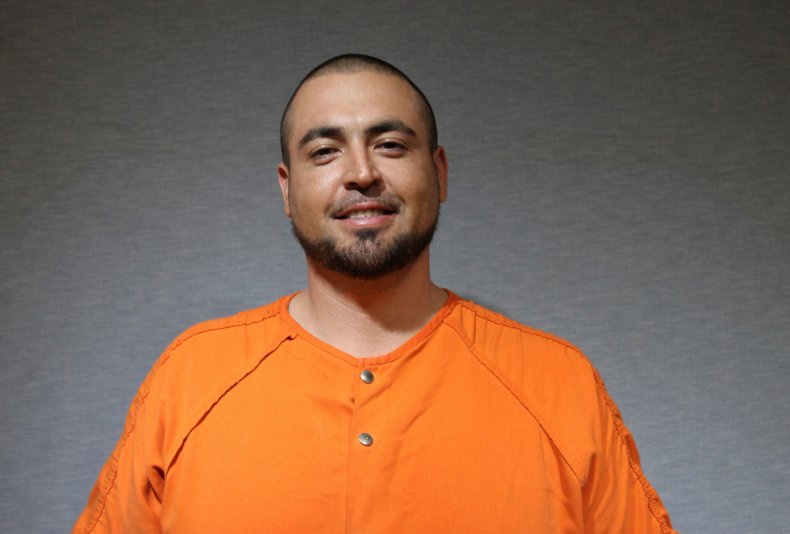 The shooting was captured on surveillance video. It shows a shirtless boy or man with a handgun approaching the gas station store while crouched. He swings open the door and starts shooting from the doorway.
Police said the shooter fired more than 20 rounds from a .40-caliber pistol before fleeing in the Dodge Ram pickup driven by Acosta, who they said also brought the gunman to the gas station,
Those killed were 14-year-old Xavier Gonazalez, 16-year-old Ivan Noyala, and 17-year-old Rafael Garcia, according to police. Before releasing their names, police had said two of the dead were 16 years old.
A 15-year-old who was a cook at the store was taken to the hospital following the shooting. Barineau said he is expected to survive.
Investigators believe the shooting was a retaliatory attack on one or more of the people in the store, Barineau said.
The Associated Press contributed to this report.