Texas Police Chief Calls 1977 Killing by Cops 'Straight-Up Murder,' Apologizes to Family
Houston Police Chief Troy Finner recently apologized to the family of a man who was killed by Houston police officers in 1977, saying that it was "straight-up murder."
"I am the chief of police, but I am a son of Houston, and what people need to understand is if you cannot see and feel 44 years of pain and suffering of this family, you are not human," Finner said on Saturday during a ceremony in front of the man's family members.
Finner continued, "Let's get this clear because there's been some chatter in the neighborhoods about how Chief Finner feels about this. That's a straight-up murder of somebody. You got five officers sworn to protect, five, sworn to protect and serve and murdered an active military soldier."
In 1977, Joe Campos Torres, who was a Mexican-American Vietnam War veteran, was arrested by Houston police officers on a disorderly conduct charge. According to police records, Houston police officers arrested Torres and then proceeded to beat him up in a secluded area of the city.
When the officers attempted to book Torres into jail, they were told to bring him to a hospital to be treated for his injuries. Instead, the officers continued to beat him up and eventually left his body in the Buffalo Bayou, which flows through Houston, and his body was found a few days later.
Torres was 29 years old when he died.
Two of the officers involved in the incident were eventually convicted of misdemeanor negligent homicide. They were also fined $1.
Torres' death eventually led to protests.
During the ceremony on Saturday, Finner continued his apology and said, "Nobody has more pain than a mother.…And I know this little apology from me, and I'm calling it 'little' ... should've happened a long time ago and I didn't know about it."
Finner also said that after being sworn in as chief in April, somebody informed him that the Houston Police Department never gave a formal apology to the Torres family. According to Finner, he privately apologized to family on Memorial Day but Torres' mother was not there.
"I am honored to be here. I'm honored that y'all would allow me to come here and spend this time with the family," Finner said. "On behalf of this entire city, on behalf of the police department, I apologize to this family."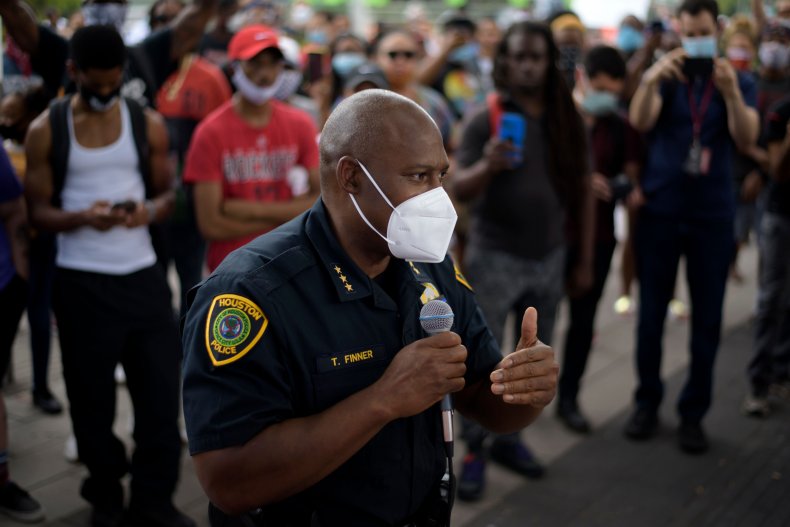 Torres' sister also spoke during the ceremony and said, "My mother was never the same after Jose was killed.… I will never be the same, my family will never be the same. This has destroyed all of us. The pain is a lot deeper than what you could have ever imagined."
Newsweek reached out to the Houston Police Department for further comment but did not receive a response in time for publication.