Texas Police Chief Calls Out Mitch McConnell, Blasts 'Smug' Republicans Who 'Don't Want to Piss Off The NRA'
Houston Police Chief Art Acevedo recently called out Senate Majority Leader Mitch McConnell and other Republican senators for their negligence in tackling gun violence.
"I don't want to see their little smug faces about how much they care about law enforcement when I'm burying a sergeant because they don't want to piss off the [National Rifle Association]," the police chief said in a news conference Monday.
Acevedo's criticism came just two days after Sergeant Christopher Brewster was fatally shot while responding to a domestic violence report. Acevedo blasted lawmakers minutes before the police department escorted Brewster's body from the medical examiner's office to a funeral home in Houston.
"Make up your minds, whose side are you on? The gun lobby, or the children who are getting gunned down in this country every single day?" Acevedo added.
McConnell, the top Republican in Congress, has been under fire in recent months for his inaction on gun control measures. In the aftermath of two mass shootings in 24 hours in August, protesters rallied outside McConnell's home in Kentucky. At the time, McConnell said lawmakers were "in discussions about what to do on the gun issue" but no legislation has been developed.
The Senate has also failed to renew the federal Violence Against Women Act, which expired in December of last year during the partial government shutdown. The House of Representatives reauthorized the bill earlier this year and included a provision that would close the "Boyfriend Loophole" by barring those convicted of abusing, assaulting or stalking a partner from buying or owning firearms.
The legislation, passed by the House in April, has stalled in the Senate. The NRA has objected to the bill, arguing that it is too broad and would restrict gun rights.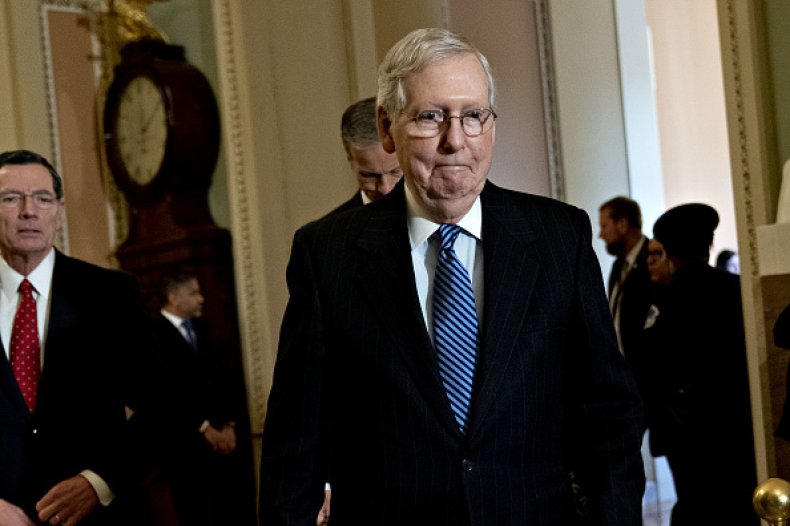 "We all know in law enforcement that the one of the biggest reasons that the Senate and Mitch McConnell and John Cornyn and Ted Cruz and others are not getting into a room and having a conference committee with the House and getting the Violence Against Women's Act is because the NRA doesn't like the fact that we want to take firearms out of the hands of boyfriends that abuse their girlfriends," Acevedo charged.
Acevedo received backlash from the Houston Police Officers' Union for calling out McConnell and other Republican lawmakers. The union sent a memo to members describing the chief's comments as "inappropriate."
"The fact that Chief Acevedo chose that moment to make a political statement on guns is nothing short of offensive and inappropriate," the message said.
Senator John Cornyn, a Republican from Texas, responded to the criticism by blaming the inaction on impeachment proceedings.
"Unfortunately, important legislation like this has fallen casualty to impeachment mania. We will keep trying to pass a bipartisan bill but it takes two (parties) to tango," he wrote.