Texas Police Department Criticizes Tucker Carlson Over 'Absolutely Inaccurate' Report
The Fort Worth Police Department said Tucker Carlson reported "absolutely inaccurate" and unverified information on its handling of rioters, potentially creating an environment of "confusion and bitterness."
In a statement published on Monday night, the police force said Carlson wrongly reported that it had dropped all charges against protesters arrested at the end of last month.
The police department also said the Tucker Carlson Tonight host had mischaracterized remarks Fort Worth Police Chief Ed Kraus made about his own officers.
During a monologue on the Black Lives Matter movement on Monday night, Carlson said: "On May 31, a crowd of Black Lives Matter demonstrators blocked a bridge in downtown Fort Worth. When police arrived to disperse them, they threw rocks and bottles of bleach. Three police officers were injured.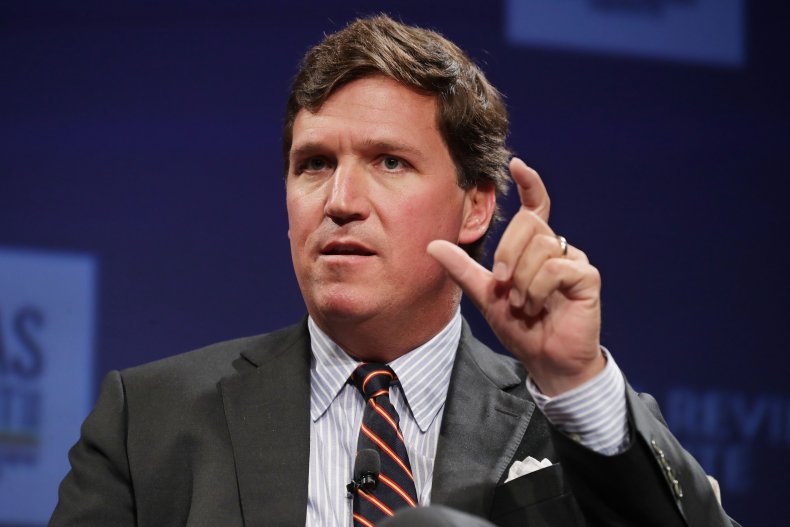 "The mob then went on to loot and vandalize businesses. Dozens of rioters were arrested for this. Ten days later, the city's police chief Ed Kraus said he was dropping all charges against them."
He also accused the Fort Worth Police Chief of issuing a statement that suggested the "real criminals" in the riot were his own police officers.
Issuing a statement on arrests made at the end of May, Kraus said "all charges from rioting that have resulted from protests in Fort Worth" would be dropped.
NPR also reported at the time that Fort Worth police had dropped rioting charges filed against protesters.
However, it was clarified in local media reports that those charged with assault, vandalism, theft, and criminal mischief would still be pursued through the courts.
In a statement hitting back at the Tucker Carlson Tonight segment, the Fort Worth Police Department said: "This information is absolutely inaccurate and is not consistent with actual facts. The only charges dropped were minor misdemeanors which did not involve property or personal crimes.
The force went on to say it was also "absolutely inaccurate and a gross mischaracterization of any statement released by Chief Kraus or the department" to report that Kraus believed his officers were criminals.
"Recklessly releasing such inaccurate, unverified information does nothing for the good of the public and simply creates an environment of confusion and bitterness during a time in which so many are wanting their voices heard," the police department said.
Newsweek has contacted Fox News for comment, and will update this article with any response.
The Fort Worth Police Department rebuked Carlson as a slew of major advertisers said they would no longer be paying for spots on his show.
Disney, Papa Johns and T-Mobile are among the firms who have withdrawn advertising from Tucker Carlson Tonight over the host's views on the Black Lives Matter movement.
"We haven't run ads on Tucker Carlson Tonight since early May and have cancelled all future placements," T-Mobile said on social media. "We will continue to support those who stand against racial injustice."
A Fox News spokesperson told Newsweek on Thursday last week that all national adverts were moved to other programs, adding that there had been no money lost.
Update 06/16/20 08:15 a.m. ET: This article was updated with a statement from a Fox News spokesperson. A sentence noting that NPR also reported that Fort Worth police dropped rioting charges against protesters was further added.