Beto O'Rourke Campaign Signs Stolen Ahead of Race for Ted Cruz's Senate Seat
Months before Representative Beto O'Rourke finds out if he can take Senator Ted Cruz's seat, police in Texas are investigating a series of thefts of the Democratic challenger's campaign signs.
The Lubbock Police Department told Newsweek Tuesday it had received six reports of O'Rourke campaign signs being stolen on Monday alone from yards in the town's Tech Terrace neighborhood, and that's just the latest round of thefts as the race intensifies ahead of the November election.
Police explained that while it's fairly common during a campaign year for signs to be stolen, it's a misdemeanor and comes with a fine of $17 per sign. If a sign was taken from someone's yard, the culprit could also be charged with trespassing.
Police believe there are a few people behind the series of thefts and received a folder Monday containing images from a security camera that captured the suspects.
O'Rourke supporters don't appear to be taking the situtation lying down.
Susan Tomlinson told CBS affiliate KLBK that she woke up on Friday and noticed her sign had been removed from her yard, one of 12 thefts that reportedly occurred overnight in her neighborhood. "Because it's an immature act, I presume it's a young person," she told KLBK.
Tomlinson replaced the sign, and when the thieves returned, she captured them on video with a security camera.
After another Lubbock homeowner had two of his O'Rourke signs stolen from his yard in the Glendower Court neighborhoood, local artists stepped in to send a message, NBC affiliate KPRC reported.
The artists plastered over 80 O'Rourke campaign signs on his home Thursday night, even lining his sidewalk and hedges, the homeowner, who asked to remain anonymous, told KPRC.
"I was a bit surprised. I knew that they were going to make a statement and protest about what happened. I wasn't expecting the wallpaper of signs," he said.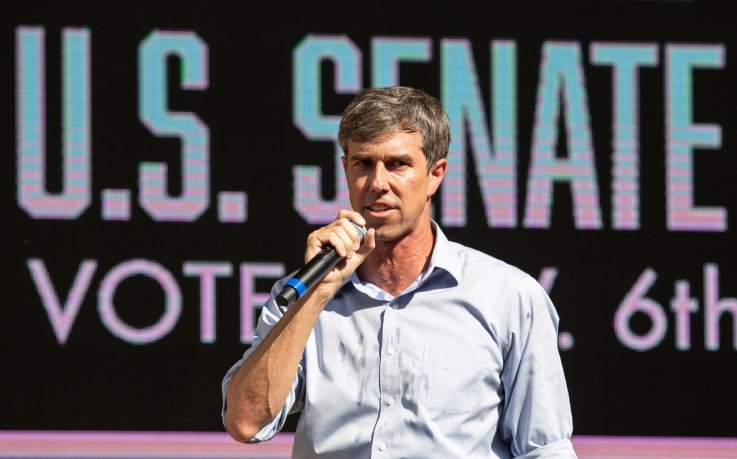 The homeowner captured the theft, carried out by a blond woman wearing pink, on his security camera. He told KPRC he hopes his experience teaches everyone to be tolerant of opposing views and not destroy political signs.
In agreement with the homeowner is Steve Evans, the Lubbock County Republican Party chairman. Evans explained to KLBK that not only does stealing signs qualify as vandalism and theft, but it could actually help O'Rourke because the person is just going to buy another sign.
"Stealing signs doesn't change the impact or the outcome of the race," Evans added.
Catherine Frazier, Cruz's spokeswoman, told Newsweek that stealing a campaign sign from someone's yard is against the law, so "of course" people shouldn't engage in that behavior. Newsweek reached out to O'Rourke's campaign as well but did not receive a response in time for publication.
The upcoming election between Cruz and O'Rourke is one of the most widely covered Senate races in the country, and the two recently agreed to three 60-minute debates leading up to voting day on November 6.
Cruz, who assumed office in 2013, isn't taking the race for the historically Republican seat lightly and told Fox News that he's working hard to prove he's the right man for the job.
"We've got a race on our hands," Cruz explained. "If you're a wealthy liberal sitting in New York City or Massachusetts or San Francisco right now, and you could defeat one Republican in the country, it'd be me, that's why the money is flowing in here."
In July, the Houston Chronicle reported that O'Rourke raised $10.4 million for his campaign in three months, more than double the amount raised by Cruz.