Two Potential Suspects Identified in Texas Shooting at Prophet Muhammad Cartoon Event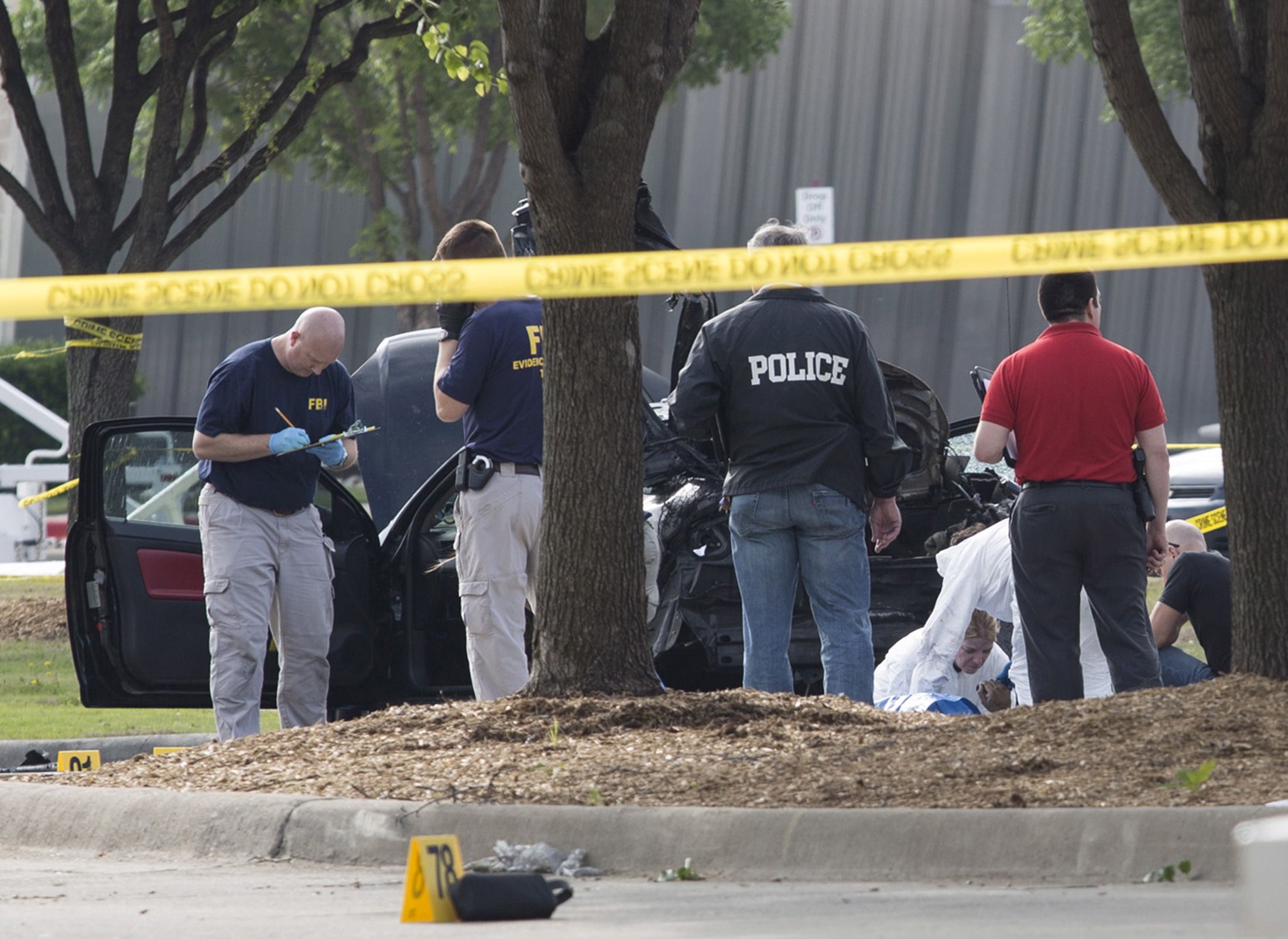 Texas police are searching the home of two gunmen killed by authorities on Sunday night after they opened fire on a security guard outside of a contest for caricatures depicting the Muslim Prophet Muhammad that was organized by an anti-Islamic group, according to police. The FBI and other law enforcement officials remained at the scene Monday to continue their investigation.
The two men drove to the Curtis Culwell Center in Garland, Texas, in a dark-colored Sedan around 7 p.m. and shot at a security officer with assault rifles, Joe Harn, a spokesperson for the Garland police, said Monday morning during a news conference. A Garland police officer returned fire and killed the two men next to their vehicle.
The security officer, later identified as Bruce Joiner, was shot in the lower leg, transported to a local hospital and treated for non-life-threatening injuries. He was released by Monday morning, Harn said. No one else was injured.
Harn said multiple gunshots were fired during the incident, but he couldn't confirm the number.
FBI agents now are searching an apartment in Phoenix, where they believe the two men lived together as roommates. Harn said police aren't yet releasing the identity of the suspects, nor whether the individuals were listed on government watch groups.
But SITE Intel Group, a provider of jihadi news and threats, claimed to have identified the potential suspects as Elton Simpson and Nadir Soofi.
"Do we think we know who they are? Yes," said Harn, who cited the ongoing investigation into their identities. "Obviously, they were there to shoot people. We will continue to investigate. This is not going to be a real fast investigation." Police will continue to work with the FBI and monitor social media and other intelligence to make sure authorities aren't receiving threats.
After the shooting, officials evacuated the event center and buildings in the area on Sunday night. The 200 guests, many of them visitors to Garland, were taken to a hotel. Their vehicles were still in the parking lot outside of the center on Monday because the site remains an active crime scene, Harn said.
As a precaution, authorities inspected the gunmen's vehicle for explosive devices. They completed several detonations late Sunday night, first to open the trunk of the Sedan, because they found luggage and additional ammunition, Harn said. No bombs were found.
Pamela Geller, president of the American Freedom Defense Initiative (AFDI), organized the event to promote freedom of speech. Her group has sponsored anti-Islamic advertising campaigns in transit systems across the country. Geert Wilders, a polarizing Dutch politician and anti-Islamic campaigner who is on an Al-Qaeda hit list, was among the speakers at the event.
Security concerns surrounding the event and speaker began several months ago, Harn said. An extra $10,000 was spent for additional security on site during the contest, including a SWAT team and bomb squad.
The shooting came months after gunmen killed 12 people at the offices of French satirical newspaper Charlie Hebdo in revenge for its cartoons depicting Muhammed earlier. For Muslims, any depiction of the prophet is blasphemous.
President Barack Obama was briefed on Sunday about the incident, and asked for updates as they are available. He is in contact with the team about the ongoing investigation.
Texas Governor Greg Abbott applauded the swift action taken by police in Garland, which is a city located about 30 miles northeast of Dallas.
"Texas officials are actively investigating to determine the cause and scope of the senseless attack," he said in a statement on Sunday.
Harn commended the officer who shot both suspects and saved lives.
Police are expected to hold a news conference later Monday afternoon.