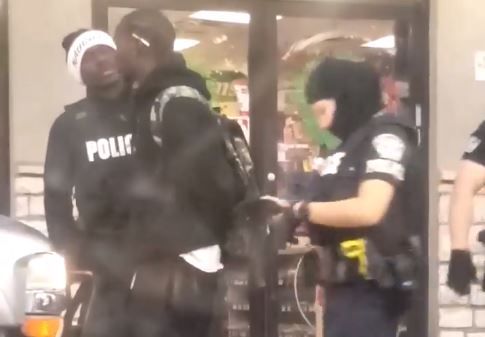 Four officers from the Austin Police Department, one in a black Santa hat and three others wearing black face masks, led a handcuffed man to an out-of-the-way corner where they tased and punched him, according to video taken by a bystander.
The officers arrested the man, Jason Donald, at a convenience store Tuesday evening in downtown Austin, Texas, and led him around the side of the building, according to local news reports.
"The suspect managed to slip one hand out of the handcuffs and had his hands in front of him," Austin police said in a statement. "The officers and suspect end up going to the ground, while the officers attempt to overcome his resistance and place him back in handcuffs."
The most violent portion of the video appears to show the police forcing Donald to the ground, with the officer in the Santa hat holding him down as one of the masked officers punches him repeatedly in the head and another masked officer fires a Taser.
Donald can be heard yelling, "They punching me!" as the officers yell, "Put your hands behind your back!"
As a result of the incident and the fact that at least two of the involved officers covered their faces with balaclavas, Austin police changed their department policy to say that officers will not cover their faces unless there is a specific need to protect their identity. That need would also have to be approved by their division commander, Austin police said, adding that the "naughty" Santa hat is also not approved under their policy.
Austin police officers are not necessarily prohibited from striking a suspect's arms, legs or head, as they did to Donald, so long as their actions are objectively reasonable, Chief Brian Manley told the Austin American-Statesman.
The video was posted on Facebook by a woman named Mo Anderson, who captioned the video, "Dey fina kill em." It had been viewed over 2 million times by Friday afternoon. Anderson did not respond to a request for comment.
In other recent news involving men in Santa hats, a man wearing the distinctive cap broke into at least two homes in Los Angeles in late November and earlier this month, and a man dressed as Santa Claus opened fire at a Halloween party in Austin, injuring three people.