Texas Potato Farm Shorted Workers, Some Migrants Out of Millions in Wages
A Texas potato farm is being forced to pay more than $1 million in back wages to its workers as the result of an investigation by the federal government.
Blaine Larsen Farms Inc. didn't pay nearly 500 employees, including migrant workers with H-2A visas, the full wages they were owed—specifically overtime pay when employees worked more than 40 hours per week, the Department of Labor said.
The company is one of the country's largest potato growers and each year draws hundreds of temporary, nonimmigrant workers with an H-2A to its Texas Panhandle farm in Dalhart. Based in Idaho, it has operations serving retail and food service customers worldwide, the Labor Department said. The company also allowed drivers to transport workers without a proper license and didn't properly report a coronavirus outbreak at its Texas farm, according to the department.
Now, Blaine Larsen Farms will have to pay $1,345,960 in back wages for the workers. It also faces $10,900 in civil penalties for breaking the law. The Labor Department said the company violated the Fair Labor Standards Act, which requires employees to be paid time and a half their regular rate of pay for all hours worked over 40 in a week, and portions of the Immigration and Nationality Act.
"The pandemic highlighted the essential contributions agricultural workers—including workers in the H-2A visa programs—make every day to feed the nation and support our economy. In return for their hard work, they must be paid all of their wages and protected from workplace hazards," said Jessica Looman, acting administrator at the Labor Department's Wage and Hour Division, in a statement.
The H-2A visa program allows U.S. employers to bring foreign nationals to the country to fill temporary agricultural jobs. To qualify, an employer must show that the job is temporary or seasonal and that there are not enough workers in the U.S. who are able, willing or qualified to do the work.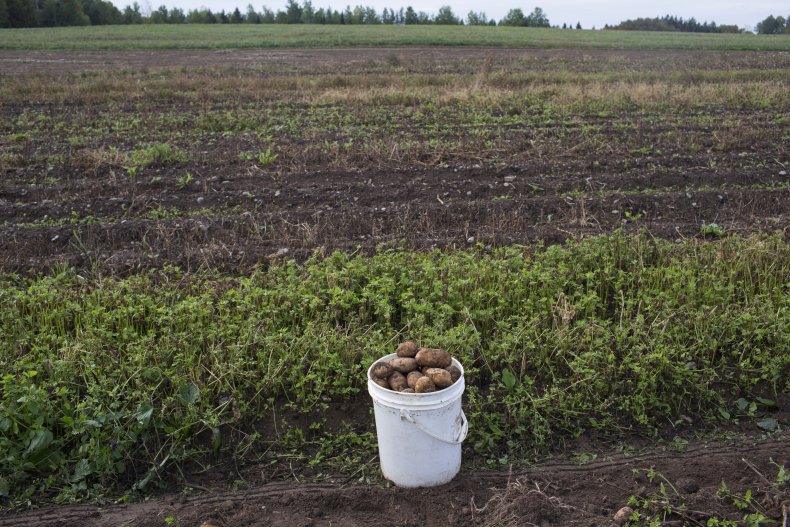 Looman also said the department found that Blaine Larsen Farms "subjected its workers to discrimination and intimidation when they asserted their rights."
"These actions will not be tolerated, and the agency will use all available tools to hold the employer accountable," Looman added.
This is not the farm's first infraction. A criminal complaint was filed against a company manager in 2020 alleging it demanded workers from Mexico pay up to $1,500 to obtain work visas. The Department of Labor said at the time that the manager was operating a "pay-to-play" scheme for roughly two years.
Newsweek reached out to Blaine Larsen Farms for comment on the investigation and the penalties imposed but didn't receive a response before publication.