Rick Perry Blames Frozen Turbines for Texas Outages—He Made the State a Wind Powerhouse
The former governor of Texas, Rick Perry, who oversaw a spike in wind power development in the Lone Star State, has warned about relying too much on renewable energy sources as electricity outages have left millions freezing.
Along with a boom in fossil fuels, the state's wind power sector grew rapidly when Perry was governor between 2000 and 2015 and it now provides nearly a quarter (23 percent) of the state's energy needs, The Texas Tribune reported.
In a farewell speech to the Texas legislature in January 2015, Perry, said: "You can be proud that Texas produces more energy from wind turbines than all but five countries."
But Perry, who also served as energy secretary in the Trump administration, joined conservative critics this week in blaming the outages in Texas on the wind turbines that proliferated under his tenure.
"If wind and solar is where we're headed, the last 48 hours ought to give everybody a real pause and go wait a minute," he was quoted as saying in a blog on House Minority Leader Kevin McCarthy's website.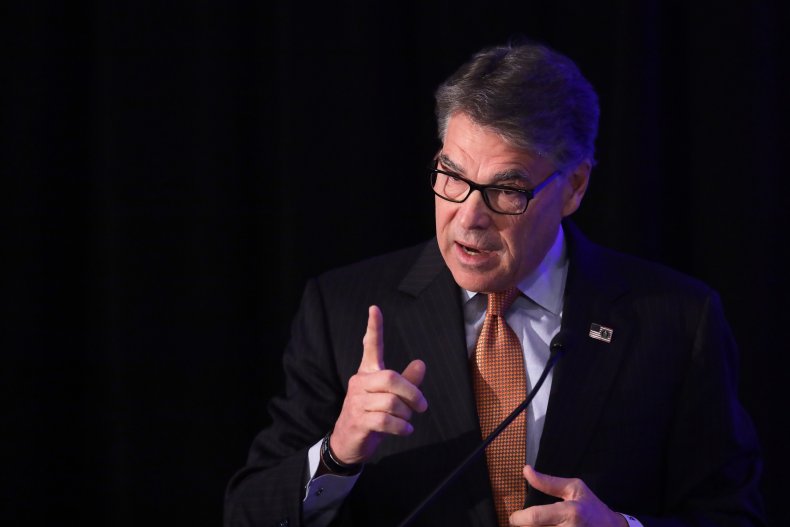 "The frozen turbines out in West Texas is a freakish event. But that's what the government is supposed to think about—what are the freakish events that can occur that could cost people their lives, and to protect against that," he added.
"We need to have a baseload. And the only way you can get a baseload in this country is [with] natural gas, coal, and nuclear."
Politicians in the Lone Star State have taken pride in its self-reliance on power supply, The Houston Chronicle reported.
This was because of a political will which favored deregulation of the state's power market allowing power companies, not state regulators, to decide on the construction and maintenance of power plants.
Its power grid which does not cross state lines, is run by the Electric Reliability Council of Texas, or ERCOT, and does not come under the management of the Federal Energy Regulatory Commission.
Perry used the outages to highlight the state's self-reliance, which he believed should continue without federal interference.
"Texans would be without electricity for longer than three days to keep the federal government out of their business." The blog post said the comments were made "partly rhetorically."
However Perry, did say that the federal government through the Department of Energy's labs, could help predict future catastrophes, and use its expertise to advise on how to weather a future storm. "Technology, not regulation," was needed, he said.
The cold snap has left many criticize how Texas' power grid is managed, especially after warnings a decade ago by regulators that power plants needed to be better insulated.
The blaming of wind turbines as the main reason for the outages that conservatives have made has been dismissed by Michael Webber, an energy resources professor at the University of Texas at Austin.
He said the power crisis was caused by all of the state's energy sources and in fact it was the natural gas industry that was producing much less energy than normal.
"Texas is a gas state," Webber told The Texas Tribune, "Gas is failing in the most spectacular fashion right now."
Meanwhile, Dan Woodfin, a senior director at ERCOT, told reporters: "It appears that a lot of the generation that has gone offline today has been primarily due to issues on the natural gas system." Newsweek has contacted ERCOT for comment.
The graphic below provided by Statista shows how Texas generates its electricity.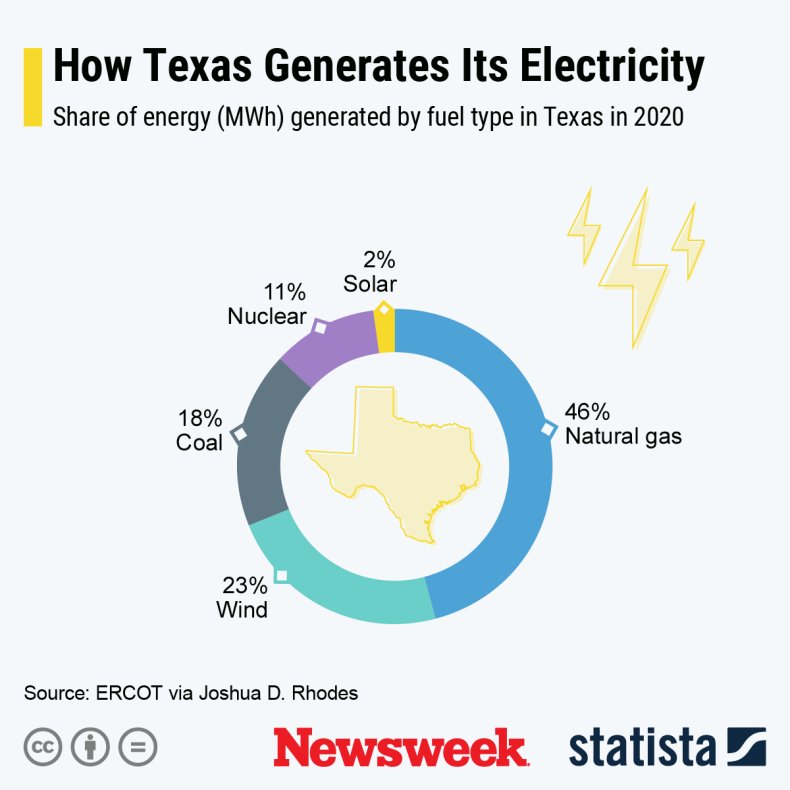 This story has been updated with a graphic.