Texas Power Outage Map, Update as Big Freeze Affects Over 400,000 People
The latest map from the Power Outage U.S. shows thousands across the state of Texas are without power due to wintry weather conditions.
According to the map, customers of Austin Energy and Oncor have been impacted the hardest.
Of the 543,138 customers of Austin Energy tracked by the website, 152,108 are currently without power, and of the 3,896,445 Oncor customers, 141,550 do not have power.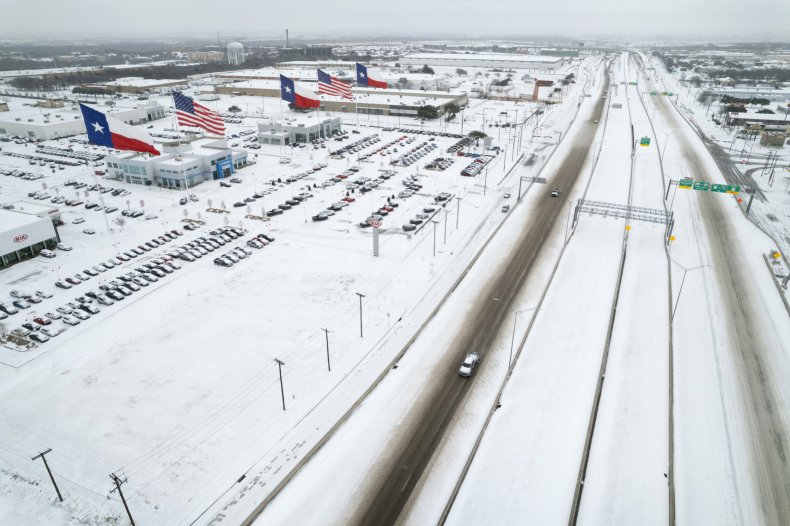 More than 42,000 Pedernales Electric Cooperative customers are also currently without power.
Over 50 percent of Navasota Valley Electric Coop tracked customers have lost power as the website notes that 12,855 of 20,933 customers are without power.
Of the 81,551 tracked customers with Trinity Valley Electric Cooperative, 11,142 are also currently without power.
Newsweek has contacted the energy providers to learn when they expect power to return to the majority of its customers.
Despite the power outages, on Wednesday the governor of Texas, Greg Abbott, took to Twitter to proclaim there was "plenty of power" available.
Sharing a graph, he tweeted: "This graph shows that there has been plenty of power available on the grid all day today."
The graph showed that Thursday's demand was around 63,000 megawatts while committed capacity was around 71,000 megawatts
The counties most impacted by the power outage are in the east and central east areas, according to the map. However, some of the western counties have also been impacted, notably Culberson and Brewster.
Texas is one of the many southern states that have recently been impacted by severe wintry weather. Oklahoma, Arkansas, Tennesee, Kentucky and West Virginia were also warned of storm-like conditions over the coming days.
These affected states were warned of an increase in sleet, snow and ice as the National Weather Service called the storm "extensive and dangerous."
At the beginning of the week, the National Weather Service (NWS) tweeted a map showing the extent of the storm.
"Here's the weather snapshot for Tuesday. The lead story will be the extensive and dangerous ice event with some sleet from Texas to the Tennessee and Lower Ohio Valleys," the NWS said.
"A potent system in the Southwest will produce cold rain showers, perhaps a thunderstorm and mountain snow."
As well as power outages, the ice storm hitting the southern states is also expected to cause travel issues over the coming days.
With an increased accumulation of ice, trees and utility poles can be brought down, resulting in road obstructions as well as power outages.
Ice storms can also cause black ice, increasing the chance of traffic accidents and forcing motorists to drive slower and more cautiously.