Texan officials have taken action to prevent businesses in the snow-hit state from price gouging, after residents reported massively inflated prices for hotel rooms and basic supplies.
Judge Lina Hidalgo said she had received reports of "outrageous prices on necessary items like food, water and housing."
A hotline has been established for the public to report cases. Offenders could face fines of up to $250,000, Hidalgo said.
Residents left without heating or electricity due to the severe winter storm that has swept across the southern U.S. have relied on hotel rooms in recent days, with occupancy rates said to have rocketed.
Austin-based news outlet KXAN received several emails on Monday and Tuesday showing distorted hotel prices, with a night at the Ramada by Wyndham in the south of the city allegedly being offered for up to $999.
Other nearby hotel chains were offering rooms for between $400 and $900, reports said.
A spokesperson for Wyndham Hotels & Resorts said that, "in speaking with the owner of this hotel, which is independently owned and operated as a franchise, it's our understanding that the temporary rate increases seen online were the result of the property working to close out its inventory as it managed the loss of power and other utilities."
The spokesperson added that assurances had since been given that "no guests were charged, nor was there any intent to charge, the rates shown."
When Newsweek searched for hotels in the area, prices appeared to be in line with market rates at less than $100 on some rooms.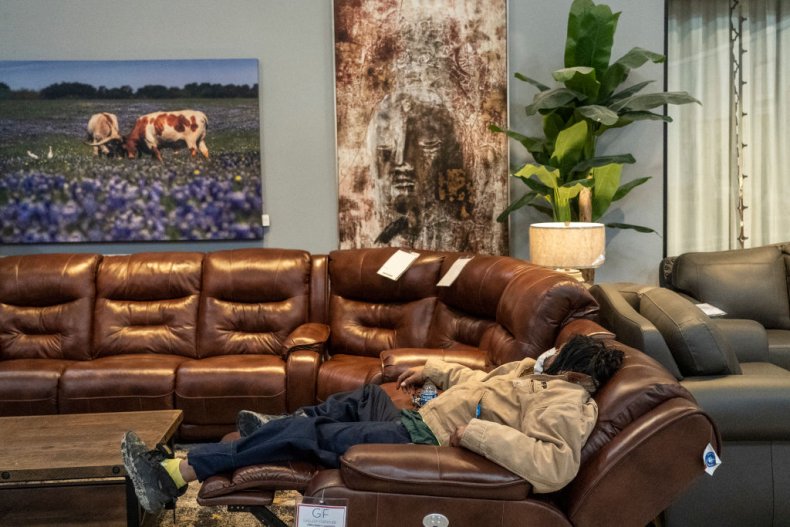 Commenting on the reports of raised prices, Texas Attorney General Ken Paxton said: "No one is exempt from price gouging laws in Texas. Any person selling goods, necessities, or services at an exorbitant price will be prosecuted to the full extent of the law.
"I will not stand for any person or business unlawfully taking advantage of Texans."
Harris County Attorney Christian Menefee also told AP that he had seen hotels "setting prices at ridiculous rates," but that prices for other essentials were also higher than normal.
"We've seen allegations of packs of water being sold for two to three times the normal price, or packs of water being divvied up and the individual bottles being sold at excessive prices," he said.
Film critic Matt Zoller Seitz tweeted: "A friend who is homeless in Dallas due to the power outages just told me that hotel rooms that normally cost $100/night are going for $700/night there. This is evil."
Travis County Judge Andy Brown has signed orders prohibiting local businesses from artificially raising prices and preventing commercial buildings from using electricity unnecessarily, such as outdoor light.
"We need our business partners to join in our community effort to all do our part to limit electricity use," he said.
"Today's order will help accomplish just that. Additionally, it will reinforce efforts to protect Travis County families from price gouging. This winter weather emergency is not an excuse to take advantage of our neighbors when they are vulnerable."
Dallas County Judge Clay Jenkins has also signed an executive order calling for essential goods and accommodation to be sold at regular prices.
Guidance listed on the Texas attorney general's website states that if a "disaster has been declared by the governor of Texas or the president, and businesses raise the price of their products to exorbitant or excessive rates to take advantage of the disaster declaration, then it is quite likely that price gouging is taking place, and you should file a complaint."