Hurricane Harvey: Texas Prison Inmates Raise $53,000 For Victims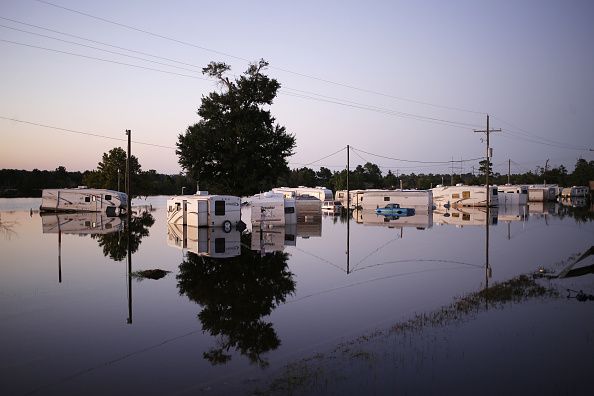 With this year's hurricane season taking a hit on the United States, inmates from a prison in Texas are deciding to come together and give back to their communities that have taken a hit by the storms.
The Texas Department of Criminal Justice said inmates had donated some of their commissary money and raised $53,000 in an effort to help Texas rebuild after Hurricane Harvey swept through the state, WCNC reported.
The inmates donated some of their earnings from late August all the way to the end of September to the Red Cross to help those in need.
"After Hurricane Harvey struck Texas, people from across the nation came together to help rebuild the Lone Star State. Many donated to organizations who assisted those in need. Offenders incarcerated within TDCJ were no exception. Through the commissary, 145,000 offenders could choose to donate in one dollar increments to the American Red Cross. From August 31st – September 30th, they gave more than $53,000," the Texas Department of Criminal Justice said in a statement on Facebook.
When Hurricane Katrina hit, the Texas Department of Criminal Justice said on Facebook inmates also contributed a portion of their commissary earnings to the Red Cross and raised $40,000.
Upon learning the news, many Lone Star natives took to social media to thank the inmates for offering aid to the victims of the storm that took place in August.
"Bottom line - huge thanks to these offenders. They are making a difference," said Facebook user Laura Perkins.
"Bless each and every one of those inmates," said Facebook user Cindy Powley DiAmore.
Hurricane Harvey was the first hurricane to make landfall in the U.S on August 25 this hurricane season. It was also the first hurricane to be categorized as a Category 3 storm since Hurricane Wilma in 2005, according to a report from USA Today. The storm barreled through Texas causing floods, damaging winds, and caused a Texas chemical plant to explode.
Since Hurricane Harvey, other hurricanes have struck the U.S. A few days later Hurricane Irma devastated the Caribbean and Florida and was recorded as one of the strongest storms to hit the Atlantic since Hurricane Wilma in 2005, USA Today reported. Hurricane Maria hit Puerto Rico two weeks later and ravaged the U.S territory.
In Europe, Hurricane Ophelia became the 10th storm to hit the Atlantic this season. The Category 2 storm will make landfall in Ireland on Monday.