Texas to Promote Abstinence-Only, Avoid LGBTQ Issues in 1st Sex Education Update Since 1997
Texas schools are not required to teach any form of sexual education, but those that opt-in will be required to promote abstinence-only guidelines as well as a complete evasion of any LGBTQ discussion.
The Texas State Board of Education this week is expected to approve the first new standards for its sexual education curriculum since 1997, although 80 percent of Texas schools either teach abstinence-only programs or nothing at all. Despite the state having the highest rate of repeat teen births and a 25 percent increase in sexually transmitted infections over the past decade, guidelines in the board's final proposal look to keep the curriculum as limited as possible. One board member, Ruben Cortez, told Newsweek Tuesday he will propose amendments to include even the most basic discussion of gender identity and sexual orientation—but he's pessimistic such topics will be added.
Earlier this week, several Republican officials across the state penned an op-ed encouraging the State Board of Education this week to adopt an "abstinence-plus" curriculum which at least addresses the controversial idea of sex before marriage. Statistics cited by the GOP women from the Texas Freedom Network found 63 percent of high school seniors reported having had sex before graduation.
Cortez, a Brownsville, Texas, Democrat, told Newsweek that a majority of fellow board members are staunchly conservative and may insert last-minute changes before the final vote this Friday. Cortez said teachers across the state are already required to watch videos which revolve around bullying and student suicide as it pertains to LGBTQIA students - so why shouldn't age-appropriate students be given access the same "fact-based information" provided to educators?
"Sex assignment at birth, gender orientation, gender identity and sexual expression topics help all people learn more about their friends and others who might be different from them," Cortez told Newsweek via phone Tuesday. "It can help reduce bullying, discrimination and harassment."
The Board debated adding gender identity and sexual orientation topics into the curriculum in June and a few Republican members expressed support for adding lessons which centered around bullying. But as the Texas Tribune reported, the majority of GOP members largely opposed any direct references to LGBTQ students.
Cortez said he plans to propose an amendment in which 7th and 8th grade students are taught to "define and differentiate between sexual orientation and gender identity," which he said should be "basic enough" for a middle school health class. A few school districts in the state including Austin ISD and Forth Worth ISD adjusted their sex education policies to include lessons sexual orientation and identity. But the topic has been—and is now likely set to continue—avoiding such discussion altogether.
"We want this dialogue to open and students to understand, at an age-appropriate level, the most fact-based information without shame or judgement," Cortez told Newsweek. "LGBTQIA students deserve to learn in a setting that provides accurate info that's relevant to them in their lives."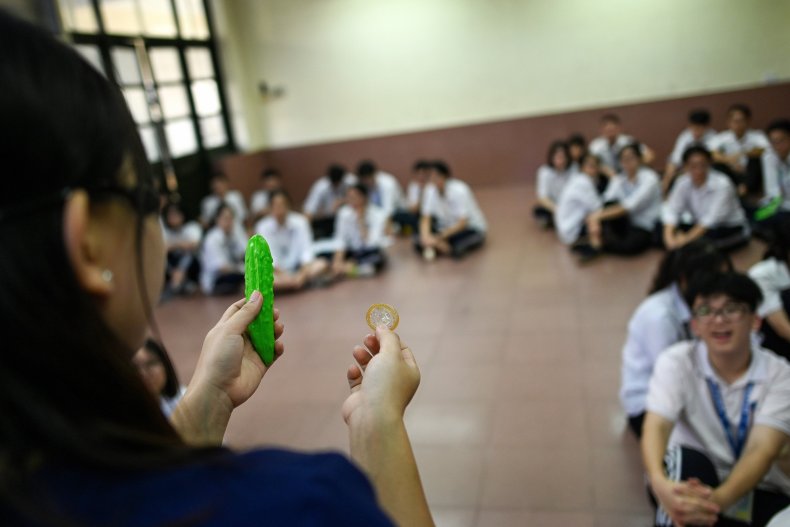 Speaking at recent debates, several current board members have described any changes which abandon the long-held promotion of abstinence as a "bridge too far" for the conservative majority. "The student understands there are risks associated with sexual activity and that abstinence from sexual activity is the only 100%-effective method to avoid risks," reads one of the primary topics addressed from grades 4 through 12.
According to data compiled by the Texas Freedom Network from the 2015-2016 school year, about two-thirds of high school seniors said they'd had sexual intercourse and many reported they did not wear protection. Additionally, 1-in-7 female students reported experiencing sexual violence in the previous 12 months and the state is routinely in the top 5 states for teen pregnancies.
Citing those statistics in a Thursday column for The Lufkin Daily News, several Republican women called on the Board of Education to adopt an "abstinence-plus" curriculum to provide "medically accurate" information about healthy relationships to students in older grades.
"Sometimes, despite our best efforts as parents, our teens stray off the path we have meticulously laid out for them," wrote the group of GOP officials. "An abstinence-only education is not sufficient to reverse these trends, and we must reverse these trends. The health of our state depends on it."
Cortez said educators involved in the changes made in 1997 were reluctant to include any statewide curriculum for sex education whatsoever. He told the Texas Tribune last week "if we can save one life" by including LGBTQIA anti-bullying lessons then the addition is worth the effort. The Texas Freedom Network, a nonpartisan group which promotes equality and social justice initiatives, urged the board to embrace a "stand up for science" approach which was re-tweeted by Planned Parenthood for Texas Tuesday.
"Sex education *is* education. It is essential to young people's health, relationships, and life goals. All Texas students deserve to have the information, resources, and skills they need to protect their health and build their future. Watch the testimonials via the link below!" the group wrote.