Texas Protesters Tell Officers They'd Go Home If They Took A Knee—Handshakes and Hugs Followed
Texas police officers joined protestors by taking a knee on Monday, resulting in handshakes and hugs.
The scene was documented in a video shared to Twitter by NBC 5 reporter Scott Gordon.
"Protesters just told police on bullhorn if officers took a knee they would go home. Officers took a knee. Protesters came up to cops and shook their hands, hugged them. Remarkable," Gordon wrote as a caption to his video.
Over the past week, people from across the country have taken to the streets to protest against police brutality following the death of George Floyd in Minnesota. Floyd was held down by officer Derek Chauvin, who used a knee placed on Floyd's neck while he repeatedly told Chauvin and other officers that he couldn't breathe. Even after Floyd appeared to lose consciousness, Chauvin kept his knee on Floyd's neck. Floyd later died in police custody.
Chauvin has been charged with third-degree murder, and fired from his job with the Minneapolis Police Department along with the three other officers, but protests have continued across the country with many calling for the other officers to be charged in Floyd's death, as well.
According to NBC 5 News, the encounter between the protesters and police began when officers moved toward the Tarrant County Courthouse to enforce an 8 p.m. curfew. When officers arrived, they took out their loudspeaker and told protesters they must leave, but the protesters had a loudspeaker of their own and yelled back, informing officers that they had no plans to go home.
The situation's tension escalated as police moved closer to the protesters, but NBC 5 News reported that the protesters offered to leave if police took a knee with them.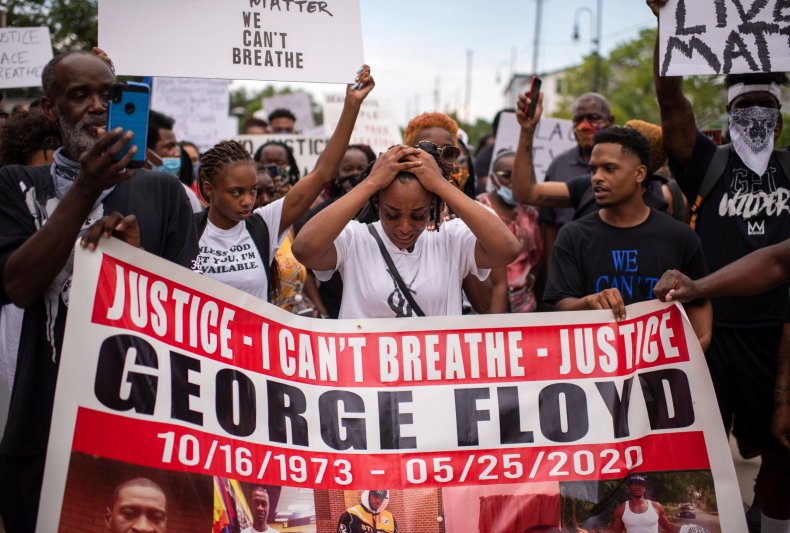 Shortly after, police officers on the front lines got off their bikes and took a knee, following the request of the protesters. Following those actions, protesters began shaking hands and hugging the officers. Officers then exited the scene and the protesters kept their word and left as well.
In an email sent to Newsweek, the Fort Worth Police Department explained that Chief Ed Kraus and Assistant Chief Julie Swearingin, "wanted to show support for our community and send a message that we share their concerns."
"Respect for the rights of all is our most important duty; human compassion our most important obligation; and devotion to the safety and welfare of all our community is our solemn pledge," the email sent to Newsweek added.
While several states have experienced violent protests and looting following Floyd's death, several others have seen similar responses from law enforcement.
In Michigan, Genesee County Sheriff Chris Swanson listened to protesters, taking off his helmet and putting down his baton to march alongside them.
"Let's go, let's go," Swanson said as he and the cheering crowd proceeded. "Where do you want to walk? We'll walk all night."
Similar situations have also occurred in New York City and Phoenix, Arizona, with police officers showing their support for the protests by kneeling.