Texas rancher Stephanie Crisp-Canales joined Fox News' America's Newsroom Wednesday to explain her experience living so close to the border and spoke out on the surge of illegal migrants crossing into the United States.
"The federal government needs to act, whether it's building the wall or putting back into place the laws that were there in the last administration because what is happening now is out of control," Crisp-Canales told host Dana Perino. "It's an invasion at this point."
She and other Texas farmers have posted dozens of videos and pictures on a site hosted by the Texas Farm Bureau (TFB) to raise awareness for the farmers and ranchers affected by the surge.
"I have lived here for over 40 years now," Crisp-Canales says in a video posted on the site, "and it has never been this bad down here. Despite what the media reports, there is a crisis going on down here."
The increase in crossings at the U.S. and Mexico border generated numerous headlines shortly after President Joe Biden took office in January 2021, with some critics pointing to the changes Biden's administration made by reversing some immigration policies enacted by his predecessor Donald Trump. One of those, the Migrant Protection Protocols program, prevented most asylum seekers from remaining in the U.S. as their case was waiting to be heard by immigration courts. Under the Trump-era policy, most asylum seekers were sent back to Mexico to await hearings.
In April 2021, Texas Attorney General Ken Paxton filed a lawsuit against the Biden administration to restore the policy. Paxton and Missouri Attorney General Eric Schmitt argue that removing the so-called "Remain in Mexico" policy was "arbitrary and capricious."
Customs and Border Protection (CBP) announced late Tuesday that it encountered more than 178,000 migrants in April 2021, a 900 percent increase from the previous April.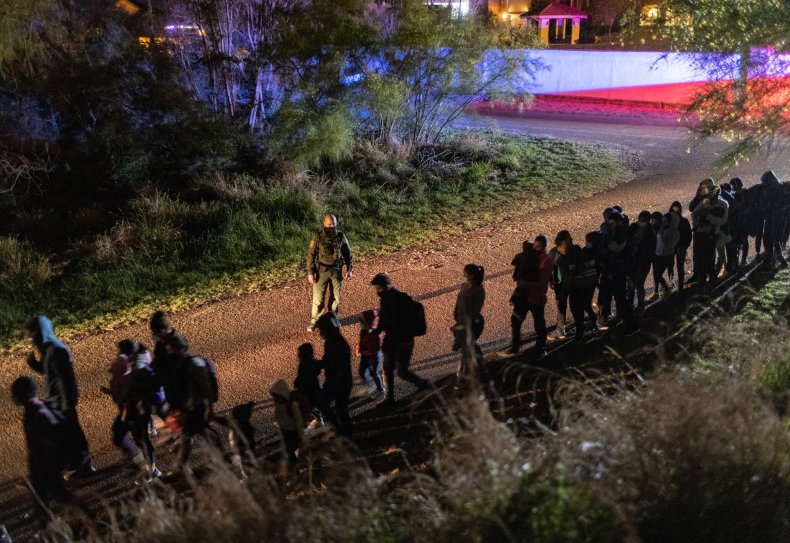 Speaking to Perino on Wednesday, Crisp-Canales described some of the dangers she feels surround her home.
"We are seeing people crossing through our property on foot. We've also had multiple bail-out vehicles coming through our property as well," she said.
She explained that the bail-out vehicles are vehicles a U.S. citizen secures, then drives south to "pick up as many illegals in that vehicle as they can because that person, which is known as the 'coyote,' they are being paid per person."
"Our law enforcement will inevitably try to pull them over and they will do everything they can to evade being captured so they will go off roads through ranch land and they go through our fences, our gates [and] destroy property," Crisp-Canales said.
TFB District 13 State Director Scott Frazier reported during a U.S. House Judiciary Committee press conference that "the human smuggling and trafficking going on, small children being thrown over fences and dropped over fences, and things like that are terrible to see. But the damage they do to farms and ranches when they knock down fences during bailouts and various things, those hurt people on this side."
Crisp-Canales told Perino that migrants are constantly crossing through her property, sometimes carrying drugs, and says that her two homeschooled daughters are well-trained in gun safety if they have to defend themselves against intruders.
"It is a scary talk to have to have with your kids, but we're really faced with no choice down here right now," she said