Texas Rangers Fans Fill Home Stadium to Capacity at Team's Home Opener
The Texas Rangers had one wish come true on Monday, and the other didn't. The Rangers opened their 2021 home schedule with a stadium full of fans at Globe Life Field in Arlington, and they did it against a team that isn't even allowed to play home games at its own stadium this year because of COVID-19 restrictions.
The Rangers wanted a full capacity, and they also wanted a win against the Toronto Blue Jays. Toronto defeated the Rangers, 6-2, Monday afternoon before an announced crowd of 38,238 fans. The wish of a packed house came true, but winning the home opener wasn't even close.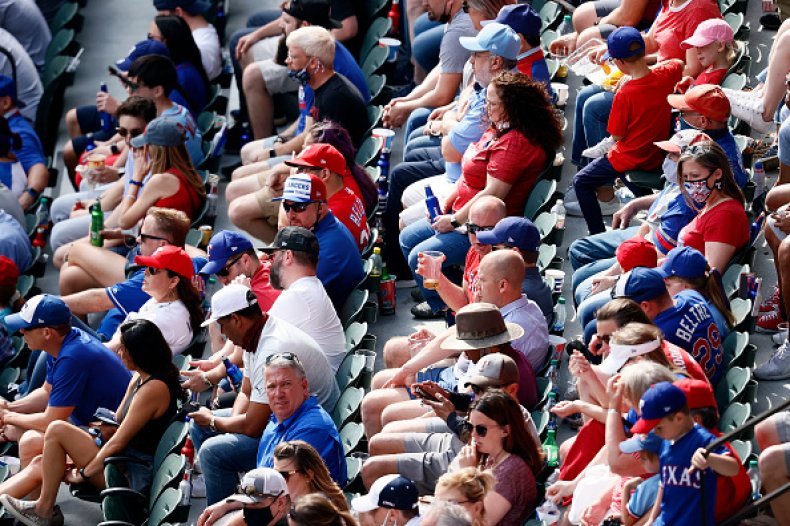 Texas Gov. Greg Abbott last month opened the state back up for full business. The Texas Rangers used that as a way to welcome 40,500 fans back into the stadium. Abbott was scheduled to throw out the ceremonial first pitch on Monday, but he backed out of it a few hours before game time, citing Major League Baseball pulling this year's All-Star Game and MLB Draft from Atlanta because it opposed Georgia's new voting laws.
As part of a greater GOP boycott of certain major companies that have spoken out against Georgia's new voting laws, Abbott went on to say he would no longer participate in any events by MLB. In addition, the governor said he would "not seek to host the All-Star game or any other MLB special events."
President Joe Biden called the team's wish of playing in a packed house "a mistake" and something that's "not responsible."
"Well, that's a decision they made. I think it's a mistake," Biden said last week. "They should listen to Dr. [Anthony] Fauci, the scientists and the experts. But I think it's not responsible."
The Rangers stated that it was banking on the vaccine rollout and responsible fans to make Opening Day at home a success, and that a full ballpark is usually a rarity.
"I'm hopeful that with vaccine rollout, with mask requirements at the park, and some level of distancing—obviously, with a full crowd you're not going to have full distancing there—I'm hopeful that provides some level of security and safety from a public health standpoint," Rangers general manager Jon Daniels said. "But certainly we understand when the organization made that decision it was not going to be popular with everyone.
"I think it's a one-time event. I think after opening day the reality is we're not going to be at full capacity. I doubt it. There are very few seasons, except for our best years," Daniels said. "I do think that the opening day, the visual and the reality of having a lot of people that close together does kind of go maybe against some of the recommendations."
The Blue Jays are not allowed to move in and out of Canada for its home games, so they will play all of their scheduled home games in the Tampa, Florida area.
Photos from fans in the stands flooded Twitter on Monday afternoon, and here are a few of them.