Texas Rangers GM Jon Daniels Shrugs Off Joe Biden's 'Not Responsible' Remark on Full Stadium
The general manager of the Texas Rangers used baseball's opening day Thursday to comment on President Joe Biden's remarks about his team hoping for a stadium full of fans. The Rangers have expressed a willingness to have their brand new stadium full of baseball fans this season after Texas Gov. Greg Abbott opened the state back up for full business last month.
During an interview televised Wednesday night, Biden called the team's wish "a mistake" and something that's "not responsible."
"Well, that's a decision they made. I think it's a mistake," Biden said. "They should listen to Dr. [Anthony] Fauci, the scientists and the experts. But I think it's not responsible."
The comments came the night before the league returned to stadiums with fans, from New York to Miami and onward to the west coast, though all but one of those stadiums had limited capacity for fans as the COVID-19 pandemic continues.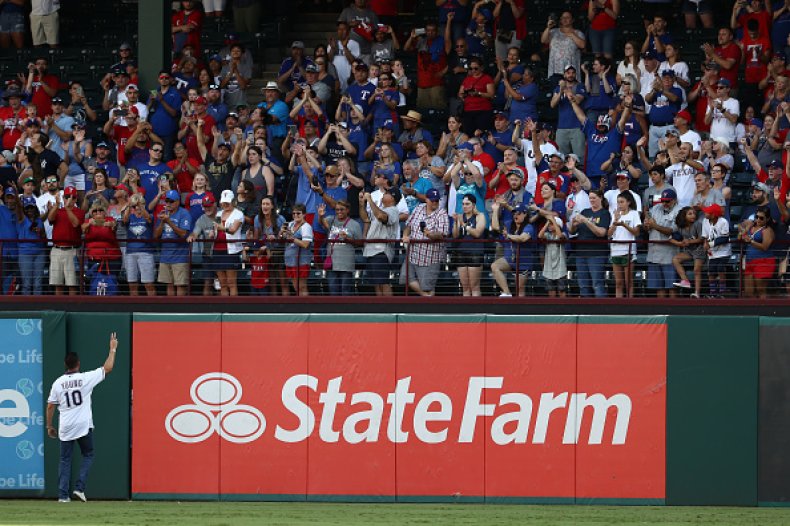 The Texas Rangers opened the season at Kansas City on Thursday, and they won't play their home opener at Globe Life Field in Arlington until Monday when they host the Blue Jays.
Daniels said he respects the president and the office he holds, but added that his team would press forward with trying to get a sellout when play their home opener.
"I'm hopeful that with vaccine rollout, with mask requirements at the park, and some level of distancing—obviously, with a full crowd you're not going to have full distancing there—I'm hopeful that provides some level of security and safety from a public health standpoint," Daniels said. "But certainly we understand when the organization made that decision it was not going to be popular with everyone."
Daniels went on to say he doesn't expect all of Globe Life's 40,500 seats to be filled every home game, but maybe for at least the home opener.
"I think it's a one-time event. I think after opening day the reality is we're not going to be at full capacity. I doubt it. There are very few seasons, except for our best years," Daniels said. "I do think that the opening day, the visual and the reality of having a lot of people that close together does kind of go maybe against some of the recommendations."
On Thursday, the Colorado Rockies had fans as they took down World Series champion Los Angeles Dodgers, and there were fans at Yankee Stadium who saw the New York Yankees fall to the Toronto Blue Jays. There were also fans at a snowy Comerica Park in Detroit, where Miguel Cabrera hit MLB's first home run of the season in the Tigers' win over the Cleveland Indians.
Biden said that even those stadiums that allow limited fans, he encourages continued mask wearing and social distancing. He also hinted that baseball players and staff should consider getting vaccinated for the coronavirus.
"I would say I'm President of the United States and I got vaccinated. I don't have an unimportant job. Would I take the vaccine if I thought it was going to hurt me? We have done incredible research on the vaccines and they have shown that they work," Biden said. "We have to get to the point where enough people have taken the vaccine so we diminish the possibility for it to spread."
Globe Life Field was constructed and opened in 2020, but it didn't have a normal opening season after the pandemic modified the regular season, which was played with no fans. The Rangers missed last year's playoffs, so Globe Life Field was used as a neutral site for both the National League Championship Series and the World Series, both won by the Los Angeles Dodgers before limited fans.
Thursday's opener between the Washington Nationals and New York Mets was postponed after members of the Nationals were put on COVID protocols.