Texas Records More Daily Coronavirus Deaths Than New York For First Time
Texas reported almost twice as many new deaths from the novel coronavirus compared to New York on Tuesday, as the former state sees an ongoing spike in cases and hospitalizations related to the respiratory syndrome.
According to the latest data from Texas' Department of State Health Services (DSHS), at least 46 people passed away from the novel coronavirus on Tuesday. The number approached Texas' single-day high of 58 deaths from the virus, reported on May 14. In New York, daily fatalities have declined significantly over the last several weeks.
During a Tuesday press conference, Governor Andrew Cuomo said 25 new deaths were reported statewide since the previous day, the same number health officials reported on Monday and the lowest New York has seen since the start of the pandemic.
Texas health officials also confirmed the state's highest single-day jump in virus cases Tuesday, with 2,622 additional diagnoses. In a message attached to its virus dashboard, the DSHS said an additional 1,476 cases were previously diagnosed among inmates incarcerated in two Texas counties that had not yet been reported to the state health agency. Tuesday's case totals surpassed the state's previous single-day high of 2,504 new cases, reported one week ago, on June 10.
Newsweek reached out to the Texas DSHS for comments but did not hear back by time of publication.
Cases and hospitalizations related to the novel virus have risen significantly in Texas since the beginning of June, with the DSHS reporting record daily increases in both measurements several times over the last two weeks. The spike comes more than one month after the state began reopening businesses under the terms of Governor Greg Abbott's economic recovery plan. Abbott terminated the state's stay-at-home order at the end of April, permitting most establishments to resume services throughout May.
Abbott lifted additional restrictions recently, with Texas transitioning into Phase III of his reopening strategy on June 3. The development allowed amusement parks to reopen with additional mitigation measures in place and businesses already operating to expand patron occupancy limits.
New York, which became the epicenter of the nation's virus outbreak in March, has reopened businesses at a slower rate than most other states. In New York City, where most statewide cases were diagnosed, establishments began to reopen under Phase One of Cuomo's plan on June 8.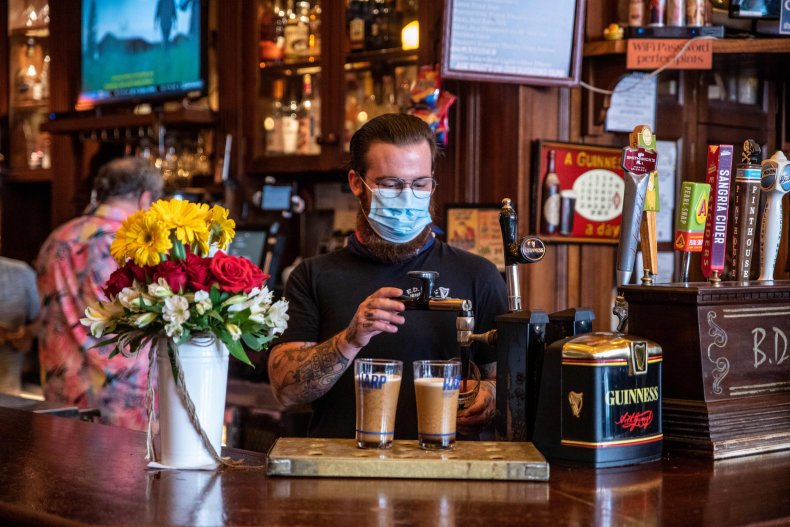 Wearing face masks in public spaces is not mandatory in Texas, as it is in New York, but Governor Abbott has encouraged residents to use them. In response to increasing case counts in and around Texas' major cities, the mayors of Houston, Austin, Dallas, San Antonio, Forth Worth, Arlington, El Paso, Grand Prairie, and Plano wrote a letter to Abbott on Tuesday asking for authority to "enforce the wearing of face coverings in public venues where physical distancing cannot be practiced."
Both the World Health Organization (WHO) and Centers for Disease Control and Prevention have noted the efficacy of face mask use in settings where adequate social distancing is not possible, though WHO's guidelines suggest a "risk-based" approach to mask policies rather than a sweeping mandate.