Texas Rep. Castro Criticizes GOP Leaders' 'Insincere' Concern for Minors Amid Immigration Debate
Texas Rep. Joaquin Castro criticized Republican leaders who argued the Biden administration's approach to immigration harms children and families on Monday, following a press conference in El Paso that saw House Minority Leader Kevin McCarthy reiterate opposition to changing border policies.
McCarthy, alongside a group of House Republicans, addressed the uptick in migrants arriving at the southern U.S. border since President Joe Biden's January inauguration at Monday's conference. In addition to showing support for border security personnel and suggesting, again, that Biden's stance on immigration is fueling COVID-19 transmission, the congressional representatives said his policies put children at risk.
Castro noted that McCarthy, and others who spoke at the afternoon briefing, claimed the new administration's policies endanger minors and separate families, despite previously aligning with Donald Trump's family separation directive.
"Kevin McCarthy and many of the Republican politicians with him wholeheartedly supported Donald Trump's family separation policy and were OK ripping away children from their mothers," Castro, who advocated for a "people first" approach to U.S. immigration ahead of his re-election to Congress last November, told Newsweek. "So any concern they seem to have now for these kids is likely insincere."
As Congress prepares to vote on two immigration reform measures, part of a wider set of policies that Biden proposed earlier this year, McCarthy denounced the administration Monday for public messaging that he and other Republicans argue has encouraged an influx of people to journey across the border. A record number of migrant children have arrived to the U.S. over the past month, as reports detailed overcrowded facilities and a general lack of sufficient resources to address the surge.
McCarthy and his colleagues blamed the Biden administration for exacerbating threats that minors face when attempting to cross into the U.S. as migrants, such as abduction by traffickers.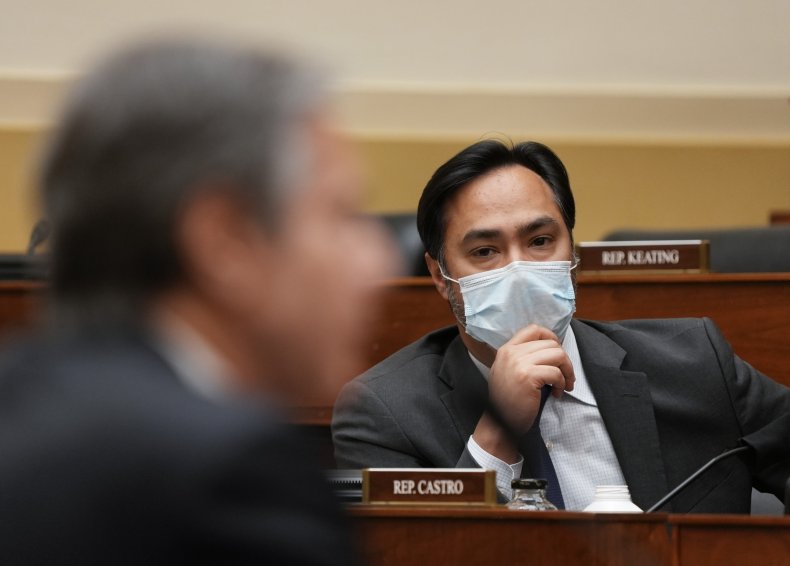 "All because the policies of our president has changed and told them something different. Told them to risk their lives, and broke families apart," said the House Minority leader. He emphasized soon after that "this is about the safety and security of our border."
Reversing a number of the stringent, and by many accounts, xenophobic, immigration orders effected throughout the Trump era was one of the main planks in the platform of the current president's election campaign. Although the new administration has yet to formally implement reforms or significant structural changes at the border, its rhetoric surrounding immigration and preliminary steps toward more inclusive policies seems to have contributed to the surge in migrant arrivals.