Texas Rep. Louie Gohmert Suggests Capitol Riot Was a Set-Up by Democrats
Texas GOP Rep. Louie Gohmert suggested that the January 6 was a conspiracy set-up by the Democrats and called the arrests of the Capitol rioters "tyranny" in a speech to the Conservative Political Action Conference (CPAC) in Dallas on Sunday.
Gohmert suggested that House Speaker Nancy Pelosi was responsible for the violent insurrection that forced lawmakers into hiding and left five people dead, including a Capitol police officer.
"On January 6th, the sergeant at arms had turned down, on behalf of the speaker, having the National Guard there to help protect the Capitol. Why did that happen? You think they were setting things up?" he said in his address at CPAC.
"We can't let them intimidate us from not protesting. That's what this treatment of people that got arrested was all about – intimidation," Gohmert added.
The east Texas congressman, who won his seat in 2004, aligned himself with former President Donald Trump and his America First agenda following the events of January 6. Over the past few months, he has promoted the ex-president's baseless claims of voter fraud, repeatedly downplayed the significance of the insurrection, and criticized Democrats pushing an independent probe of the incident.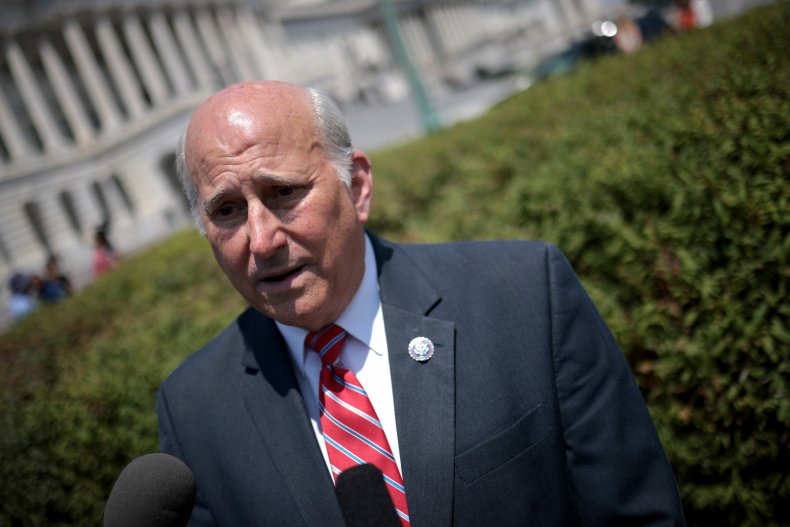 More than 535 suspects have been arrested in connection with the Capitol riot so far, and the FBI still have yet to identify 300 others who are believed to have committed violence on restricted grounds. "This is far from over," said FBI Director Christopher Wray in June.
Last month, Gohmert suggested "it wasn't just right-wing extremists" in a keynote address to a Dallas conservative conference with ties to prominent QAnon figures, after federal authorities repeatedly debunked conspiracy theories alleging leftist activists were involved in the attack.
He was the only sitting member of Congress to speak at the "For God & Country Patriot Roundup" event—which adopted the QAnon slogan "WWG1WGA."
Gohmert continued to push the theory on Sunday, tying it to the FBI infiltration of a group of anti-government extremists who plotted to kidnap Michigan Democratic Governor Gretchen Whitmer.
"What I read said five out of the 14 were working for the FBI, the feds.... What percentage does it take of federal agents to make it a government conspiracy? This has got to stop," he said.
Gohmert also pushed back against left-wing criticism of his decision to formally object to the federal certification of Wisconsin's election results.
"There's been fraud in our elections. And some of us stood up and objected. And the Democrats went nuts," he said, encouraging the crowd to "stand strong and not be intimidated by the federales using tyranny to try to stop us."
Newsweek reached out to Gohmert for comment. This story will be updated with any response.