Texas Rep. Slams Republicans Who Oppose Vaccine Mandates As 'Hypocrites'
Texas State Rep. Jasmine Crockett has slammed Gov. Greg Abbott and Republicans who support the state's restrictive abortion law but oppose vaccine mandates as "hypocrites."
Her comments came after Abbott issued an executive order on Monday to prohibit any entity, including private businesses, from enforcing a COVID-19 vaccine mandate on workers.
COVID-19 vaccines "are strongly encouraged for those eligible to receive one, but must always be voluntary for Texans," Abbott wrote in the order.
Meanwhile, the nation's most restrictive abortion law remains in effect in Texas. Since early September, Texas has banned abortions once cardiac activity can be detected, usually at around six weeks of pregnancy and before many women even know they are pregnant.
Unlike other bans that have been blocked by courts, the Texas law empowers private citizens to enforce it by suing doctors or anyone who assists someone in getting an abortion past the six-week cutoff. They can collect at least $10,000 in damages if they successfully sue.
In an interview with Newsweek, Crockett condemned "right-wing nuts" who argue that mask and vaccine mandates infringe on their rights, yet support an abortion law that doesn't make exceptions for rape or incest.
"We got hypocrites," she said. "This idea that there's this group that is complaining that they're lacking in freedom over their body... they don't even want to wear masks.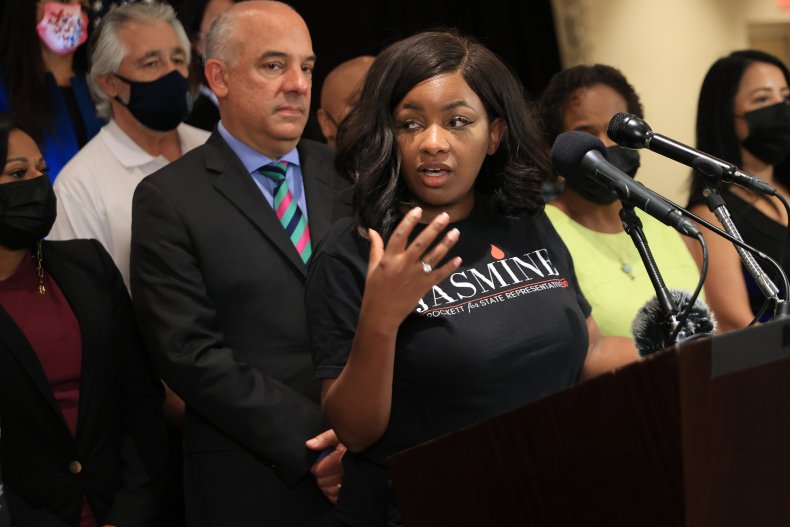 "They say it infringes upon their freedom if the government mandates that they wear their masks or if the government mandates they get a vaccine. I don't know what country they come from because the one that I grew up in, I couldn't go to school until I got what I call my shots. We had to have vaccinations to go to school when I was a little girl. So it's always been that way.
"We're talking about saving lives. We're talking about wearing a mask as a minimally invasive measure to save a life, right? But we're going to tell women, women and girls, that no matter what they've got to carry a fetus."
She also noted that six weeks was well before fetal viability could be determined.
"Let's be clear, they call this a heartbeat rule but what they're talking about is not even a heartbeat. Not at six weeks," she said. "So it's them playing on the ignorance of their base and really trying to pull on the heartstrings."
Crockett, a civil rights attorney, added that she believes there are plenty of Republicans who aren't opposed to vaccine mandates. "It's the right-wing nuts," she said.
She noted that Abbott is vaccinated and tested positive for COVID-19 in August. He refused calls to reinstate mask mandates as coronavirus cases in Texas soared over the summer due to the highly contagious Delta variant.
"The governor is vaccinated," Crockett said. "He was running around without a mask, he caught COVID, he locked himself in the mansion."
She added that he received Regeneron's monoclonal antibody treatment despite it not being approved for those without symptoms. "He got it anyway," Crockett said. "It's the haves versus the have-nots."
Crockett added: "The fact is, we're not out of this pandemic. The fact is that Texas refuses to get a hold on the pandemic, and I don't know when we will be out of it."
Abbott's office has been contacted for comment.