Texas Rep. Touts Infrastructure Bill to Voters After Calling It 'Terrible'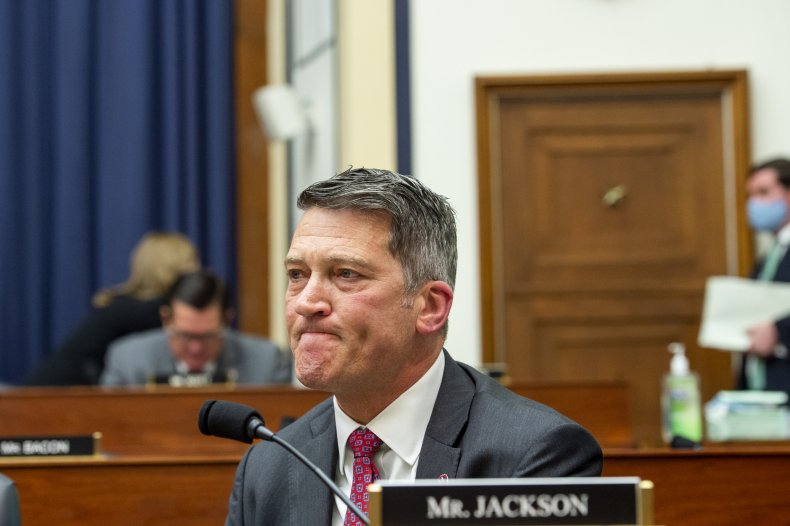 Republican Representative Ronny Jackson of Texas has touted the "instrumental" role he played in securing funding for a water purification project despite vehemently opposing the bipartisan infrastructure bill from which the project draws funds.
In an email to supporters, Jackson shared a Wichita Falls Times Record News article touting the "instrumental" role that he and Republican Senator Ted Cruz of Texas played in funding the Red River Chloride Control Project, which aims to remove salt from water flowing into a Texas lake that is used as a source for drinking water. However, funding for the project is coming from President Joe Biden's bipartisan infrastructure bill—which was signed into law last year despite Jackson voting against it and denouncing it as "terrible."
The U.S. Army Corps of Engineers announced that the project would be funded by the infrastructure bill on January 19. Jackson issued a press release on Tuesday that lauded his efforts to fund the project, which is in his congressional district, while failing to mention the ultimate source of the funds but conceding that federal funds were "the only viable option."
"My staff and I have been deeply engaged on this issue for months now because safe drinking water for our communities is nonnegotiable, and because it's my firm belief that the federal government had a duty in this situation to either continue funding the project or ensure a smooth transition to local control," Jackson said in the release.
"It quickly became clear that the Biden Administration had no interest in working with our community, so the only viable option in my eyes was continued funding at the federal level," he continued. "I was relentless in pursuit of this funding, and I am proud to see a positive outcome because of my office's work."
Jackson voted against the infrastructure bill, which is officially titled the Infrastructure Investment and Jobs Act, less than two weeks before Biden signed it into law on November 15. In an October 14 tweet opposing the bill, Jackson suggested that the "bloated" proposal was an insult to his constituents and did not address infrastructure issues.
"I WILL NOT be voting for Pelosi's bloated 'infrastructure' bill, which spits in the face of the Patriotic values my constituents expect out of their representation in Washington," tweeted Jackson. "I love the Panhandle, and I can't in good conscience support such a TERRIBLE bill."
Critics on social media were quick to denounce Jackson after Aaron Fritschner, communications director for Democratic Representative Don Beyer of Virginia, pointed out the apparent conflict by sharing Jackson's email to Twitter on Thursday.
"Rep. Ronny Jackson (R-TX) just emailed his constituents touting an infrastructure project in his district he was 'instrumental in getting' funded," Fritschner tweeted. "The project is in fact funded by the Infrastructure Investment and Jobs Act, which he opposed in vitriolic terms and voted against."
University of Texas School of Law professor Steve Vladeck responded to the tweet by slamming Jackson and accusing him of elevating the level of "rank hypocrisy" in politics.
"I realize that rank hypocrisy is just par for the course in our current political culture, but there's something about elected officials taking credit for the benefits of legislation that they loudly and aggressively opposed (and voted against) that really takes it up a notch," Vladeck tweeted.
Newsweek reached out to Jackson's office for comment.