Texas Reporting 'Second-Shot Hesitancy' as Nearly 2M Skipped Last COVID Vaccine Dose
Nearly 2 million Texans are reportedly displaying second-shot hesitancy as large numbers of first-dose vaccine recipients are failing to show up for their second dose.
According to the Texas Department of State Health Services (DSHS), 1.89 million people have not returned to receive their second dose of either the Pfizer or Moderna vaccine, as of September 6. Of those 1.89 million people, 11 percent, or more than 1 million people, are now more than 90 days past the due date for their second dose.
The Centers for Disease Control and Prevention recommends that the time frame for a second dose is three weeks after the first shot of Pfizer and four weeks after the first shot of Moderna.
As of Sunday, just under half of Texas' population has been fully vaccinated—nearly half of the 24 million in the state eligible for the COVID-19 vaccines.
The state's figures lag behind the national average, which show that 63 percent of those 12 and older, and thus eligible for the vaccine, are fully vaccinated, as of Monday.
"Whether it's two days, two weeks or two months after a person is eligible for that second dose, the CDC and DSHS encourages Texans to complete their vaccine series and get that second dose for maximum protection," a DHSH spokesperson wrote to Newsweek. "With Delta variant still prevalent in the state, the protection afforded by two doses of the vaccine is critical to help slow new, and especially, severe cases."
Although the first shot was estimated to be 50 to 60 percent effective in providing coronavirus infection, some fear that getting only one shot amid the rapid spread of the highly contagious Delta variant is almost like "not being vaccinated at all."
"When Delta started to emerge, it became very clear that one dose provides minimal protection," Dr. James McDeavitt, the executive vice president and dean of clinical affairs at Baylor College of Medicine, told the Texas Tribune. "So if you've only gotten one dose of Pfizer or Moderna in the face of the Delta variant, you are not much better off than if you weren't vaccinated at all."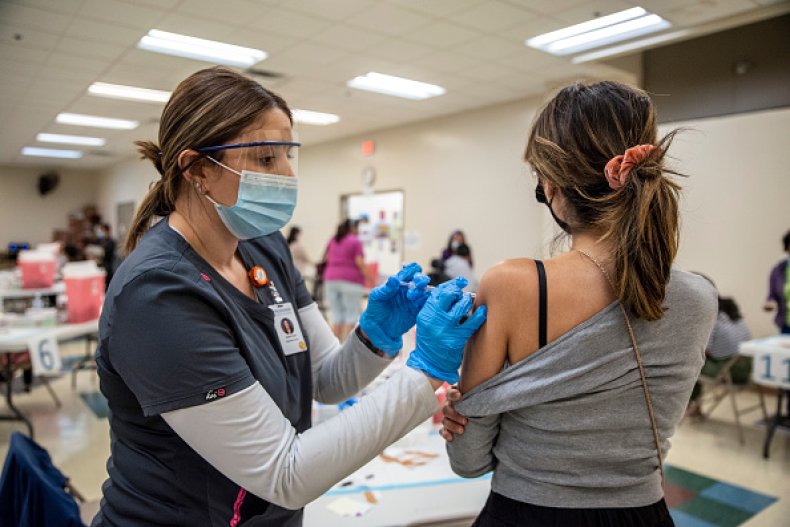 COVID-19 cases in Texas have risen quickly since the beginning of June and the Delta-fueled surge has predominantly impacted Texas' unvaccinated population. Of all hospitalizations in the state, 90 percent have been unvaccinated people.
Now, officials are urging people to get their shots to ensure they are safely protected from the Delta variant.
"You just need to get the second shot. Your body's immune system will remember you got the first shot and you should have a pretty significant immune response," Syed Raza, the vice president of medical operations at St. Luke's Health in Houston, told the Tribune.
"I think there was pandemic fatigue, to a large extent," Raza added. "And so [people] basically said, 'Well I'm not going to come back for my second dose. I already got my first, and based on that, I have a certain amount of protection.'"
The DHSH noted that there is a chance some of the people who have received only one dose in the state database may receive their second dose in another state. The department also said there may be people receiving their dose today or tomorrow, in which case those figures wouldn't include these individuals.
Update (9/14/2021, 8:14 p.m.): This story was updated with comments from DHSH.