Texas Reports Highest Coronavirus Hospitalizations Since Pandemic Began as State Continues Reopening
As Texas continues reopening, it has reported its highest number of hospitalizations of individuals confirmed to have been infected with the coronavirus since the pandemic began.
The Texas Department of State Health Services' (DSHS) coronavirus dashboard shows that 1,935 people are hospitalized with COVID-19, the disease caused by the virus. This is higher than the previous record of 1,888, recorded on May 5. Texas began its process of reopening, with social distancing guidance and measures remaining in place, on May 1.
The state has also seen a noticeable rise in the rate of people testing positive for the virus since the end of May. On May 26, the positive test rate stood at 4.27 percent and had been on a steady decline since mid-April. But as of Saturday, the rate had risen to 7.55 percent. Meanwhile, the state has been seeing an uptick in new confirmed cases of the novel virus over the past couple of weeks.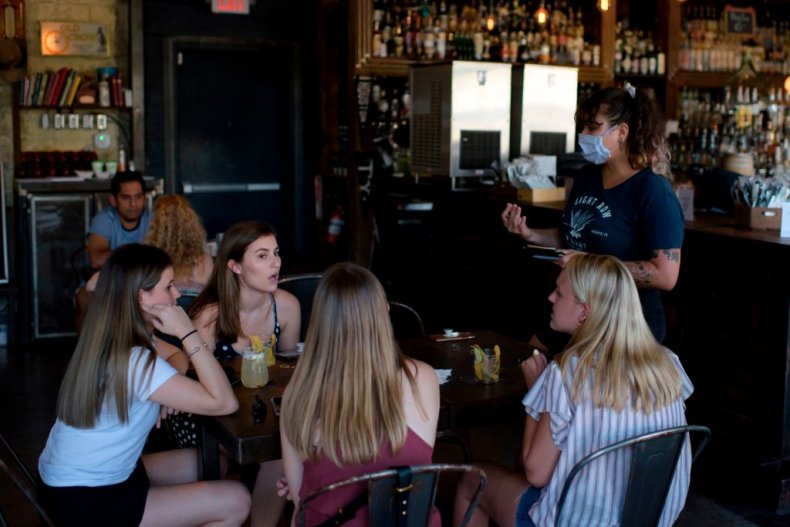 Newsweek reached out to the DSHS for comment on the data but did not hear back before publication.
Health experts have expected to see an uptick in new confirmed cases as testing has greatly expanded across the country. In the pandemic's early days, only the sickest patients and those who were known to be in contact with others who had been infected were able to get tested, as testing kits were limited. Now, with tests readily available, many people with relatively minor symptoms, as well as individuals without symptoms, are also being tested.
But the increase in hospitalizations suggests that Texas has begun seeing a greater number of people with more serious cases of COVID-19. Meanwhile, public health experts continue to warn about the possibility of a second wave, or spike, in new infections and deaths as states across the country steadily ease their lockdown restrictions.
Last Wednesday, Texas Governor Gregg Abbott, a Republican, announced that his state would move to Phase Three of reopening. On June 12, dine-in restaurants will be allowed to operate at 75 percent capacity. Many other businesses will also be allowed to operate at 75 percent capacity.
Nationwide, the U.S. has continued to see a relatively steady increase in new cases of the virus. As of early Monday afternoon, the country had reported more than 1.9 million confirmed infections and 110,422 deaths. Although many of the new confirmed cases may be individuals with minor or no symptoms, the death toll continues to climb.
At the same time, other trends have been downward.
On Sunday, the U.S. reported 390 deaths from COVID-19 after reporting 728 on Saturday and 1,112 on Friday, according to a tracker maintained by The New York Times. Daily deaths peaked at 2,752 in mid-April. The U.S. also reported 18,937 new confirmed cases of the virus on Sunday, roughly half of the peak daily number of 36,737 reported on April 24.