Texas Reports Highest Single-Day Rise in Coronavirus Cases as State Continues to Push Ahead With Reopening
Two weeks after Texas Governor Greg Abbott began reopening the economy, the southern state on Saturday reported 1,801 new confirmed coronavirus infections marking its single-highest rise in cases since the beginning of the pandemic.
Of the new cases, 734 are from Potter and Randall counties. "These counties' new cases are largely from targeted testing of employees at meat plants in the area. More test results from plants are expected," tweeted the Texas Department of Health.
As of May 17, Texas has a total of 45,198 COVID-19 cases, with 1,272 deaths and 25,454 recoveries. Before the weekend, Texas had never reported over 1,500 cases in one day. The state has been averaging roughly 1,220 cases per day over the past week, as non-essential businesses continue to open as part of Governor Greg Abbott's phased reopening plan.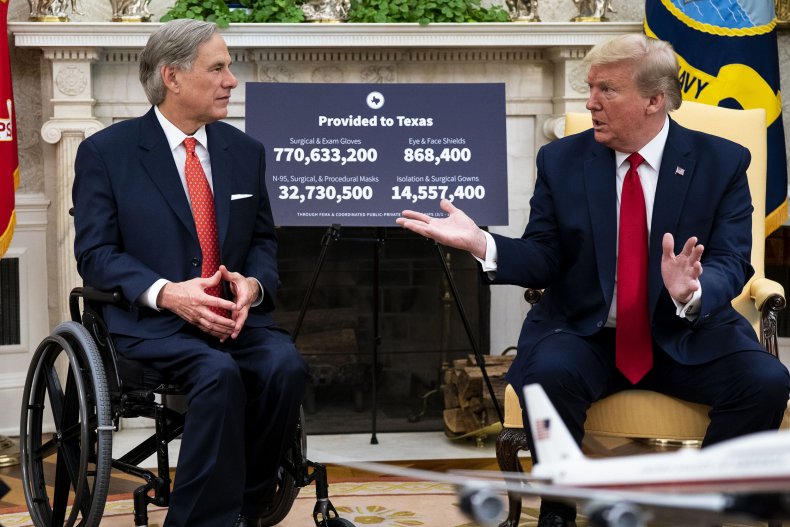 The surge in cases can partly be attributed to an outbreak among the meatpacking industry in Amarillo. Following the spike announcement, Abbott released a statement saying that coronavirus response teams that were sent to Armarillo earlier this month have been increasing testing in the area and other measures to contain the outbreak.
"That is exactly why I established Surge Response Teams," the governor said. "By immediately deploying resources and supplies to these high-risk areas, we will identify the positive cases, isolate the individuals and ensure any outbreak is quickly contained, which is the strategy being deployed in Amarillo."
The surge comes as Texas continues to push ahead with reopening its economy and both non-essential and essential businesses. Abbott allowed malls, movie theaters, restaurants and retails stores to reopen at quarter capacity with social distancing on May 1, becoming the most populous state to do so at the time.
Texas' phased reopening plan saw hair salons and barbershops across the state open their doors on May 8. Next, gyms and other such businesses will be allowed to resume on Monday with capacity limits.
Dr. Anthony Fauci, director of the National Institute of Allergy and Infectious Diseases, told Congress earlier this week that states that prematurely reopen will experience "little spikes that might turn into outbreaks."
Despite the increase in cases, Abbott has maintained that Texas is still far from hitting hospital and ventilator capacity. About 1,790 individuals are currently hospitalized in the state, and more than 17,000 beds are still available to be used.
Newsweek reached out to Texas Governor Greg Abbott for further comment. This story will be updated with any response.