Texas GOP House Speaker Asked Lobbying Group To Attack Members Of His Own Party, Called Democrat 'Gay' In Secret Recording
Texas Republican House Speaker Dennis Bonnen was secretly recorded gossiping that a married Democratic colleague was gay and was overheard offering to sell media credentials to an oil money-heavy lobbying group.
The Texas Speaker of the House can be heard requesting dirt on members of his party and derisively suggesting Houston Democratic Rep. Jon Rosenthal's wife is "gonna be really pissed when she learns he's gay." The secret audio recording was released Tuesday on hardline conservative activist Michael Quinn Sullivan's website, as well as the talk radio station WBAP just before Sullivan's Tuesday morning appearance. On the recording, Bonnen can be heard begging Sullivan to keep their conversation "confidential" as the 64-minute audio captures him labeling lawmakers a "piece of s**t" and "vile."
It is unclear if the audio released by Sullivan or WBAP has been edited in any way.
Sullivan is the CEO of Empower Texans, which the Texas Tribune describes as "a group that's flooded with oil money and a unique tangle of political lobbying firm, news outlet and deep-pocketed political action committee." The Empower Texans PAC gave $4.7 million to hardline conservative candidates during the 2018 primary election cycle.
The secret audio released on Sullivan's website Tuesday records the House speaker telling the Empower Texans CEO he'll "put your guys on the floor next session," a reference to giving Empower Texans media credentials to speak to staffers and legislators on the House floor. The group was denied access to this year's legislative session due to their role as a lobbying firm.
"Let me tell you what I can do for you. Real quick, you need to hear what I want to do for you," Bonnen begs of Sullivan.
"I don't need anything," Sullivan replied.
Bonnen took personal swipes at several Democratic House members, calling District 65 Representative Michelle Beckley "vile" and said Rosenthal "makes my skin crawl."
Newsweek reached out to Sullivan and Empower Texans, who deferred reactions over to Sullivan's penned piece on the Texas Scorecard website. Bonnen's office has not yet responded for comment Tuesday.
According to the Texas Tribune, Sullivan revealed that the June meeting occurred in late July, and said the Republican House speaker offered Empower Texans media access if they went after 10 Republicans of his choice in the upcoming primaries. Bonnen could be heard saying he's "trying to win in 2020 in November."
"Is there any way that for 2020 we sort of say ... let's not spend millions of dollars fighting in primaries when we need to spend millions of dollars trying to win in November," Bonnen told Sullivan. "I wanted to see if we could try and figure that out. ... If you need some primaries to fight in—I will leave and Dustin will tell you some we'd love if you fought in. Not that you need our permission."
After Sullivan first floated that the discussion occurred two months ago, Bonnen and Lubbock, Texas representative Dustin Burrows rebuked the claims but did acknowledge having said "terrible things" during the exchange.
Bonnen issued a statement later Tuesday asking that the audio be released to the public because it would "be immediately clear that no laws were broken: "This was nothing more than a political discussion—the problem is that I had it with that guy. My colleagues have always deserved the facts and context this recording provides, and with clear evidence now disproving allegations of criminal wrongdoing, the House can finally move on."
But Sullivan wrote on Texas Scorecard Tuesday he still believes the most damning part of the audio is not the insults, but the quid pro quo seemingly offered by Bonnen.
Jonathan Strickland, a Republican representing Texas' 92nd District, posted to Facebook Monday that the release of the audio will let the public know "the current Speaker is a liar, corrupt and undeserving of public office. Click below to see the timeline of the #Bonnghazi scandal."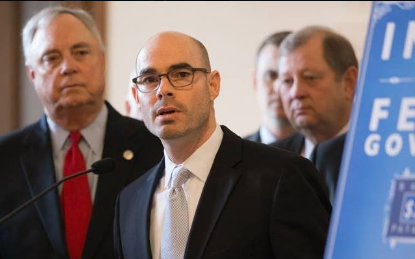 Secretly recorded audio overhears Texas GOP House Speaker Dennis Bonnen asking an oil lobbying group to attack members of his own party, calling a Democrat "gay."
Screenshot: Facebook | Dennis Bonnen