Texas Republican House Speaker Won't Seek Re-election in Wake of Damning Audio Recording
Dozens of Texas House Republicans have either demanded Speaker Dennis Bonnen's resignation or dropped their support for him after audio released last week revealed that he offered a lobbying group access in exchange for dirt on members of his own party.
Bonnen announced Tuesday he would not seek re-election to the state's House of Representatives in 2020, just months after the Republican had near unanimous support in the lower chamber. Bonnen's fall from power comes after a 64-minute audio recording from June was released by Empower Texans CEO Michael Quinn Sullivan. In it, the House speaker can be heard calling Democratic lawmakers "vile" and a "piece of s**t." Additionally, Bonnen offered the oil money–heavy conglomerate floor media access in exchange for attacks against 10 Republicans in the upcoming primaries.
The existence of the recording was first made public in July, and many Republicans and Democrats in the House were slow to pass judgment, given Sullivan's long history of criticizing the legislative chamber. However, the recording released last week removed any doubts about Bonnen's wrongdoing, and by Tuesday more than 30 House Republicans had turned their backs on the speaker.
In his statement Tuesday, Bonnen said he would not seek re-election. He had told Sullivan he was "trying to win in 2020 in November."
"After much prayer, consultation, and thoughtful consideration with my family, it is clear that I can no longer seek re-election as State Representative of District 25, and subsequently, as Speaker of the House," Bonnen said in the statement. He listed 43 House Republicans who had "made clear that it is in the best interest of both myself and the House to move on."
The list of people urging Bonnen to step down even included his own brother, Greg Bonnen of Friendswood, Texas, The Texas Tribune noted.
In the recording released by Sullivan, the two are overheard discussing an apparent quid pro quo: "Is there any way that for 2020 we sort of say...let's not spend millions of dollars fighting in primaries when we need to spend millions of dollars trying to win in November," Bonnen said. "I wanted to see if we could try and figure that out.... If you need some primaries to fight in, I will leave and Dustin will tell you some we'd love if you fought in. Not that you need our permission." (Dustin Burrows is a Republican state representative from Lubbock.)
"I don't need anything," Sullivan is heard replying.
In addition to seemingly offering a quid pro quo to Empower Texans, Bonnen is overheard calling Democratic state Representative Jon Rosenthal "gay" and later refers to the Houston lawmaker as "vile." After the audio was released last week, Bonnen responded by acknowledging he said "terrible things" but added that it shows "clear evidence now disproving allegations of criminal wrongdoing."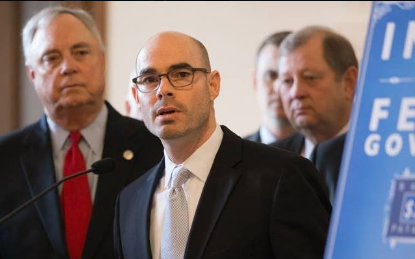 Texas GOP House Speaker Dennis Bonnen asked an oil lobbying group to attack members of his own party and called a Democratic lawmaker gay, according to secretly recorded audio.
Screenshot: Facebook | Dennis Bonnen
Sullivan responded to Bonnen's Tuesday statement on Twitter, saying the House speaker "could have behaved ethical" but "instead chose lies, deceit, dishonor, and ruin.... He has gone from 3rd constitutional officer in Texas to a cautionary tale."
Texas Democratic Party Chairman Gilberto Hinojosa issued a statement calling Bonnen's Tuesday announcement "a victory."
"Texans are tired of politicians, like Republican Speaker Bonnen, who use backroom deals, cover-ups and outright lies to pursue power over everything," Hinojosa wrote. "Now more than ever, it is clear that only the election of Texas Democrats will return...ethics and good governance to our great state."
Sullivan responded to Newsweek's report last week about the recording by claiming Empower Texans is not a "lobbying" group.